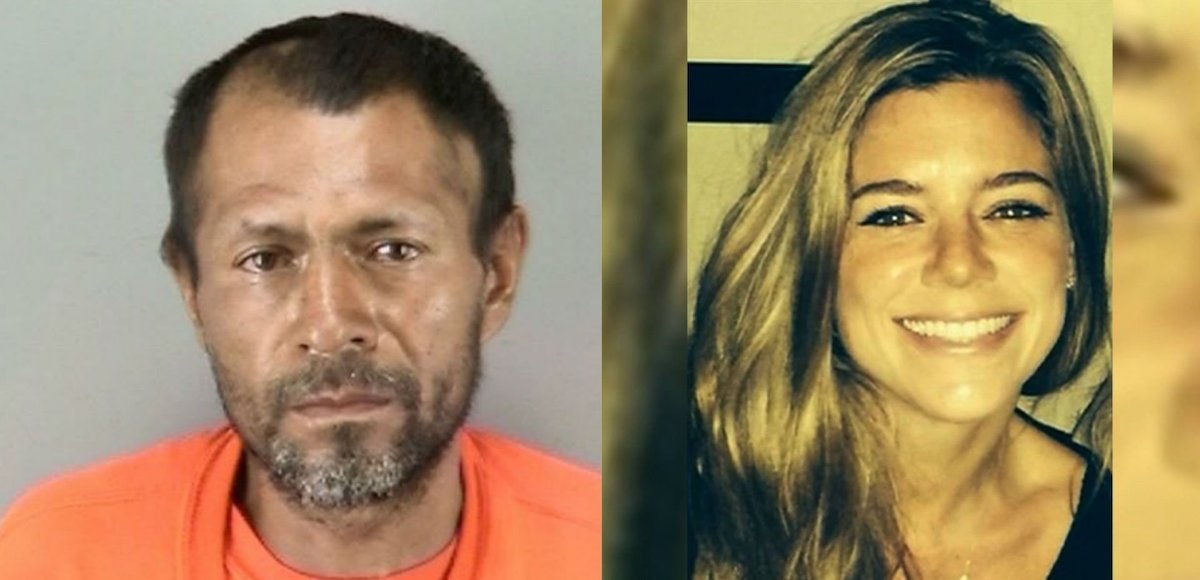 The Justice Department (DOJ) said a federal grand jury indicted Jose Inez Garcia-Zarate, the illegal immigrant who shot Kate Steinle. Zarate, previously known as Juan Francisco Lopez Sanchez, was a multiple felon who had been deported numerous times taking "sanctuary" in San Francisco.
The slaying of Ms. Steinle sparked a controversial national debate over crime committed on U.S. citizens by illegal immigrants. He was acquitted by a jury in the liberal city.
On Tuesday, DOJ said he was indicted for being a felon in possession of a firearm and ammunition, and for being an illegally present alien in possession of a firearm and ammunition.
President Donald Trump and Attorney General Jeff Sessions slammed the "not guilty" jury verdict in the trial. The Trump Administration has been blocked by the courts for withholding funds to sanctuary cities, in a case that is ultimately headed to the U.S. Supreme Court.
Ms. Steinle was walking with her father and a family friend in July 2015 when she was shot, collapsing into her father's arms and begging him for his help before she expired. Despite a federal detainer issued by the Immigration and Customs Enforcement (ICE), Zarate was released from a San Francisco jail about three months before the shooting.
Attorney General Sessions slammed San Francisco for not honoring the detainer from ICE.
"While the State of California sought a murder charge for the man who caused Ms. Steinle's death—a man who would not have been on the streets of San Francisco if the city simply honored an ICE detainer—the people ultimately convicted him of felon in possession of a firearm," he said.
ICE Deputy Director Tom Homan joined the attorney general in calling on officials who support and are responsible for sanctuary cities to reverse course. In a statement following the verdict, he vowed to deport Zarate.
"San Francisco's policy of refusing to honor ICE detainers is a blatant threat to public safety and undermines the rule of law," he said. "This tragedy could have been prevented if San Francisco had simply turned the alien over to ICE, as we requested, instead of releasing him back onto the streets."
According to the federal indictment, on July 1, 2015, Garcia-Zarate, a 47 year-old citizen of Mexico "possessed a semi-automatic pistol and multiple rounds of ammunition in violation of 18 U.S.C. § 922(g)(1) (felon in possession of a firearm) and 18 U.S.C. § 922(g)(5) (unlawfully present alien in possession of a firearm)."
Assistant United States Attorneys Hallie Hoffman and Shiao Lee are prosecuting this case.
Meanwhile, President Trump made cracking down on illegal immigration the centerpiece of his campaign. The Department of Homeland Security (DHS) on Tuesday released end-of-year statistics for immigration enforcement for Fiscal Year (FY) 2017, and the report shows historic success during the first year of his administration. The report blasted the policy of sanctuary cities, which they repeatedly referred to as a dangerous "loopholes," and the officials who run them.
"These results are proof of what the men and women of ICE can accomplish when they are empowered to fulfill their mission," said Thomas Homan, ICE Deputy Director. "We need to confront and address misguided policies and loopholes that only serve as a pull factor for illegal immigration… Finally, we need to find a solution to the dangerous sanctuary city policies and the politicians who needlessly risk innocent lives to protect criminals who are illegally present in the United States."
According to a recent poll, 58% want the federal government should cut off funds to cities that provide sanctuary for illegal immigrants, while just 32% disagreed and 10% said they were not sure. Further, 62% of likely voters said the Department of Justice (DOJ) should take legal action against cities that provide sanctuary for illegal immigrants.