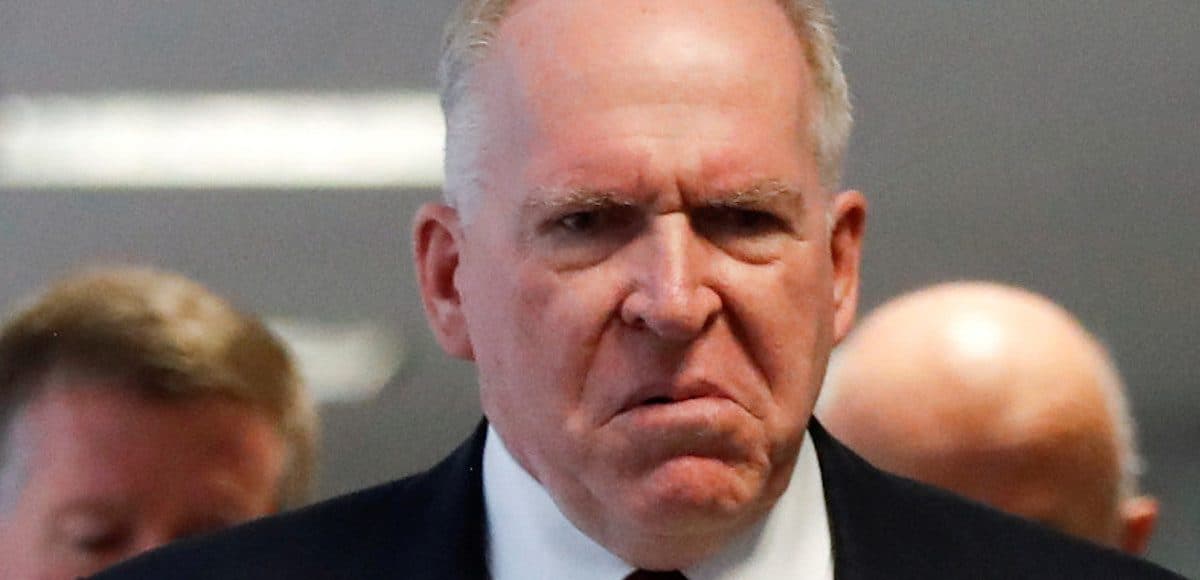 The White House announced on Wednesday that it is revoking the former CIA chief John Brennan's security clearance. White House Press Secretary Sarah Huckabee Sanders said any benefit to keeping his clearance is "outweighed by the risk."
"The president has a constitutional responsibility to protect classified information and who has access to it," she said, adding that he "is fulfilling that responsibility in this action."
Mr. Brennan has been a staunch and vocal critic of President Donald Trump, an insult-thrower whose own critics characterize as irrational and unstable.
Rudy Giuliani, who now serves as the personal attorney to the president, said the former CIA head should face a grand jury for his role in peddling the salacious dossier used to justify the "phony" Russia investigation.
He slammed Mr. Brennan for being the "quarterback," who took still-unproven politically-funded opposition research disguised as intelligence, from former British spy Christopher Steele.
"Unless he's the biggest idiot intelligence agent that ever existed—although he never really did much intelligence work—it's false," the former New York City Mayor and U.S. Attorney said. "You could look at it [the dossier] and laugh at it."
Interestingly, Mr. Brennan ran into a problem during his first CIA lie-detector test in 1980.
Donald Trump's Full Statement Revoking John Brennan's Security Clearance
Press Secretary Sanders also said the White House is considering revocations for James Clapper, Susan Rice, Michael Hayden, James Comey, Bruce Ohr, Peter Strzok and Lisa Page.
Mr. Clapper, who has been accused of lying to Congress under oath twice, was the former Director of National Intelligence (DNI) in the Obama Administration. He resigned on November 17, 2016.
The House Permanent Select Committee on Intelligence (HPSCI) said he "provided inconsistent testimony" to Congress regarding his contacts with the media. Put plainly, Mr. Clapper, who  lied to congressional investigators about leaking to the media. Further, the committee found those leaks among others "damaged national security and potentially endangered lives."
It reveals former Obama Administration officials leaked information that "correlate to specific language found in the Intelligence Community Assessment." That assessment, which held the Russians hacked the Democratic National Committee (DNC) and Clinton campaign chairman John Podesta to help Donald Trump, was erroneously portrayed in the media as a consensus among "17 intelligence agencies."
In truth, it was the assessment of three officials handpicked by none other than Mr. Clapper, himself.
"Former Director of National Intelligence James Clapper, now a CNN national security analyst, provided inconsistent testimony to the Committee about his contacts with the media, including CNN," the report states under "Finding #44."
This would not be the first time Mr. Clapper lied to the U.S. Congress under oath.
He made an admittedly false statement to the U.S. Congress in March 2013, when he responded, "No, sir" and "not wittingly" to a question about whether the National Security Agency was collecting "any type of data at all" on millions of Americans.
Roughly 3 months later, documents leaked by former National Security Agency (NSA) contractor Edward Snowden proved that answer untruthful. In reality, the NSA was collecting in bulk the domestic call records, along with various internet communications of U.S. citizens.
James Comey, who triggered the special counsel investigation by leaking government memos, was fired as deputy director of the Federal Bureau of Investigation (FBI).
Peter Strzok, the counterintelligence agent at the center of the Clinton email and Russia probe, was fired from the FBI Friday after the inspector general reviewed his personal messages. They revealed what the IG called "clearly a bias state of mind," which Deputy Attorney Rod Rosenstein admitted.
"I certainly agree with the findings of the inspector general report," Mr. Rosenstein told Congress. "I think those messages clearly do indicate bias."
Ms. Page, along with FBI lawyer Jim Baker, both of whom worked closely with Mr. Comey, resigned from the agency in May.