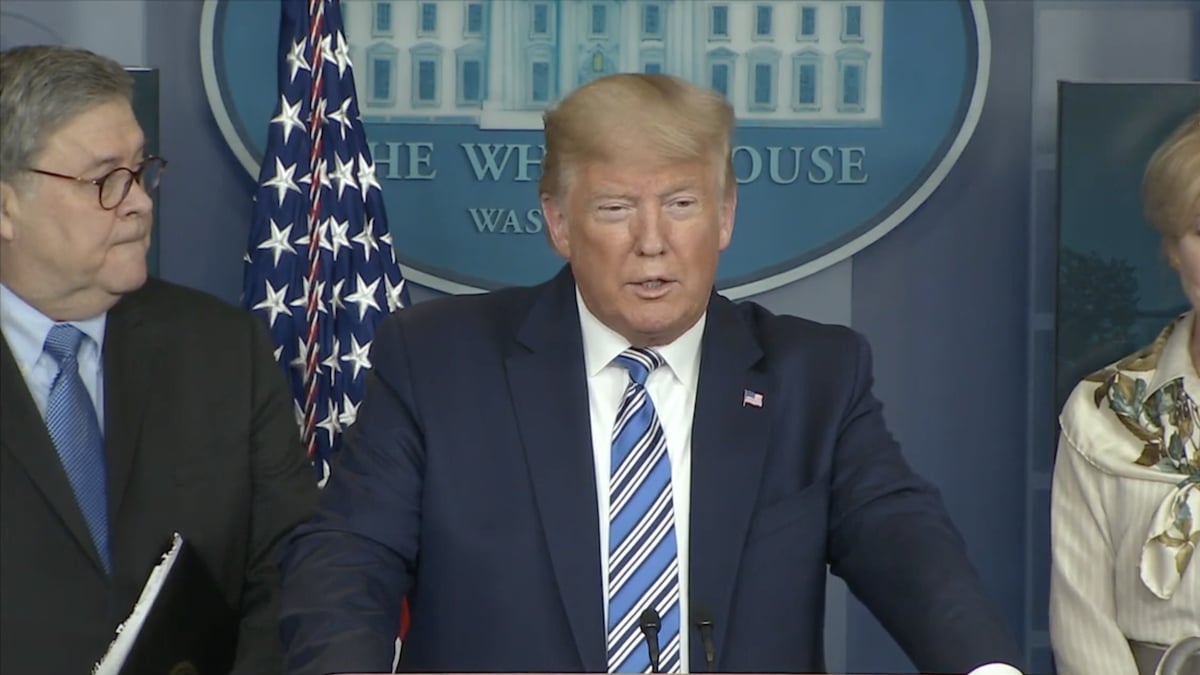 Washington, D.C. (PPD) — President Donald Trump extended the social distancing guidelines for the coronavirus to April 30, predicting the peak death rate is "likely to hit in two weeks."
"The modeling estimates that the peak in death rate is likely to hit in two weeks. I will say it again. The peak, the highest point of death rates, remember this, is likely to hit in two weeks," he said at the daily press briefing for the the Coronavirus Task Force.
"Therefore, we will be extending our guidelines to April 30, to slow the spread."
The announcement walks back his hope for an Easter deadline. The economic damage will be severe.
"Nothing would be worse than declaring victory before the victory is won, that would be the greatest loss of all," he added at what the media made a contentious briefing.
The president acknowledged his instincts were to impose restrictions differently in various areas in the country, depending on conditions. But he said that the medical experts on the task force strongly advised against it.
He urged Americans to continue following the "Slow the Spread" guidelines set by the Centers for Disease Control (CDC) and the federal government.
"The better you do the faster this whole nightmare will end, therefore we will extend our guidelines to April 30 to slow the spread," he said.
The president noted that models initially projected 2.2 million deaths in the U.S. However, he credited Americans' efforts to stop the spread — by following the federal guidelines. — for reducing it to less 200,000.
"This is a tough one because it spreads so quickly, like nothing we've seen," Trump said. "It spreads so easily, so quickly."
Dr. Anthony Fauci, the Director of the National Institute of Allergy and Infectious Diseases, elaborated on his headline-making predictions when asked about how bad the situation can become.
"Models are good, but models often generate the kind of anxious question you asked," Dr. Fauci said in response. "A model is as good as the assumptions you put into the model, and very often, many of these assumptions are based on a complexity of issues that aren't necessarily the same… from one country to another."
He told reporters that he did not care about approval ratings, and predicted that the U.S. would be able to get back to normal by June 1.
"I wish we could have our old life back," he conceded. "We had the greatest economy that we've ever had, and we didn't have death. We didn't have this. We didn't have this horrible scourge, this plague. Call it whatever you want. The virus. But we're working very hard. That's all I know."
Meanwhile, President Trump announced that Humana and Cigna — two of the nation's largest healthcare providers — have agreed to "waive copays, coinsurance, and deductibles for coronavirus treatments."