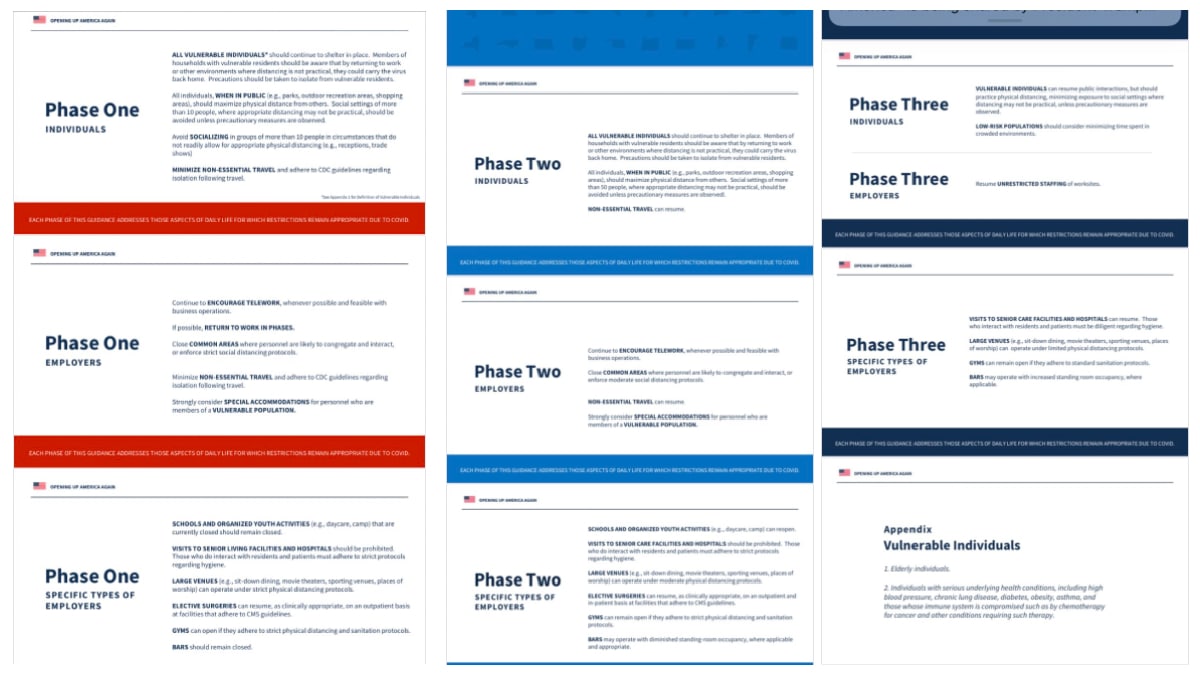 The White House unveiled a three-phase plan for "Opening Up America Again", a set of guidelines to loosen restrictions to mitigate the coronavirus (COVID-19). The "science-based reopening" seeks to protect the vulnerable and target more impacted regions with mitigation efforts while allowing preventing a complete collapse of the U.S. economy.
"The United States has achieved a significantly lower mortality rate than most other nations," President Donald Trump said a his daily press briefing with the Coronavirus Task Force. "Based on the latest data, our team of experts believes we can begin the next new front on the war."
"America wants to be open and Americans want to be open."
Each phase of the plan lays out guidelines for individuals, employers and specific types of employers. It comes as 30% of our country state-wise have reported no new cases over the last three days.
For individuals, Phase One calls for vulnerable individuals to continue to shelter in place and all individuals to continue to practice social distancing when in public. Individuals who go out in public but have vulnerable persons in the household should follow the guidelines laid out by the Centers for Disease Control (CDC).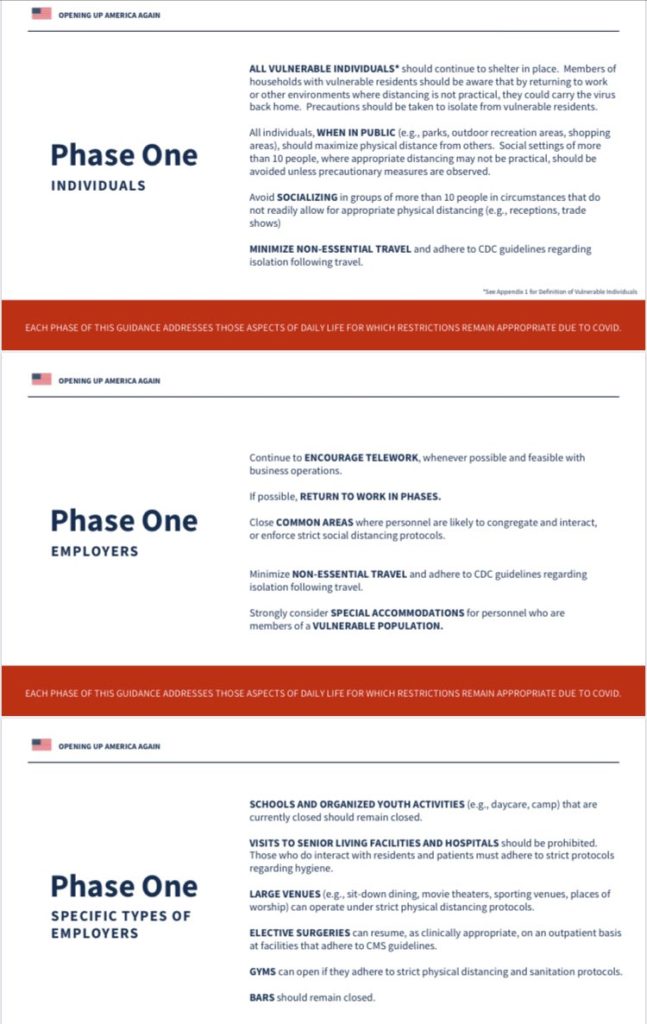 Minimal non-essential travel is permitted. Schools and school activities currently closed should remain closed.
"We are not opening all at once," the president stressed. "But one careful step at a time. Some states will be able to open up before others."
In Phase Two, all vulnerable individuals should continue to shelter in place. Schools in this phase can reopen, non-essential travel can resume and bars can reopen with diminished standing room occupancy.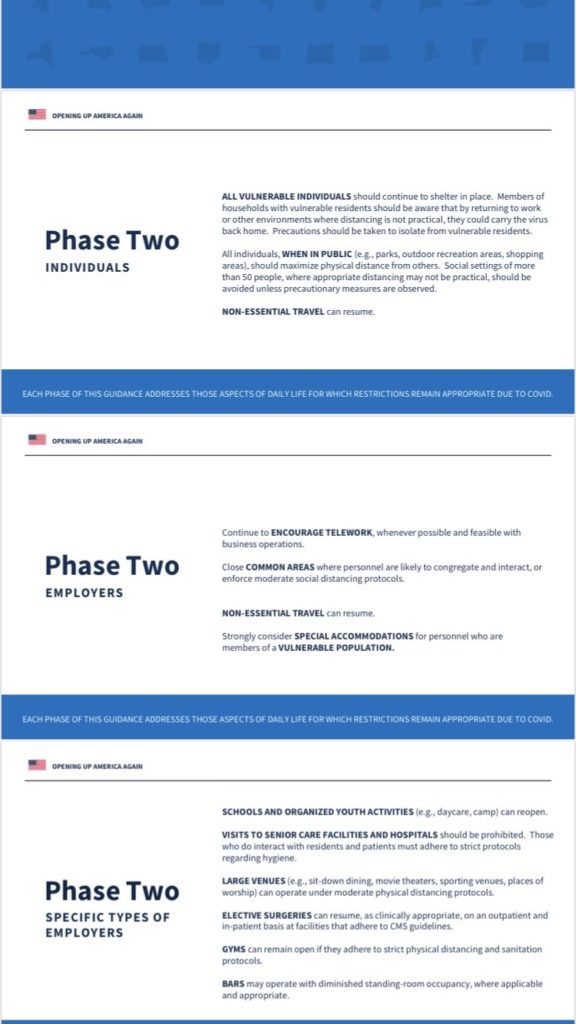 Phase Three is what Coronavirus Task Force leader Dr. Deborah Birx referred to as "a return to our new normal." She stressed that no timeline was placed on any of the three phases to allow each state to implement each phase at their own pace.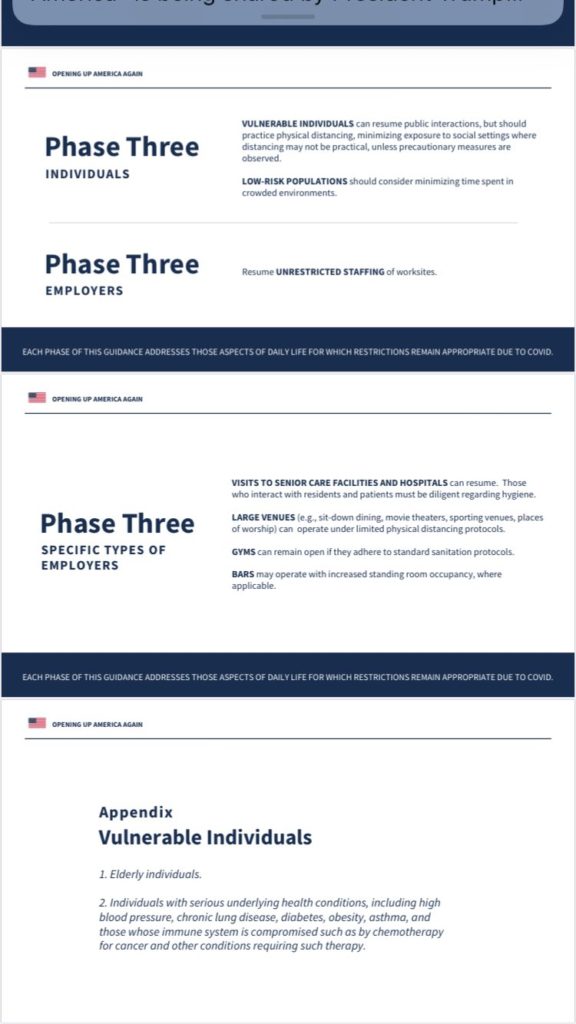 Dr. Anthony Fauci, the Director of the National Institute of Allergy and Infectious Diseases, called the plan "robust."
"This is a rather robust program for reentering normality," he said. "The dominating drive on this was to make sure it was implemented in the safest way possible."
The efforts to mitigate the spread of the coronavirus (COVID-19) have devastated what was a historically strong economy. Government investigators and several vaccine researchers now do not believe the virus originated from a wet market in Wuhan, China.
On Thursday, the U.S. Labor Department (DOL) reported initial jobless claims rose more than expected by 5,245,000 for the week ending April 16. The advance seasonally adjusted insured unemployment rate rose another 3.1% to 8.2%.
"As I've said, a national shutdown is not a sustainable solution," the president added. "In order to preserve the health of our nation, we must preserve the economic health of our nation."
The rash of extremely concerning economic data are all attributable to the mitigation efforts to slow the spread of the coronavirus (COVID-19). Industrial production posted the largest monthly decline since 1946.
"If we want to have a healthy population, we must maintain a working economy," President Trump stated. "A prolonged lockdown combined with a forced economic depression would inflict an immense toll on the American people."
"Our country has suffered. The world has suffered."
"We're starting our life again."