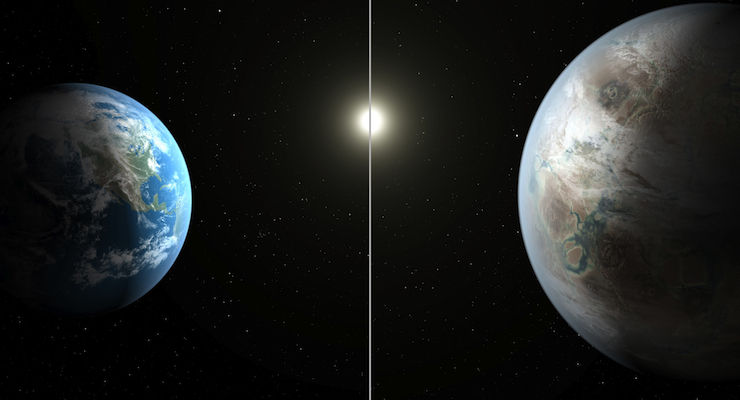 [huge_it_slider id="3″]
NASA's Kepler mission confirmed early Thursday the first near-Earth-size planet in the "habitable zone" around a sun-like star, marking another huge milestone in the effort aimed at "finding an Earth 2.0." This discovery comes as NASA announces the introduction of 11 other new small habitable zone candidate planets.
What We Know About Kepler-452b
Fun facts about Kepler-452b and the Kepler-452 system
Kepler-452b is 60 percent larger in diameter than Earth and is considered a super-Earth-size planet.
Mass and composition are not yet determined, but previous research indicate that planets the size of Kepler-452b have a good chance of being rocky.
Kepler-452b is larger than Earth, and its 385-day orbit is only 5 percent longer than ours.
It is 5 percent farther from its parent star Kepler-452 than Earth is from the Sun.
Kepler-452 is 6 billion years old, which is 1.5 billion years older than our Sun.
It has the same temperature and is 20 percent brighter with a diameter 10 percent larger.
The Kepler-452 system is located 1,400 light-years away in the constellation Cygnus.
"We can think of Kepler-452b as an older, bigger cousin to Earth, providing an opportunity to understand and reflect upon Earth's evolving environment," said Jon Jenkins, Kepler data analysis lead at NASA's Ames Research Center in Moffett Field, California, who led the team that discovered Kepler-452b. "It's awe-inspiring to consider that this planet has spent 6 billion years in the habitable zone of its star; longer than Earth. That's substantial opportunity for life to arise, should all the necessary ingredients and conditions for life exist on this planet."