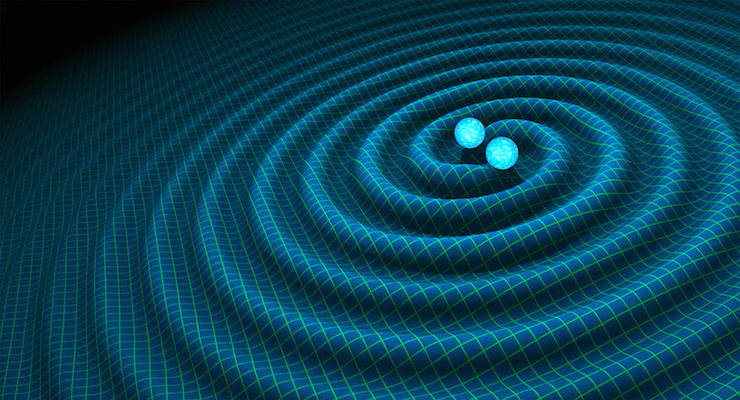 "We Humans are Embarking on a Marvelous New Quest"
Scientists have found evidence of gravitational waves in space, which were predicted by Albert Einstein a century ago in his famous general theory of relativity. The National Science Foundation (NSF) announced on Thursday they've detected gravitational waves by the Laser Interferometer Gravitational-Wave Observatory (LIGO), a pair of ground-based observatories in Hanford, Washington, and Livingston, Louisiana.
"Our observation of gravitational waves accomplishes an ambitious goal set out over 5 decades ago to directly detect this elusive phenomenon and better understand the universe, and, fittingly, fulfills Einstein's legacy on the 100th anniversary of his general theory of relativity," says Caltech's David H. Reitze, executive director of the LIGO Laboratory.
Einstein predicted gravitational waves as ripples in the fabric of space-time, which were produced by massive, accelerating bodies, such as black holes orbiting each other. But scientists have been searching for evidence of them for roughly 50 years, and are now more interested than ever in further observing and characterizing them in hopes they were learn more about the sources producing them.
"In 1992, when LIGO's initial funding was approved, it represented the biggest investment the NSF had ever made," says France Córdova, NSF director. "It was a big risk. But the National Science Foundation is the agency that takes these kinds of risks. We support fundamental science and engineering at a point in the road to discovery where that path is anything but clear. We fund trailblazers. It's why the U.S. continues to be a global leader in advancing knowledge."
Why is this discovery from the LIGO significant? It is viewed as a gateway to understanding more about gravity, itself.
The LIGO detections are a long-anticipated first step toward a whole new field of astrophysics. According to NASA, nearly everything we know about the universe stems from detecting and analyzing light in all its various forms across the electromagnetic spectrum–radio, infrared, visible, ultraviolet, X-rays and gamma rays–and the study of gravitational waves has the potential to open up a new window in the universe for us to look through. Scientists expect this research will provide key the human race with pivotal information by comparing it with knowledge gathered through electromagnetic radiation.
"This detection is the beginning of a new era: The field of gravitational wave astronomy is now a reality," says Gabriela González, LSC spokesperson and professor of physics and astronomy at Louisiana State University.
NASA missions have been searching and continue to search the sky for fleeting X-ray and gamma-ray signals from LIGO events. Detecting the light emitted by a gravitational wave source would enable a much deeper understanding of the event than through either technique alone.
"With this discovery, we humans are embarking on a marvelous new quest: the quest to explore the warped side of the universe—objects and phenomena that are made from warped spacetime. Colliding black holes and gravitational waves are our first beautiful examples," said Kip Thorne, Caltech's Richard P. Feynman Professor of Theoretical Physics.