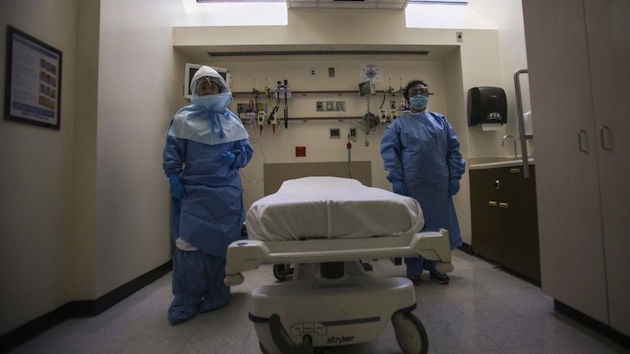 A health care worker who recently returned to the United States from West Africa has reportedly tested positive at Bellevue Hospital in New York City, health officials said Thursday.
The unidentified doctor, who was working for Doctors Without Borders, recently returned from one of the three West African countries currently ravaged by the deadly virus within the past 21 days.
According to a statement from the commissioner of the New York City Department of Health and Mental Hygiene, New York health officials say they were contacted after he reported to the organization he had a fever and gastrointestinal symptoms.
The patient was quickly transported to Bellevue Hospital in New York City by a specially trained HAZ TAC unit wearing the appropriate Personal Protection Equipment (PPE). The new measures were put in place by the CDC after past infections made it clear that CDC Director Dr. Thomas Frieden was not making accurate statement about "any hospitals'" ability treat an patients with Ebola.
Bellevue Hospital is one of eight hospitals designated by New York Gov. Andrew Cuomo to treat Ebola in the state.
"A person in New York City, who recently worked with Doctors Without Borders in one of the Ebola-affected countries in West Africa, notified our office this morning to report having developed a fever," Doctors Without Borders said in a statement.
"As per the specific guidelines that Doctors Without Borders provides its staff on their return from Ebola assignments, the individual engaged in regular health monitoring and reported this development immediately," the organization said.
Officials were awaiting preliminary test results, according to New York City Department of Health and Mental Hygiene commissioner Mary Bassett. In a separate statement, the Centers for Disease Control and Prevention (CDC) also retained a blood sample from the patient.
"As a further precaution, beginning today, the Health Department's team of disease detectives immediately began to actively trace all of the patient's contacts to identify anyone who may be at potential risk," Bassett said.
"The Health Department staff has established protocols to identify, notify and, if necessary, quarantine any contacts of Ebola cases," she added.