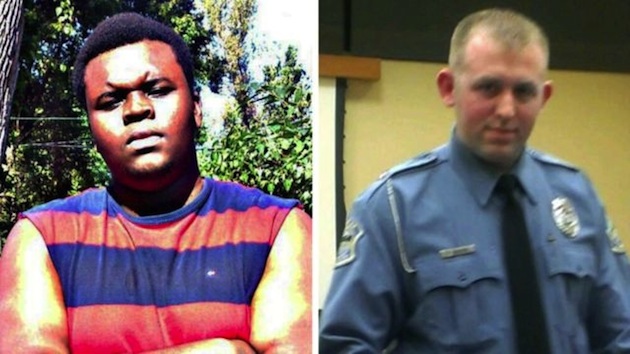 DEVELOPING: Darren Wilson, the Ferguson police officer who shot and killed 18 year-old suspect Michael Brown, has resigned from the Ferguson Police Department. The announcement came nearly four months after the shooting on August 9, which sparked violent protests in Ferguson and across the nation.
Wilson, 28, had been on administrative leave since the shooting on Aug. 9. His resignation was announced Saturday by one of his attorneys, Neil Bruntrager. The resignation was effective immediately, Bruntrager said.
A grand jury, which included three African Americans, decided not to indict Wilson after spending more than three months reviewing evidence in the case. Jurors decided that Wilson was defending himself from Brown, a suspect in a strong arm robbery, who hit him and attempted to grab his gun. The decision led to widespread rioting, during which dozens of businesses and cars were looted and burned to the ground.
The financial and emotional toll on the community has been severe.
Rather than prosecute the rioters and looters, the U.S. Justice Department is currently conducting a civil rights investigation into the shooting and a separate probe of police department practices.
After the shooting, Wilson spent months in hiding and, at the direction of his counsel, made no public statements. He broke his silence after the grand jury decision, telling ABC News that he could not have done anything differently in the encounter with Brown. Wilson said he has a clean conscience because "I know I did my job right."
Wilson began his career in nearby Jennings before moving to the Ferguson job a few years ago. Brown's shooting was the first time he fired his gun on the job, and he had a stellar record as a police officer prior. He had no previous complaints against him and a good career record, according to Police Chief Thomas Jackson, who called Wilson "an excellent police officer."
Only a few months before the shooting, Darren Wilson had received a commendation for detaining a suspect in a drug case.
In the first weeks after the shooting, Wilson had retained hope that he would be able to continue his job as a police officer, according to Wilson's attorneys.
"At first [his thinking] was, 'I want to go back, I'm a cop, I want to still be a cop,' " attorney Danielle Thompson said. "It took some time for him to realize that wasn't exactly going to be what happened."
"I think I expressed to him, 'Do you realize your first call [back on the job] will be to a blind alley where you're executed?'"attorney James Towey added. "He took a pause for a minute, thought about it and said, 'Oh.' That is the reality."