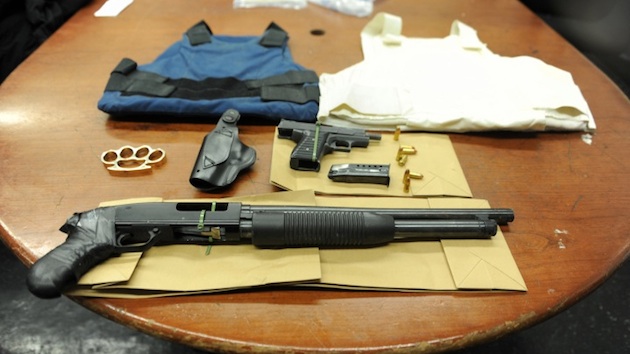 A Queens man with two illegal guns and bulletproof vests was busted after a good Samaritan overheard him saying he's "going to kill another cop," and reported it.
Elvin Payamps, 38, of Glendale was inside a TD bank on Metropolitan Avenue Wednesday afternoon when a witness, 54, standing behind him on line, heard him admitting he wanted to kill white cops and that he had the guns at his house.
"I'm going to kill another cop. We should do it before Christmas. The cop should have been white that was killed. I always have a gun on me," Elvin Payamps allegedly blabbed over his cellphone.
The witness called 911, but Payamps left the bank before cops could arrive.
Police put a description of him over the radio, and he was spotted getting into a car on Metropolitan Avenue.
Payamps was pulled over at a nearby intersection on Rentar Plaza. A bag of pot was found near the front seat, and he was arrested.
After his arrest, Payamps, 38, allegedly confessed to the threat and said it was spurred by Saturday's execution-style assassination of cops Rafael Ramos and Wenjian Liu in Brooklyn, sources said.
"They should have killed two white cops instead of the Hispanic and Asian if the guy really wanted to send a message," Payamps reportedly said, according to The New York Post.
Two guns, two bulletproof vests, brass knuckles, and a holster were recovered from his Edsall Avenue home near 72nd Place after police obtained a search warrant.
Officials are now attempting to tone down the rhetoric after making comments that critics say led to the anti-police environment. However, it doesn't seem to be having an impact.
Mayor Bill de Blasio Monday called for protestors to pause demonstrations until the two officers are laid to rest, but anti-police protesters marched through midtown Manhattan this week, with many holding signs saying "Jail Killer Cops."
Meanwhile, the funeral for Officer Rafael Ramos will be held at 2:00 P.M. EST in Queens, New York.