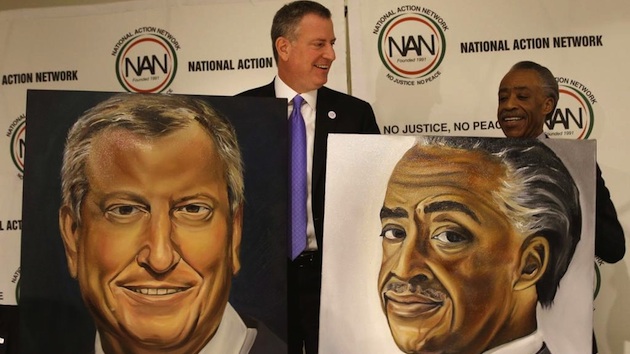 The annual report by the nonprofit National Law Enforcement Officers Memorial Fund shows the concerning result of the anti-police sentiment in 2014. The number of law enforcement officers killed by firearms in the U.S. jumped by 56 percent this year to 50 officers, compared to 32 in 2013.
Further, the number of ambush assaults jumped to 15 in 2014, up from just 5 in 2013. A string of ambush assaults, such as the one committed by 28-year-old Ismaaiyl Brinsley that killed New York Police Officers Rafael Ramos and Wenjian Liu, occurred amid heated rhetoric from self-serving politicians and race hustlers.
"There are some weak-minded individuals influenced by the anti-law enforcement, anti-police rhetoric," said Craig Floyd, a law enforcement advocate and chairman of the memorial fund. "And they've gone out and targeted police officers."
Floyd said there is a real concern that the data could get much worse if tensions are not reduced.
"Enough is enough," he said in a statement. "We need to tone down the rhetoric and rally in support of law enforcement and against lawlessness."
New York City Mayor Bill de Blasio sat down with union heads Tuesday in a meeting both sides claimed they hoped would calm frustrations and increase officer safety. However, speaking to reporters after the meeting, Pat Lynch, the president of the PBA was unenthusiastic over the mayor's seriousness.
"We are here today representing every rank in the NYPD, the presidents, vice presidents, of all the respective unions," Lynch said. "We came here today to have a discussion. Our main concern is the safety of our police officers of every rank on the streets of the city and the safety of the citizens that we proudly serve on each and every street and each and every neighbor here today. There were a number of discussions, especially about the safety issues that our members face, there was no resolve, and our thought here today is that actions speak louder than words, and time will tell."
Mayor de Blasio did not address the press after the meeting.
Meanwhile, the annual report found that 126 federal, local, tribal and territorial officers were killed in the line of duty in 2014, or a 24 percent increase from last year's 102 on-duty deaths. Shootings, by far, were the leading cause of officer deaths in 2014, followed by traffic-related fatalities at a distant 49.
Sadly, the levels seen in 2013 were the lowest since the 19th century, but states such as California (14), Texas (11), New York (9), and Florida (6) led the country in officer deaths. Georgia was slightly behind the Sunshine State with five, according to the report.