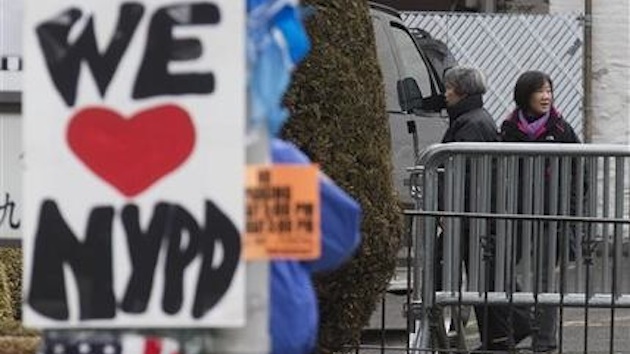 NEW YORK — Just one week after the funeral for his partner, Officer Rafael Ramos, large numbers of uniformed officers and supporters lined up to attend the wake for Wenjian Liu. NYPD Officers Ramos and Liu were shot and killed execution style in December as "revenge" for Michael Brown and Eric Garner, as they sat in their cruiser.
While the funeral for Ramos was held last Saturday at Christ Tabernacle Church in Queens, New York, Liu's funeral arrangements were delayed so his relatives from China could get the proper documents and make travel arrangements.
Prior to the wake getting underway, NYPD Commissioner William Bratton urged officers to refrain from "demonstrating" their outrage with leftist Mayor Bill de Blasio.
"A hero's funeral is about grieving, not grievance," Bratton says in a memo to be read to all commands at roll calls on Saturday. "I issue no mandates, and I make no threats of discipline, but I remind you that when you don the uniform of this department, you are bound by the tradition, honor and decency that go with it."
Bratton, of course, is referring to the hundreds (if not thousands) of police officers who turned their backs to TV monitors depicting Mayor de Blasio's eulogy at the funeral for Ramos. That move came after police union heads and rank-and-file cops outside a Brooklyn hospital where the slain officers were pronounced dead also turned their backs to de Blasio.
Union heads say de Blasio contributed to the anti-police atmosphere by supporting race-hustler Al Sharpton and demonstrations following the chokehold death of a black man on Staten Island who resisted arrest. Demonstrations, including one orchestrated by Sharpton that heard chants of "What do we want? Dead cops! When do we want them? Now!", followed a Staten Island grand jury's decision not to indict Police Officer Daniel Pantaleo, a 29-year-old, eight-year veteran of the force over Garner's death.
Meanwhile, the annual report by the nonprofit National Law Enforcement Officers Memorial Fund shows the concerning result of the anti-police sentiment drummed up in 2014. The number of ambush assaults jumped 300 percent in 2014, such as the one committed by 28-year-old Ismaaiyl Brinsley that killed Ramos and Liu.
"There are some weak-minded individuals influenced by the anti-law enforcement, anti-police rhetoric," said Craig Floyd, a law enforcement advocate and chairman of the memorial fund. "And they've gone out and targeted police officers."
Floyd said there is a real concern that the data could get much worse if tensions aren't reduced.
"Enough is enough," he said in a statement. "We need to tone down the rhetoric and rally in support of law enforcement and against lawlessness."
Since Ramos and Liu were assassinated for simply wearing the uniform, police in New York have investigated at least 70 threats made against officers, and more than a dozen people have been arrested.
Los Angeles Officer Hannu Tarjamo, one of 20 officers from the department to travel to New York to attend Liu's services, told the AP that the killings were an "act of savagery that should be condemned by society."
Liu's wake is being held at the Aievoli Funeral Home in the Bensonhurst section of Brooklyn. His funeral is scheduled for Sunday with a Chinese ceremony led by Buddhist monks to be followed by a traditional police ceremony with eulogies led by a chaplain. Burial will follow at Cypress Hills Cemetery.
The 32-year-old officer had been on the police force seven years and had gotten married two months before he died. His widow, Pei Xia Chen, gave a tearful statement days after the shooting.