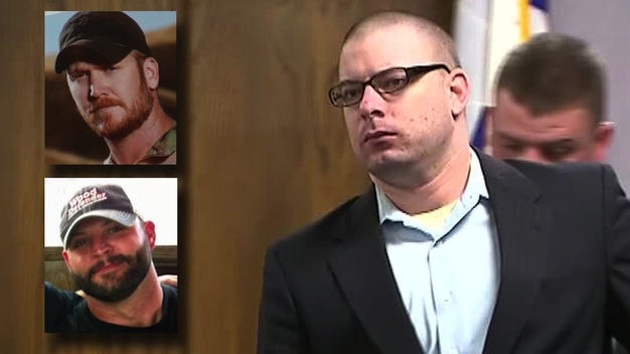 [wzslider info="true" lightbox="true"]
The opening arguments in the trial of Eddie Ray Routh, who is charged with the murders of famed Navy SEAL Chris Kyle and his friend, Chad Littlefield began today. Chris Kyle, the real "American Sniper" known for his service in Iraq and compassionate post-service work with veterans, was shot alongside Littlefield by Routh at the Rough Creek Lodge gun range in Texas.
The Kyle family described Littlefield as their "rock" and characterized him as a valuable and indispensable friend.
Kyle's tragic end came after Eddie Ray Routh's mother, who worked at the school where the Kyle children attended, asked the hero to help her son readjust to civilian life. Routh's mother claimed he had been suffering from mental illness, which the defense argued was the cause of his actions and the result of PTSD. Kyle accepted the request, inviting Eddie Ray Routh and Littlefield to the gun range at Rough Creek Lodge.
Taya Kyle testified that when she called her husband "he sounded like he was irritated," and answered only a brief "Yep" when she inquired if he was alright.  She added that some time had passed before Chad Littlefield's wife, Leanne, called asking if she had heard from the men. Taya Kyle sent at least one text message to her husband and expressed to him that she was getting worried.
She received no response.
Mrs. Kyle and Mrs. Littlefield had every reason to be concerned. They both received news that no wife ever wants to hear. A police officer known to the Kyle family soon confirmed the two men were dead.
During testimony, the court learned that Chris Kyle sent a text message to Littlefield regarding Routh while driving to the range, stating "this dude is straight up nuts." Littlefield, who was in the front passenger seat directly in front of Routh replied expressing concern, as well, texting backing, "he's right behind me. Watch my six."
Eddie Ray Routh was diagnosed with several conditions, including psychosis, paranoia, schizophrenia and PTSD. Tim Moore, Routh's defense attorney, is arguing an insanity defense, which legal experts say is more difficult to pull off in the state of Texas. In The Lone Star State, the law assumes a defendant is sane, and the burden of proof lays with the defense to prove the defendant is, in fact, insane.
While the defense claims he was high on marijuana, Moore will no doubt have a hard time proving that Routh was in the midst of psychosis.
Erath County District Attorney Alan Nash described the manner in which Routh committed the crime, underscoring that Chad Littlefield was shot four times in the back, once in the hand, and once in the face. He noted that Chris Kyle was shot five times in the back and side, as well as once in the side of the head. Prosecutors hammered home that Routh used two different guns to commit the murders.
But there are more questions being raised not about the manner in which the act was committed, but rather over the alleged PTSD claim and Routh's background.
The Warfighter Foundation, a nonprofit veterans group, confirmed the Marine veteran never saw combat nor experienced traumatic situations while serving overseas. Routh served one tour in Iraq in 2007, at Balad Air Base, which was the 2nd largest U.S. installation in Iraq that saw no major violent events.
The Warfighter Foundation filed a Freedom of Information Act request, which revealed the Joint Base Balad was a full-amenity military installation. The base gave U.S. troops access to swimming pools, dancing lessons, a movie theater, American restaurants and snack bars. It frequently housed celebrities and U.S. officials during their visits.
In 2007, Routh was a prison guard at a facility at Balad Airbase located 40 miles north of Baghdad, which held radical Islamic terrorists. On multiple occasions, he lamented to his father over prisoners' living conditions, including the three-square toilet-paper rations they received daily. During at least one phone call with his father, Routh expressed sympathy for the detainees and expressed anti-U.S. policy sentiments.
But while Kyle's fans and admirers will continue to pursue these questions, Mr. Nash is certain to focus only on the law, which Day 1 has already shown, is on the side of justice for Chris Kyle and Chad Littlefield.