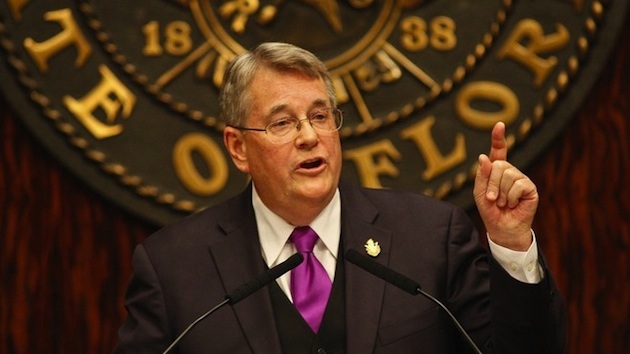 Florida state Senator Don Gaetz, R-District 1 (Niceville), proposed a bill that aims to increase adoptions in the Sunshine State. The state, among most others in the U.S., is experiencing a shortage of adoptive families, with more than eight hundred children awaiting adoption within the state's child welfare system.
Senator Gaetz, who served as Senate President for the 2013-2014 sessions, says these children will have a better chance of finding families under Senate Bill 320, which will provide financial help to qualified families who agree to adopt hard-to-place children, including those with disabilities, are of older age or suffer from illness. If the legislation passes, full or part-time employees of school districts, universities, colleges or state government would receive a lump sum benefit for adopting children who now sit in foster care.
"Sadly, in our state there are too many children in the foster care system because their own biological homes were filled with cruelty, abuse and crime," said Mr. Gaetz. "Once the courts have determined that they are adoptable, these innocent young Floridians deserve the chance to be part of stable, loving families."
The proposal is the latest in what has become a pattern by Gaetz of either supporting or outright sponsoring legislation intended to reform the state's child welfare system, prevent child abuse, provide care for its victims, support children advocacy groups and guardian ad litem programs. According to Gaetz, he was moved by a visit his wife Vicky made to foster homes, where she met with children who are eligible for adoption, but have not found placement with an adoptive family.
While Mr. Gaetz argues we have "a moral imperative to protect and cherish vulnerable children," he is also quick to note that taxpayers would save under the new program despite the bill offering lump-sum incentives. On average, it costs taxpayers in the Sunshine State $8,368 a year to support a single child in foster care and $36,120 to pay all the annual per person costs of a group foster home.
Under SB 320, a public employee who adopts a special needs child will receive a $10,000 benefit, because these children often come with complicated medical conditions and demand resources. An employee adopting a child without special needs would benefit from a $5,000 state grant.
SB 320 is a part of the Joint Legislative Workplan supported by both Senate President Andy Gardiner and House Speaker Steve Crisafulli, which creates an incentive program for community-based care agencies and their subcontractors to promote adoptions and establishes a state award to recognize faith-based and other organizations who make significant contributions to helping foster children find permanent homes.
"I am very grateful to the President and the Speaker for making the promotion of adoption a high priority for both chambers," Gaetz said. "These two thoughtful, compassionate leaders are both fathers of young children and know well the value of warm, loving families."