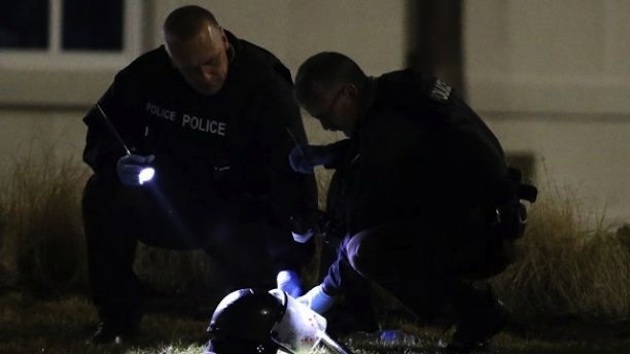 Two police officers were shot early Thursday outside the police department in Ferguson, Mo. amid protests that followed the resignation of the town's police chief.
St. Louis County Police Chief Jon Belmar told reporters at a news conference that a 41-year-old officer from St. Louis County was shot in the shoulder around midnight local time, while a 32-year-old officer from Webster Groves, a St. Louis suburb, was shot in the face. Both victims were taken to a local hospital and, as of Thursday morning, the St. Louis County Police Department said both officers had suffered non-life-threatening injuries, though were still in serious condition.
Belmar said that at least three shots were fired and were believed to come from a house across the street from the police department.
"I don't know who did the shooting, to be honest with you," Belmar said, adding that it is a safe "assumption" to make that, based on where the officers were standing and the trajectory of the bullets, "these shots were directed exactly at my officers."
Marciay Pitchford, 20, was among those protesting outside of the police department when the shots rang out.
"I saw the officer go down and the other police officers drew their guns while other officers dragged the injured officer away," Pitchford said. "All of a sudden everybody started running or dropping to the ground."
Belmar said that some officers had begun to leave the area due to the lack of activity prior to the shooting.
"I've said many times we cannot sustain this [unrest] without problems and that's not a reflection of those expressing their First Amendment rights," Belmar told the St. Louis Post-Dispatch. "But this is a very dangerous environment for our officers to work in."
Reports earlier Wednesday suggested as many as 200 people had gathered to demand more changes in the city's government following the resignation of Police Chief Tom Jackson Wednesday afternoon. The station reported that at least one person had been arrested and that protesters blocked traffic on nearby Florissant Road.
Jackson was the sixth Ferguson employee to resign or be fired after a Justice Department report cleared former officer Darren Wilson of wrongdoing, let along civil rights charges in the shooting of black 18-year-old Michael Brown this past August. The Justice Department said the "hands up, don't shoot" theory that was pushed by activists and media outlets was "not supported by the forensic and physical evidence."
The report agreed that Brown did attack Wilson and attempt to take his weapons while in the vehicle. However, Justice said the city had a profit-driven court system and widespread racial bias in the city police department.
Mayor James Knowles III announced Wednesday that the city had reached a mutual separation agreement with Jackson that will pay Jackson one year of his nearly $96,000 annual salary and health coverage. Jackson's resignation becomes effective March 19, at which point Lt. Col. Al Eickhoff will become acting chief while the city searches for a replacement.
"I believe this is the appropriate thing to do at this time," Jackson said. "This city needs to move forward without any distractions."
A "nationwide search" for a new police head will begin now, the city said in a statement.
Ferguson's court clerk was also fired last week and two police officers resigned. The judge who oversaw the court system also resigned and will be replaced by a Democrat-appointed district court judge, while the City Council on Tuesday agreed to a separation agreement with the city manager.