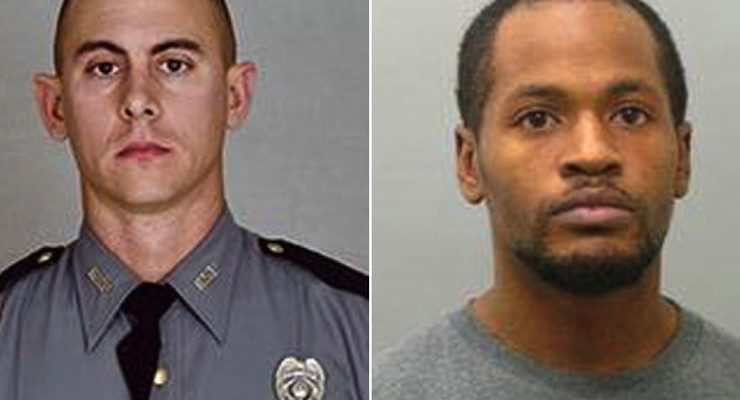 Kentucky State Police confirmed in a Facebook post they have shot and killed the suspected cop-killer who shot and killed Trooper Joseph Cameron Ponder late Sunday night. Joseph Thomas Johnson-Shanks allegedly shot Trooper Ponder as he was conducting a traffic stop on the westbound side of Interstate 24 in the western part of the state at about 10:20 p.m. local time.
Authorities said 25-year-old Joseph Thomas Johnson-Shanks, of Missouri, was located in a remote rural area near I-24 around 7 a.m., following an all-night manhunt. Though initial reports stated he had been arrested, Johnson-Shanks was armed with a handgun and did not comply with several commands to drop his weapon, according to Sgt. Mike Webb. Johnson-Shanks was arrested while police waited for EMS at the scene and he died from his injuries at a local hospital at 8:23 a.m. Webb said he wasn't aware of any statements Johnson-Shanks may have made prior or after the time he was shot.
"That gave the trooper closest to him no choice but to fire his agency-issued weapon, striking him multiple times," Webb said.
Earlier, officials announced in a Facebook post that they had located and arrested the suspect responsible for Trooper Ponder's murder, but offered no details.
"It's over. Suspect in custody. Wade," the post read, which refers to Lyon County Judge Executive Wade White.
A statement released early Monday confirmed that Trooper Ponder, 31, was pronounced dead at a Princeton, Ky., hospital after being shot multiple times. The statement said that the driver who was being stopped fled from the scene, forcing Ponder to pursue him for roughly nine miles before the suspect's car abruptly stopped, causing the trooper to crash his car into the vehicle. Officials say the driver, now identified as 25-year-old Joseph Thomas Johnson-Shanks, of Missouri, got out of the car and started shooting at Ponder, hitting him multiple times. Bullets riddled the hood and windshield of the police cruiser.
Law enforcement officials say Johnson-Shanks fled the scene on foot, but not before he was described as a black man, standing approximately 5 feet, 5 inches tall weighing 140 pounds with brown eyes and black hair. He was last seen wearing dark clothing.
Trooper Ponder had been with the Kentucky State Police since January of this year. Ponder, who was from Rineyville, Kty., was a U.S. Navy veteran who was stationed at the police post in Mayfield after graduating from the academy. He reportedly had plans to move closer to home within the next year.