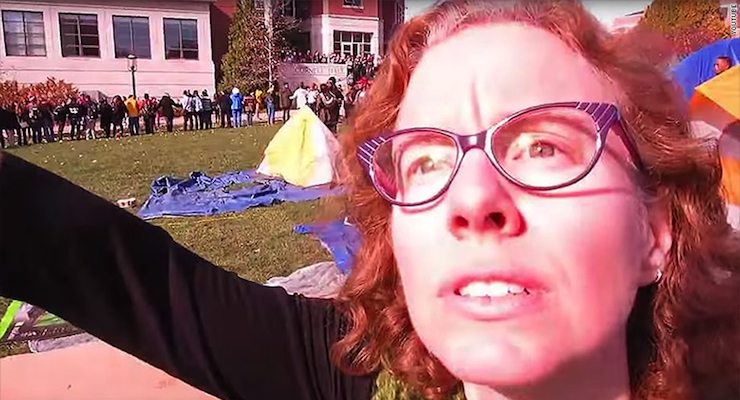 Well, so much for the First Amendment. Tossing sanity to the wind, college kids behaving as Marxists at so-called places of higher learning around the nation have broken free their classroom constraints to wander their various respective campuses, bullhorns in hand, and call for a stop to such offenses as wearing politically incorrect Halloween costumes, or for the forced removal of journalists covering – gasp – news events.
And that latter, no less, from the ridiculous lips of now-resigned University of Missouri journalism professor, Melissa Click, who underscored her rally demand of a reporter to exit the publicly-funded campus, stage right, with a plea for "muscle." What was her plan? Tar and feather the legally entitled guy, simply because he dared cross her self-declared media safe zone? No wonder media these days is so shabby. Journalists are being trained by idiots like Click – who didn't even lose her campus paycheck, but rather given another position at another department at Mizzou.
She's hardly the only idiot in the campus ring right now, however.
While the University of Missouri protesters revel in their successful ouster of both president and chancellor from their jobs, and push forward a list of demands that includes diversity training with an emphasis on more blacks, fewer whites, in campus positions of power, Black Lives Matter-like movements are springing up at colleges across the nation.
[brid video="19897″ player="1929″ title="Missouri Professor Among Those Harassing Accosting Student Journalists at Mizzou Protest"]
The junior class president of Claremont McKenna College in California resigned over a controversy generated by a Facebook photograph that showed her posing alongside two women decked in sombreros, ponchos and mustaches – Halloween costumes. The campus, shortly after, ignited in protests. Yale students are still upset over their own campus Halloween costume flap, as well as at an overheard comment about a "white girls only" planned fraternity party at an off-campus location.
At Ithaca College, hundreds of students swarmed their own campus lawns to demand the resignation of their own president, Tom Rochon, who apparently didn't express the proper level of outrage when a couple of white alumni called a black alumna a "savage." Or in Massachusetts, students at Smith College in Northampton rallied to show solidarity with their beleaguered brothers and sisters at Ithaca and Missouri. And at the University of Kansas, administrators felt the need to take preemptive measures and set up a town meeting to let students air any grievances they might have, all in hopes of appeasing the masses before they stumbled on their own cause to protest.
The analogy of the inmates running the asylum is not a far reach here. Let's not forget, the main issue with these Marxists is somebody said something or wore something that hurt their feelings. And that, my friend, is called a First Amendment right.
Don't these college educated understand where their lunacy is headed? Can't they see the not-so-distant results of their calls to clamp free speech? Even worse, some of these racially tainted events and occurrences may not even have happened. The fact the campus president of Missouri and the chancellor would fold so quickly and quit is alarming, as it only fuels the thuggery, emboldens the protesters and mocks a rule of law that's supposed to be based on innocence until proven guilty.
Coincidentally enough, there's a death this week that casts an insightful light on the state of America's college campuses and where this protest path leads. It'd be a good idea to distribute the obituary among these protesters.
Andre Glucksmann, a French philosopher who renounced Marxism in the 1970s and then became one of the country's leading intellectuals in the fight against leftist politics, died Tuesday. Interesting to note, he was thick in the middle of stirring the college campus chaos and uprising of the late 1960s, serving as both teacher and militant Marxist at Paris universities, while urging students to rebel, revolt and demand change.
He later became a Maoist. Violence on the part of his cohorts — Ms. Click, are you listening? — turned his stomach against his red leanings, though, and he soon shed his Marxism and began issuing scathing attacks against the very ideals he once held, and the very colleagues he once worked with and supported.
"It was Andrea Glucksmann who dealt the decisive blow to communism in France," a French radio announcer said, of his death.
"He was a passionate defender of the super-oppressed," another commentator said, the New York Times reported. "When he turned against communism, it was because he realized that communists were not on the same side."
His life story could serve as both hope and warning on college campuses in America right now. Only problem is: who's listening?
[mybooktable book="police-state-usa-how-orwells-nightmare-is-becoming-our-reality" display="summary" buybutton_shadowbox="true"]