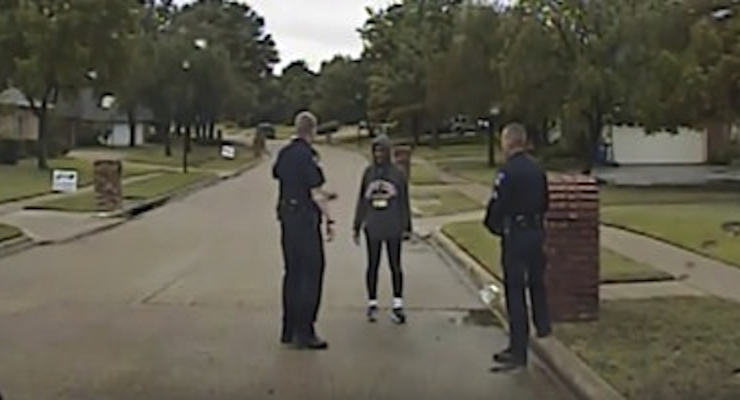 Dorothy Bland, the dean of the school of journalism at UNT, recently wrote an article in the Dallas Morning News alleging she was harassed by police officers for "walking while black." Unfortunately, for her, recently released police dash cam footage shows Bland fabricated her supposed harassment.
"Knowing that the police officers are typically armed with guns and are a lot bigger than my 5 feet, 4 inches, I had no interest in my life's story playing out like Trayvon Martin's death," Bland wrote of the allegedly racially-motivated encounter. "I stopped and asked the two officers if there was a problem; I don't remember getting a decent answer before one of the officers asked me where I lived and for identification."
But the video footage clearly shows another version of the story–the truth. In fact, either Bland is living in an alternative reality or she knowingly started and perpetuated a lie. Either way, Ms. Bland was confronted for obstruction of traffic, not because she was "walking while black," and was lucky she didn't get run over by a car or get a ticket.
[brid video="19428″ player="1929″ title="Police question UNT journalism dean Dorothy Bland"]
"My officers, a field training officer and his recruit, observed Ms. Bland walking in the roadway wearing earbuds and unaware that there was a pickup truck directly behind her that had to almost come to a complete stop to avoid hitting her," Corinth Police Chief Debra Walthall explained in response to the accusatory article. "The driver of the truck looked at the officers as they passed and held his hands in the air, which implied 'aren't you going to do something about this?' The officers turned around and drove behind Ms. Bland."
That's where the dash cam footage comes in to the story. It shows her walking in the roadway impeding traffic with zero knowledge of the patrol car behind her. Further, her morning was not interrupted by "flashing sirens" as she contended.
"They activated their emergency lights — no siren was ever sounded — they exited their patrol vehicle and contacted Ms. Bland," Chief Walthall added. "They immediately advised Ms. Bland about the pickup truck and the fact that it was safer for her to walk against traffic so she could see the cars and jump out of the way if necessary. The interaction between Ms. Bland and the officers was very cordial and brief."
Bland was wearing a hooded sweatshirt that easily obstructed her view and ear plugs, paying zero attention to her surroundings as she walked down a street with sidewalks on both sides. Yet, she was walking in the street. In fact, as the police cruiser drives slowly behind her, Bland moves from walking on the side of the street to the middle of the street, completely obstructing traffic.
As the police stated, she had been seen earlier by these same officers, but she was not in the street and impeding traffic, thus she was not stopped by police.
"Impeding traffic is a Class C misdemeanor, and it is our policy to ask for identification from people we encounter for this type violation," Chief Walthall noted. "I am surprised by her comments as this was not a confrontational encounter but a display of professionalism and genuine concern for her safety."
While the two officers displayed "professionalism and genuine concern for her safety," Ms. Bland displayed a complete lack of regard for others, a complete lack of responsibility for her actions and downright arrogance. She pulled out her cellphone to snap pictures of the officers and their patrol car, as if she was gently reminding them there is a Ferguson Effect around the country for a reason. More concerning, there's a representation of the state of journalism in America.
According to her profile at UNT, before landing the dean of the school of journalism, Bland also worked at Florida A&M University as a journalism professor and even at USA Today. What biases, which were forced upon the countless number of students she came into contact with, are now permeating the news coverage Americans now hear on a daily basis.
"Please review the video and I'm sure you will agree the officers' intent was simply to keep her safe. Ms. Bland never contacted the police department to voice her concerns regarding this encounter and has not returned my phone message left at the number provided by the mayor," Chief Walthall added. "The citizens of Corinth as a whole are a highly educated population, and it is disappointing that one of our residents would attempt to make this a racial issue when clearly it is not."
Indeed.