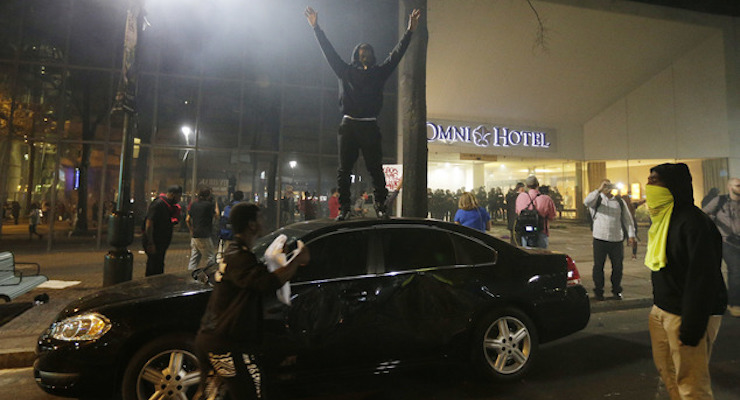 North Carolina Gov. Pat McCrory declared a state of emergency following rioting in Charlotte resulting from the officer-involved shooting death of Keith Lamont Scott. The Republican governor called in the National Guard at the request of Charlotte-Mecklenburg Police Chief Kerr Putney.
"Any violence directed toward our citizens or police officers or destruction of property should not be tolerated," Gov. McCrory said in a statement. "I support and commend the law enforcement officials for their bravery and courage during this difficult situation."
Charlotte-Macklenburg police said early Thursday in a statement that at least four officers suffered non-life threatening injuries in the unrest. A civilian protestor also suffered a life-threatening shot to the head early on in the protest, a crime that was perpetrated by another protestor. The victim, who is male, is currently on life support, though police officials initially said he was deceased.
The violence broke after the daughter of the 43-year-old Scott posted a profanity-filled, hourlong video on Facebook claiming her father had some kind of disability and was unarmed. In the footage, she claimed he was only carrying a book and was waiting for his son to get off the school bus. On Wednesday, a man identifying himself as Scott's brother said to media that "all white people are devils, all white cops are devils."
Worth noting, the "white people are devils" is a preferred racist and inflammatory statement of the Nation of Islam, the group that turned on and assassinated 1960s civil rights leader Malcolm X. While law enforcement officials have refused to release video of the shooting of Mr. Scott by Officer Brentley Vinson—who is also African-American—the preponderance of evidence backs up the police version of the story.
Police say Mr. Scott ignored repeated law commands to drop his gun, which was corroborated by non-police witnesses. Neighborhood residents say otherwise, but images leaked clearly show a gun on the ground near Mr. Scott's foot, which the family says was planted.
[brid video="65217″ player="2077″ title="GRAPHIC Protestor in Charlotte North Carolina Shot on Life Support"]