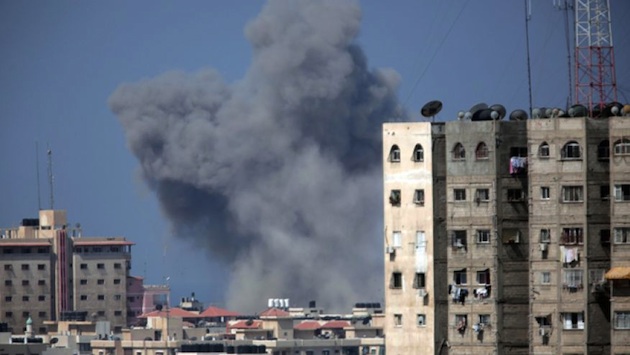 Hamas militants in Gaza fired a barrage of rockets at southern Israel immediately after the three-day cease-fire between Israel and Hamas ended. Israeli military officials said it responded with strikes "across Gaza."
At least one of the rockets fired from Gaza was successfully intercepted by the Iron Dome system over the southern Israeli city of Ashkelon while two rockets fell in open areas without causing casualties or damage. In under, 15 seconds, the computer determines whether the rocket will land in a populated area, or fall into an open area.
Israel and Hamas have been engaged in indirect negotiations in Cairo on new border arrangements for the blockaded coastal territory. Israel said it was willing to consider easing border restrictions, but demanded that Hamas disarmed. Israel offered to extend the cease-fire for another 72 hours while negotiations were taking place, but Hamas refused. The talks began during the three-day truce that ended at 8 a.m. local time on Friday.
Now, following the rocket attacks into, Israeli government spokesman Mark Regev would not say whether Israel is still interested in extending the cease-fire.
Regev blamed Gaza militants for breaking the cease-fire. "The cease-fire is over," Regev said. "They did that."
In fact, even before the end of the cease-fire, the Israeli military said that the militants had fired two rockets at Israel. Despite Hamas violating the cease-fire, the Israeli military did not respond. Hamas has violated every single cease-fire since the conflict began,
Meanwhile, in Cairo, Hamas has said it will not consider Israel's demand that it disarm, and Israeli officials say they will not lift the blockade without a demilitarization of Gaza.
The blockade has been enforced by Israel and Egypt to varying degrees since Hamas seized Gaza by force in 2007. Egypt was forced to tighten the blockade due to Hamas ties to the Muslim Brotherhood, another terror organization that has attempted to subvert the military government that removed them from power last year.
The conflict was sparked after the kidnapping and subsequent killing of three Israeli teens, who were found in shallow graves in the West Bank in June. Israel began arresting hundreds of the group's members in the West Bank, but Hamas and other militants began firing rockets from Gaza into Israel.