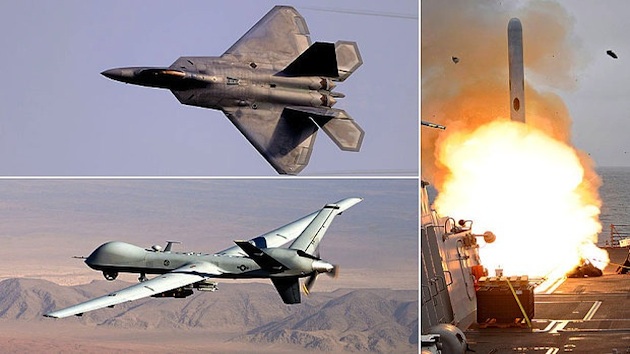 A U.S.-led coalition consisting of five Arab nations began conducting airstrikes over Syria early Tuesday, hitting ISIS headquarters at Raqqa and other "hard targets" in the North. The airstrikes mark both the first U.S. military intervention in Syria since the start of the civil war in 2011. But, more notably, the coalition of Arab nations is a historic first, as the airstrikes were conducted by the U.S., Bahrain, Qatar (not confirmed), Saudi Arabia, Jordan and the United Arab Emirates.
Qatar, a proven financier of Hamas, played a supporting role in the airstrikes. Many have charged Qatar over their role in funding ISIS and helping them to sell seized oil on the black market, a charge officials deny. But it has been confirmed that the country funds individuals and groups that have since molded in what is now ISIS. Jordan, on the other hand, was the first Arab state to confirm its participation in the raids.
"We took part in the strikes which are part of our efforts to defeat terrorism in its strongholds," government spokesman Mohammad Al-Momani said.
In a statement released early Tuesday, U.S. Central Command (Centcom) said that 14 ISIS targets were hit, including the group's fighters, training compounds, headquarters in Raqqa, command and control facilities, storage facilities, a finance center, supply trucks and armed vehicles.
"We think about 15 Isil fighters were killed in there," one resident from Raqqa said. He said the U.S. airstrikes hit a building that was being used by the Syrian regime's "political security branch," which was converted into an ISIS base, killing everyone inside.
The statement also said that 47 Tomahawk Land Attack Missiles were launched from the USS Arleigh Burke and USS Philippine Sea operating in the Red Sea and the North Arabian Gulf. Pentagon officials told PPD that F-22 stealth fighters (a $143 million warplane), B-1 bombers, F-16 and F-18 fighters, as well as Predator drones were all used. According to FOX News, F-18s flew missions off the USS George H.W. Bush in the Persian Gulf.
Centcom said that U.S. aircraft thwarted a terror attack in the making when it struck eight targets associated with the Islamic terrorist group known as the Khorasan Group, which is reportedly made of up al Qaeda veteran fighters. The strikes hit near the northwestern Syrian city of Aleppo, initially targeted training camps, explosives and munitions production facilities, a communication building and command and control centers.
A Centcom spokesman said the Khorasan Group was involved in "imminent attack plotting against the United States and Western interests." When asked which nation put boots on the ground to paint the targets, one Pentagon official downplayed the question by calling the targets "low hanging fruit."
The leader of the Free Syrian Army, Hadi Bahra, welcomed the U.S.-led coalition airstrikes in Syria.
"Tonight, the international community has joined our fight against ISIS in Syria," he said in a statement. "We have called for airstrikes such as those that commenced tonight with a heavy heart and deep concern, as these strikes begin in our own homeland. We insist that utmost care is taken to avoid civilian casualties."
However, the so called "moderate" Syrian opposition groups — mainly composed of rebels who have yet to join ISIS or Al-Qaeda's Jabhat al-Nusra – have dwindled in strength and are now fractured after three years of war with little to minimal western support.
There have been reports citing U.S. officials' concerns over President Bashar al-Assad's capable air defense systems, but Syrian state television said the United States informed Syria's UN representative on Monday that ISIS targets would be hit in Raqqa, which is 400 km (250 miles) northeast of Damascus. However, it is unclear whether the regime is pushing propaganda to give off the perception of relevance, and PPD received information suggesting both scenarios.
Meanwhile, as the administration touts the first-ever Arab coalition of warplanes, critics note the absence of U.S. allies with the power, loyalty and capability to conduct long-term operations that experts agree will be necessary to confront the greater problem. It is less than clear whether the Arab nations are willing or able to continue to fight in what is likely to be a long and protracted conflict.
Because the United States ignored the Syrian conflict for so long, the Obama administration spent the last several weeks scrambling to gather intelligence, launching surveillance missions over the country last month. Great Britain sat out the airstrikes amid a confusing strategy members of the U.K.'s top political parties in Parliament say is too uncertain to follow, leaving Prime Minister David Cameron in a precarious political situation.
"The PM supports the latest air strikes against Isil terrorists which have been carried out by the US and five other countries from the Gulf and Middle East," a Downing Street spokesperson said. "The PM will be holding talks at the United Nations in New York over the next two days on what more the UK and others can do to contribute to international efforts to tackle the threat we all face from ISIL."
Parliament is likely to be recalled this week for a vote on military intervention, but both British Conservative MP John Baron and Ed Miliband, the Labour Party leader, are weary of supporting an intervention.
"IS has to be driven out of Iraq, given our responsibility to the Iraqi people following our misguided intervention in 2003," Baron said. "But air strikes into Syria are a higher risk strategy, with no certain outcome. The UK should be advising caution, particularly against mission creep."
Still, the blame game continues to dominate the English debate, as others such as Steven Swinford note how Tory warnings that Britain is "falling behind the curve" on Iraq and Syria because Labour is refusing to "get off the fence" on air strikes have gone unheeded. Sir Gerald Howarth, a Tory, has also said that Britain has a "moral duty" to intervene.
Cameron tried to strike a more optomistic tone when asked whether Britain would eventually get on board, citing efforts already underway.
"The UK is already offering significant military support, including supplying arms to the Kurds as well as surveillance operations by a squadron of Tornadoes and other RAF aircraft," Cameron's spokesperson said.
President Obama will address the nation from the White House this afternoon to discuss the airstrikes in Syria before flying to New York to join other world leaders, including David Cameron at the UN Climate Change Summit. He is widely expected to talk up his historic, but nevertheless uncertain Arab coalition.