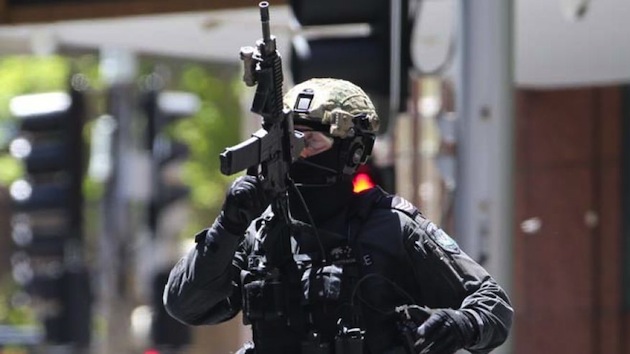 [wzslider info="true" lightbox="true"]
UPDATE: Explosion heard, several shots fired as police in Sydney, Australia, storm cafe where an Iranian gunman had been holding hostages. Ambulance crews have entered the building. Reports suggest one hostage and the gunman have been killed, but no police injured.
Seven News has been told that the two dead are the gunman and a hostage. The hostage killed by the gunman

— Chris Reason (@ChrisReason7) December 15, 2014
EARLIER: What is believed to be one lone radical jihadist has been holding as many as 15 people hostage in a Sydney cafe for over twelve hours, and has demanded to speak directly with Australian Prime Minister Tony Abbott. Prime Minister Abbott released a pre-recorded statement calling the attack "very disturbing" and "profoundly shocking," but his office has not responded to the gunman's demands.
Police and news crews surrounding the shop watched the frightened hostages at the Lindt Chocolat Cafe pressed against the glass in the front windows with their arms in the air.
Television footage shows two people holding up a black flag associated with Islamic fanaticism, and Australian broadcaster Network Ten reported that the unidentified gunman, seen wielding a shotgun and a machete, has forced hostages to call him "The Brother."
The standoff began Monday morning in Sydney's central business district in Martin Place, a plaza in the heart of the city's financial and shopping district that is packed with holiday shoppers this time of year. Five people have managed to escape the cafe and people have been ordered by police to stay out of the area. Journalist Chris Reason had tweeted the scene the moment the hostages escaped.
When the 5 hostages escaped, the gunman could be seen from here getting extremely agitated, shouting at remaining hostages

— Chris Reason (@ChrisReason7) December 15, 2014
Three men were seen running from a fire exit of the cafe approximately six hours after the hostage situation began at 9:45 A.M. local time. Moments later, two women believed to be employees, followed suit. It was not immediately clear how the hostages escaped.
Reason described the gunman as unshaven, wearing a white shirt and a black cap, and holding what appeared to be a pump-action shotgun. The gunman could be seen pacing back and forth past the cafe's four windows before the lights in the cafe went off, Reason reported.
New South Wales Deputy Police Commissioner for Specialist Operations Catherine Burn said negotiators have made contact with the unidentified gunman, and said witnesses have told them they do not believe any children are inside.
"We do not have any information that suggests that anybody is harmed at this stage," she said.
The gunman was reportedly relaying threats and giving demands through two hostages, who claimed  he said he planted two bombs inside the cafe and two others somewhere in Sydney's central business district. New South Wales Police Commissioner Andrew Scipione told reporters Monday evening that authorities were concentrating their efforts solely on the cafe. He said police are not currently concerned with any other location in the district.
Still complete darkness at the Lindt Cafe, but you can just make out the black extremist flag being held up in the window

— Chris Reason (@ChrisReason7) December 15, 2014
The government raised Australia's terror warning level in September in response to the domestic threat posed by supporters of the Islamic State group. Counterterror law enforcement teams later conducted dozens of raids and made several arrests in Australia's three largest cities — Melbourne, Sydney and Brisbane. One man arrested during a series of raids in Sydney was charged with conspiring with an Islamic State leader in Syria to behead a random person in downtown Sydney.
The Islamic State group, which now holds a third of Syria and Iraq, has threatened Australia in the past. In September, Islamic State group spokesman Abu Mohammed al-Adnani issued an audio message urging so-called "lone wolf" attacks abroad, specifically mentioning Australia. Al-Adnani told Muslims to kill all "disbelievers," whether they be civilians or soldiers.