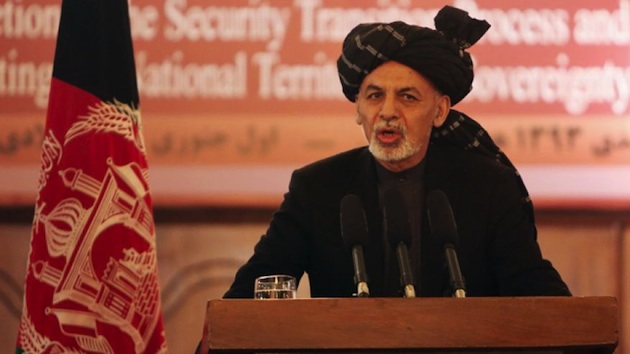 With over 5,000 Afghans soldiers and police killed by insurgents in 2014, making it the bloodiest year of the war, President Ashraf Ghani is hoping the U.S. rethinks its withdrawal timeline. "Deadlines concentrate the mind. But deadlines should not be dogmas," he told Lara Logan during an interview on CBS's 60 Minutes.
"If both parties, or, in this case, multiple partners, have done their best to achieve the objectives and progress is very real, then there should be willingness to reexamine a deadline," Ghani added. When asked whether President Obama knows his sentiment, Ghani replied, "President Obama knows me. We don't need to tell each other."
Ghani and other pro-West Afghan leaders worry that the withdrawal could trigger the same kind of insurgency plaguing Iraq since the U.S. left. The Afghanistan Taliban, who is notorious for saying "the U.S. has the watches, but we have the time," have already declared victory over the United States.
Gen. John Campbell, the commander of the coalition forces in Afghanistan, was noticeably more upbeat about the nation's prospects.
"It's the number one respected institution in Afghanistan. Couple years ago, I probably wouldn't have said that, but today it is," says Campbell in an interview in Kabul. "With the military they have here…this is not Iraq. I don't see ISIS, ISIL, coming into Afghanistan like they did into Iraq," he says. "The Afghan Security Forces would not allow that."
Under President Obama, roughly 70 percent of troop casualties have occurred and, under the current mandate, U.S. troops are now down to only 10,000. In just one year's time, that number will be cut in half. By December 2016, the U.S. mission will be completely over, accomplished or not.
According to a new survey conducted by Rasmussen Reports, after 13 years, few Americans believe the U.S. accomplished its mission in Afghanistan, with only 15 percent of likely voters saying the U.S. mission to end Afghanistan's harboring of al-Qaeda terrorists has been accomplished. A whopping 64 percent disagree.
In a separate survey, for the first time in years, a majority of Americans say they support leaving troops in the country until the mission is complete. A significant 60 percent say troops should remain in Afghanistan in a limited role until such time.