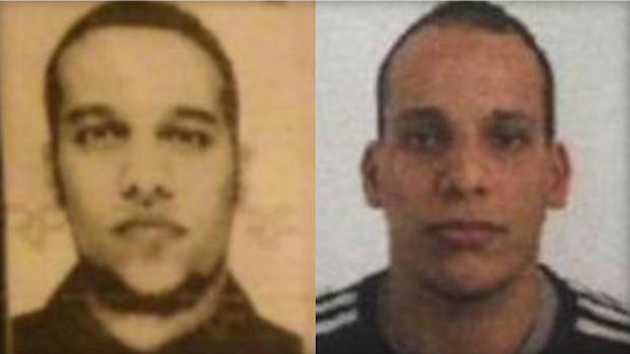 French police say they have identified the three Islamic terrorists who stormed the offices of weekly satirical newspaper Charlie Hebdo Wednesday morning. Two officials, speaking on condition of anonymity, named the suspects to the Associated Press as Frenchmen Said Kouachi and Cherif Kouachi, in their early 30s, as well as 18-year-old Hamyd Mourad, whose nationality is not yet known.
Police are now executing a raid in Northeastern France. However, while the ids and perhaps location of the gunmen are now known, common sense questions remain unanswered regarding how and why the tragic event wasn't prevented.
Cherif Kouachi was convicted in 2008 of terrorism charges for helping funnel fighters to Iraq's insurgency and, in accordance with France's weak stance on radical Islam, sentenced to just 18 months in prison. Testimony from court records reveals he told officials that he was outraged over the images and treatment of prisoners at Abu Ghraib prison in Iraq, which the left-wing media plastered back-to-back stories of all over television at the time.
Charlie Hebdo, which had been repeatedly threatened for its caricatures of the Prophet Muhammad and other Muslim-offending cartoons, was already under additional police protection and surveillance. Unfortunately, strict gun control measures, including those that apply to the police, left the victims little recourse to protect themselves.
One of the officials also said they were linked to a Yemeni terrorist network, which backs up witness testimony from earlier Wednesday.
William Cedric Le Bechec, 33, described the scene of the carjacking on his Facebook page. He said "guys get out of a bullet-ridden car with a rocket launcher in hand, eject an old guy from his car and calmly say hi to the public, saying `you can tell the media that it's al-Qaida in Yemen.'"
Corinne Rey, one of the newspaper's cartoonist who said she was forced to let the gunmen in, said the men spoke fluent French and claimed to be from al-Qaida. In an interview with the newspaper l'Humanite, she said she hid under a desk during the five-minute attack.
The staff was in an editorial meeting when the three attackers sought out the paper's editor, Stephane Charbonnier, better known by his pen name Charb. They killed him and his police bodyguard first, according to police union spokesman, Christophe Crepin.
A cartoon released in this week's issue and entitled "Still No Attacks in France," depicted a caricature of a jihadi fighter saying, "Just wait – we have until the end of January to present our New Year's wishes." Charb was the artist.
Paris prosecutor Francois Molins gave a partial breakdown of the 12 dead, including 8 journalists, a guest and two police officers. Among those killed were Bernard Maris, an economist who was a contributor to the newspaper and a regular on French radio, and cartoonists Georges Wolinski and Berbard Verlhac, better known as Tignous.
"Hey! We avenged the Prophet Muhammad! We killed Charlie Hebdo," one of the men shouted in French, which can be heard in a video shot from a nearby building. "Allahu akbar!" — Arabic for "God is great" — could be heard clear as day amid the gunshots.
The gunmen moved with the skill and precision of highly-trained commandos, military experts told FoxNews.com. Moments after the 11:30 A.M. ET attack, the three assassins were gone. A manhunt was quickly launched and reports suggest one may be dead and another in custody, though it is unconfirmed. Nevertheless, when they are caught, there is a danger in ignoring the demeanor of the attackers.
A video of the gunmen stopping their getaway car to wound, chase down and execute a police officer raising his hand in a plea for mercy shows tactics and movement that only comes with training, said retired Army Lt. Col. Ralph Peters, a Fox News strategic analyst.
"It was evident immediately that this was a carefully planned, sophisticated operation by well-trained, well-armed veterans of jihad," Peters said Wednesday afternoon. "This was not a pick-up team. These butchers were methodical and efficient. They weren't just terrorists: They were terrorist commandos."
"There aren't little giveaways, it's the overall skill with which the attack was executed," Peters said. "And they didn't just go nuts and shoot wildly, as amateur jihadis do. They set out to kill specific people and never list focus. [They] even stayed cool during the getaway phase. These men had killed before."
Yet, despite known ties to radical Islam and a record of terrorism convictions, somehow they managed to pull off the worst attack in France in at least a decade.
"This is the darkest day of the history of the French press," said Christophe DeLoire of Reporters Without Borders.