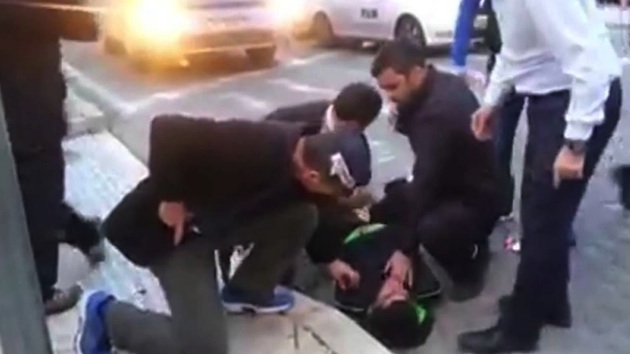 Jerusalem Mayor Nir Barkat tackled a knife-wielding Palestinian on a stabbing spree who had just attacked a Jewish man, and it was all caught on camera. A security camera in Jerusalem captured the moment Sunday just after an 19-year-old Palestinian attacked a Jewish man and in the process of searching for more victims.
"I felt a sharp blow in my stomach," said Abraham Goldstein, the victim. "I began shouting that there was a stabbing and that they should move away, then he came to stab me again and I blocked him with my tefilin."
Mayor Barkat lunged at the man he called a "terrorist" and, together with his bodyguards, took the man down near Jerusalem's City Hall. Barkat can be seen in this video wearing a white shirt and lunging at the suspect, who was standing in what is typically a very busy intersection.
"[W]hen I was on my way to the office for a meeting, while we were at the junction right next to City Hall, my driver and my team noticed something happening in the junction," Barkat told reporters two hours after the incident. "So, I got out of the car with my bodyguard, and we approached the scene and noticed a terrorist with a knife in his hand."
Barkat explained that his bodyguard, Asaf Na'amani, drew and cocked his handgun, which caused the Palestinian man to drop the knife. At that point Barkat and his bodyguards took him down.
"The mayor and I jumped on him and wrestled him to the ground," said Na'amani. "In our world, there's no such thing as hesitation — there's only yes or no."
A second video — shown above — offers a close-up view of Barkat and his bodyguards around the stabbing suspect when he was on the ground. Barkat then attends to the stabbing victim, an ultra-Orthodox Jewish man who was moderately wounded according to police.
"Without thinking, my bodyguard took out his weapon, and when he aimed at the terrorist, the terrorist dropped his knife and we immediately tackled him to the ground to make sure that he could not continue with the terror attack," Barkat told The Jerusalem Post. "It's clear to me that if the terrorist had continued stabbing, he would not be alive right now. But because he dropped the knife we overpowered the terrorist."
Police later identified the attacker as a 19-year-old Palestinian who was in Israel without a permit.
"Meanwhile, after the press conference concluded, one attendee expressed the sentiments seemingly shared by most of the journalists in the room. 'I guess this makes him Super Mayor,'" wrote a Jerusalem Post reporter.
Barkat, 55, served as an officer in the paratroopers' brigade. A former high-tech entrepreneur, he was elected as Israel's mayor of Jerusalem in 2008.