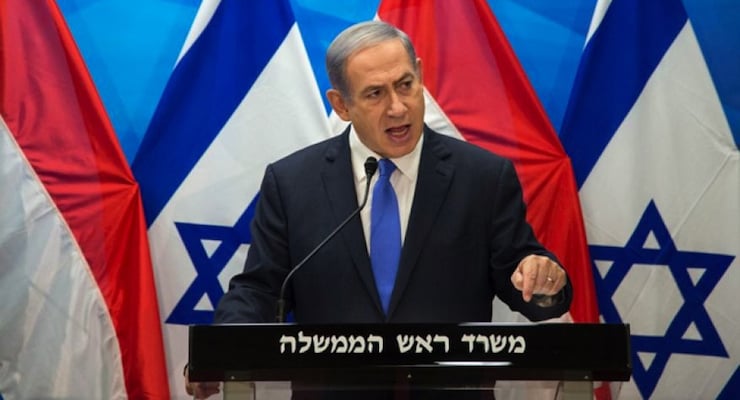 Israeli Prime Minister Benjamin Netanyahu ripped the Iran Deal Tuesday, vowing Israel will defend itself in the face of "a bad mistake of historic proportions." Netanyahu had strong comments on the agreement, which he made prior to the start of a meeting with Dutch Foreign Minister Bert Koenders in Jerusalem.
"Iran is going to receive a sure path to nuclear weapons. Many of the restrictions that were supposed to prevent it from getting there will be lifted," Netanyahu said. "Iran will get a jackpot, a cash bonanza of hundreds of billions of dollars, which will enable it to continue to pursue its aggression and terror in the region and in the world."
When willing to make a deal at any cost, this is the result. From early reports, we can see that the deal is a historic mistake.

— Benjamin Netanyahu (@netanyahu) July 14, 2015
Netanyahu declared that "Israel is not bound by any agreement, will always defend itself" and remains committed to preventing Iran from gaining a nuclear weapon now and after the sunset provisions expire.
"One cannot prevent an agreement when the negotiators are willing to make more and more concessions to those who, even during the talks, keep chanting: 'Death to America,"' Netanyahu added. "We knew very well that the desire to sign an agreement was stronger than anything, and therefore we did not commit to preventing an agreement. We did commit to preventing Iran from acquiring nuclear weapons, and this commitment still stands."
While the prime minister certainly took the lead on Israel's response, he wasn't alone. From members of the ruling party and coalition to opposition leaders, Israeli officials blasted the Iran deal.
Culture and sports minister Miri Regev, a former military spokeswoman, said the deal gave Tehran a "license to kill," and characterized it as "bad for the free world (and) bad for humanity." She called for further lobbying against the nuclear deal, noting that the U.S. Congress could still block it. In order to do so, the House and Senate would need a veto-proof majority, as Obama said he would veto any bill aimed at derailing the deal's implementation.
Meanwhile, Israeli Deputy Foreign Minister Tzipi Hotovely tweeted her opposition to the deal, calling it "a capitulation of historic proportions by the West to the Iran-led axis of evil." She added Israel "will employ all diplomatic means to prevent confirmation of the agreement."
This agreement is a capitulation of historic proportions by the west to the Iran-led axis of evil.

— Tzipi Hotovely (@TzipiHotovely) July 14, 2015
Education Minister Naftali Bennett, a coalition partner who heads the hawkish Jewish Home party, said July 14 will be remembered a "dark day for the free world."
Again, criticism from Israeli officials crossed party lines.
"This is a regime based in deceit, and now they are going to do what they did for the last 20 years, which is trying to get themselves nuclear weapons behind the back of the world," Yair Lapid, the head of the opposition Yesh Atid Party, told The Associated Press. "Now they are going to do it with the help of the international community."
According to an aide to a cabinet official who spoke to PPD on the condition of anonymity, the Israeli government will first initiate intense lobbying efforts in the U.S. Congress to oppose the deal. Netanyahu spoke against the emerging deal before a joint session of Congress in March, during which strong support among Republicans and lukewarm among Democrats was obvious.
In Vienna, world powers concede more and more to Iran. In Tehran, demonstrators burn American & Israeli flags. pic.twitter.com/4pQRvQmfwL

— Benjamin Netanyahu (@netanyahu) July 11, 2015
In the Senate, lawmakers can weigh in on the agreement but likely cannot can't kill it, because establishment GOP Senate leaders, led by an effort by Sen. Bob Corker, R-Tenn., ensured Obama doesn't need congressional approval for a multinational deal. Thanks to the Corker bill, the Iran deal is not designated a treaty any longer, which would have had to been ratified by two-thirds of the upper chamber.
Lawmakers have 60 days to review the agreement, during which Obama can and will ease sanctions and embargo policy again Iran. Only if lawmakers were to build a veto-proof majority behind new legislation enacting new sanctions or preventing Obama from suspending existing ones, the administration would be prevented from living up to the accord.