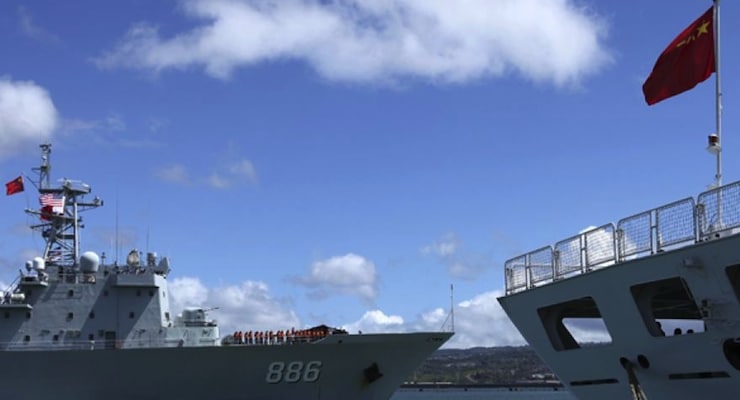 The Pentagon confirmed they are tracking five Chinese warships in the Bering Sea off the coast of Alaska during a high profile trip to the region by President Obama. The development marks the first time the Chinese Navy has sailed that far north, according to defense officials, and comes as the communist nation held a very public military parade in Beijing on Thursday morning.
The Chinese warships, which just completed a joint exercise with the Russian navy which ended last week, are holding course in international waters, and include three surface warships, a replenishment ship, and an amphibious assault ship. The Pentagon said they were spotted at the same time that Beijing was hosting the military parade to mark the 70th anniversary of the end of the Second World War.
The military parade was a chance for Beijing to flex its muscles on the world stage just days before President Xi Jinping visits Washington to meet with President Obama. The event included 12,000 troops, roughly 200 planes and helicopters, and around 500 troop carriers, tanks, rocket launchers and missiles. The event was also used to make public for the first time the massive Dongfeng 21-D "carrier killer" missile, which is estimated to have a range of up to 1,500 km and potentially travels at the speed of sound, making it nearly impossible to intercept.
President Xi announced he's cutting the 2 million-strong force by roughly 300,000 in a message that focused more on high-tech naval and air assets than conventional ground troops, requiring fewer but better trained troops in the coming years.
Analysis firm IHS estimated on Wednesday that China's defense budget would grow to approximately $260 billion in 2020, about doubling what Beijing spent in 2010. Five years ago, China spent an estimated $134 billion on defense, but "across this decade, China is expected to spend almost $2 trillion on defence," the group's analysts conclude.