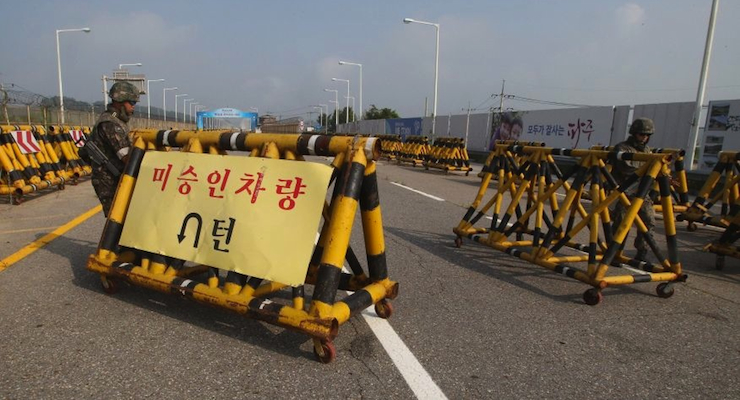 South Korea and North Korea agreed Saturday to hold high-level talks to avoid further military confrontation at the border village of Panmunjom. The talks are scheduled to take place at 6 p.m. Seoul time, exactly 30 minutes after the deadline set by North Korea for the South to take down the loudspeakers broadcasting anti-North Korean propaganda at their border.
North Korean leader Kim Jong Un placed his army on what the North called a "quasi state of war" Friday after a meeting with senior party and defense officials. Following the meeting, which took place Friday, Un "reviewed and approved the final attack operation" against the rogue regime's neighbor tot the South. Now, according to the South Korean presidential office, the South's national security director Kim Kwan-jin and Unification Minister Hong Yong-pyo will sit with Hwang Pyong So, the top political officer for the Korean People's Army. Hwang is believed to be North Korea's second after supreme leader Kim Jong Un, and Kim Yang Gon, is a secretary of the central committee of the Workers' Party of Korea and a senior official responsible for South Korea affairs.
The two agreed to the meeting after the South Korea shelled the North on Thursday. South Korea claims it fired "dozens" of artillery fire in response to Pyongyang using a projectile to take out a loudspeaker broadcasting anti-North propaganda, which was launched around 3:52 pm (0252 EDT).
"We have exercised our self-restraint for decades," the North's Foreign Ministry said in a statement Friday. "Now, no one's talk about self-restraint is helpful to putting the situation under control. The army and people of the DPRK are poised not just to counteract or make any retaliation but not to rule out all-out war to protect the social system, their own choice, at the risk of their lives."
While it is unclear whether North Korea will attack the South, as they claim, it is perfectly clear that the U.S. and its ally are hoping to deter Un. Four U.S. F-16 fighter jets and four F-15k South Korean fighter jets simulated bombing missions, which took place in an area that began on South Korea's eastern coast and moved toward the U.S. base at Osan near Seoul, officials said. The South has vowed to continue the broadcasts beyond the deadline. They recommenced the broadcasts after an 11 year stoppage after accusing Pyongyang of planting land mines that maimed two South Korean soldiers earlier this month.
The communist dictatorial North and the pro-West South have remained in a technical state of war since signing the armistice following the 1950-1953 Korean War. While it ended in a truce, it is not an actual peace treaty.