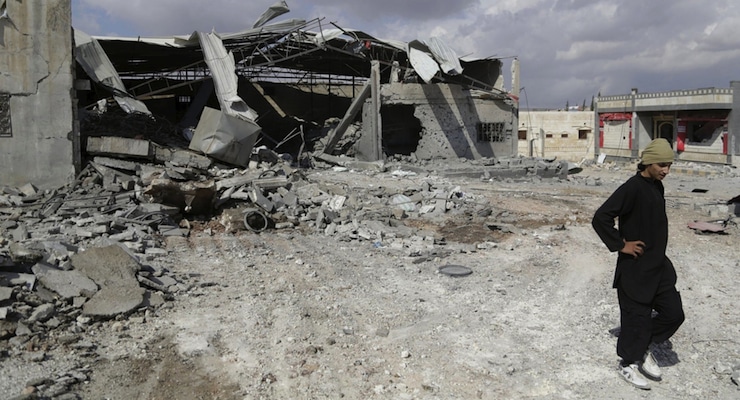 Russia Fires 26 Cruise Missiles in Syria as Assad Begins a Ground Attack
Russia and Syria launched a coordinated air and ground assault on rebel forces opposed to President Bashar al-Assad on Wednesday, marking a significant escalation of military action that begun earlier this week.
Both the ground and air assaults focused on an area of northern Hama Province and southern Idlib Province, which is widely considered by U.S.-backed rebels to be their first line of defense in the strategic Jebel al-Zawiyah region. While the Pentagon maintains that the majority of Russia's military activity has not targeted the Islamic State (ISIS), the Kremlin told a different story after the offensive.
The Russian defense ministry said four Russian warships in the Caspian Sea launched 26 cruise missiles that flew 900 miles over Iraq before striking 11 targets in ISIS-controlled territory located in eastern Syria. However, videos released American-backed Division 17 and Suqour al-Ghab show rebel forces firing CIA-supplied TOW antitank missiles at Syrian Russian-made tanks. Several found their target, destroying the armors tanks and their occupants.
Nevertheless, the conflict is quickly beginning to resemble a proxy war between Russia and the United States. According to SANA, the state news agency, Syrian and Russian warplanes coordinated to target ISIS militants in the city of Al Bab, territory long-held by the Islamist group in eastern Aleppo Province. Aleppo was the site of a grizzly mass killing of 12 Christians last month, including a 12-year old boy and his father. The Christian boy's fingertips were cut off before the two were crucified together, and 8 women were raped in front of an onlooking crowd before being beheaded.