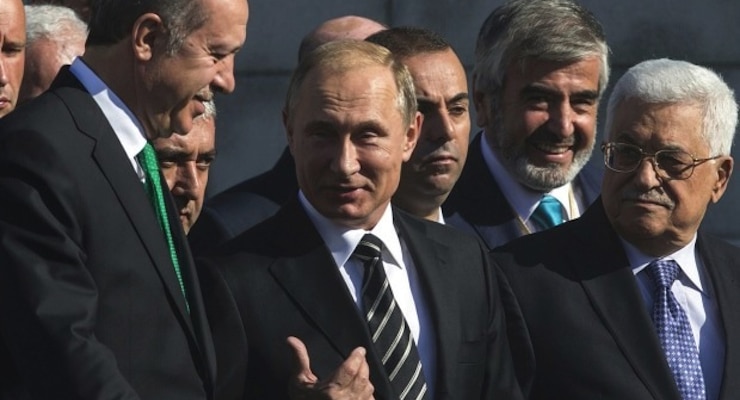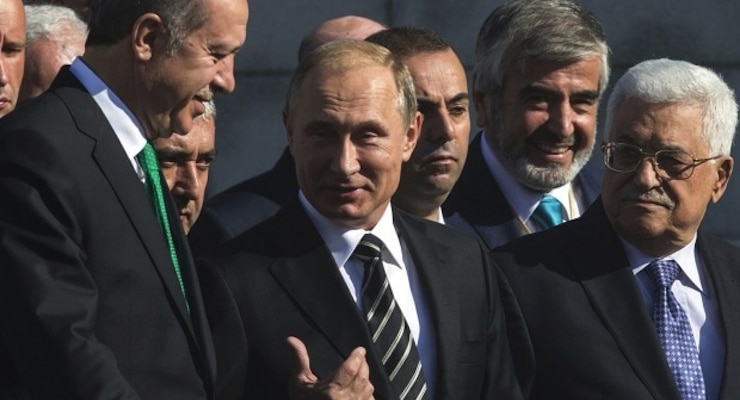 Turkey Shooting Down Russian Fighter Jet Was "an Extraordinary, Unusual Move" for NATO Nation
A senior U.S. defense official told PPD Friday that the Russian fighter jet "did not appear to be" in Turkish airspace when it was shot down on Tuesday. U.S. officials confirmed early Tuesday that a Turkish F-16 fighter jet shot down a Russian Su-24 with an air-to-air missile near the border between Turkey and Syria, though the NATO-member nation claimed it gave repeated warnings.
However, while conceding there has been numerous incursions into Turkish airspace by the Russian military over the past few months, the source said there are also numerous holes in the Turkish military's story.
"We heard the transmissions [from Turkey] backing up their version, but there is evidence contradicting the initial story," the source told PPD. "The Russian pilots did not appear to be in Turkish airspace when they were shot down and could only have been for a short period of time throughout the entire incident."
The official also said that it was "an extraordinary, unusual move" on behalf of Turkey to make the decision, particularly considering the short duration of time the Russian warplane violated Turkey's airspace. In fact, video footage of the incident showed the plane on fire before crashing on a hill, which is located in Syria, shortly after the two Russian pilots were forced to eject. Further, it was in Syria where rebel groups claimed to have recovered the pilots, one of them deceased.
More recent video footage posted by the so-called moderate 10th Brigade in the Coast shows the rebels shouting "Allah Akbar" over the body of the dead pilot, which emerged shortly before a separate Syrian rebel group blew up a Russian helicopter searching for the surviving pilot.
Meanwhile, tensions between the two nations continued to rise on Friday, with Turkish President Recep Tayyip Erdoğan warning Russian President Vladimir Putin not to "play with fire" after the latter leader called the incident a "stab in the back" and vowed it would have "significant consequences" for the NATO-member nation.
Putin said Russia would weigh whether they would retaliate economically in response, but Erdoğan has shot back by urging Russia not to make a knee-jerk reaction based on emotion.
"We very sincerely recommend to Russia not to play with fire," Erdoğan said in a speech in Bayburt, Turkey. "We really attach a lot of importance to our relations with Russia. We don't want these relations to suffer harm in any way."
As of Friday, Putin has not reached out to Erdoğan because of his failure to apologize, and frankly, because the standoff has strengthened his hand among the Russian people. But at least one of the two leaders hopes to discuss the future of their relationship during the upcoming climate summit in Paris.
"I would like to meet [Putin] face-to-face in Paris," Erdoğan said on Friday. "I would like to bring the issue to a reasonable point. We are disturbed that the issue has been escalated."
The development comes after an earlier accusation that Russia violated Turkish airspace in October, prompting NATO to deploy six U.S. Air Force F-15 fighters previously stationed in Britain to Incirlik Air Base in Turkey. Also in October, the North Atlantic Council, which is NATO's governing body, had warned Moscow it was flirting with "extreme danger" if it continued to send planes into Turkish air space. The alliance's European Command said the deployment was "in response to the government of Turkey's request for support in securing the sovereignty of Turkish airspace" and an effort to secure their member's airspace.
However, this time around, Putin vehemently denied the Russian fighter jet had violated Turkish airspace, claiming instead it never left Syrian airspace. He also accused Turkey of funding ISIS, and using its military to protect the terrorist organization. At least on Putin's first claim, the source who spoke to PPD on a condition of anonymity half-agreed with the Russian president.
"They [Turkey] may have enough to make a case for a momentary incursion," the Pentagon source said. "It's just not a strong enough one to justify making a decision on their own to blow two Russian pilots out of the sky, potentially starting a conflict they cannot finish."
"At least not alone."