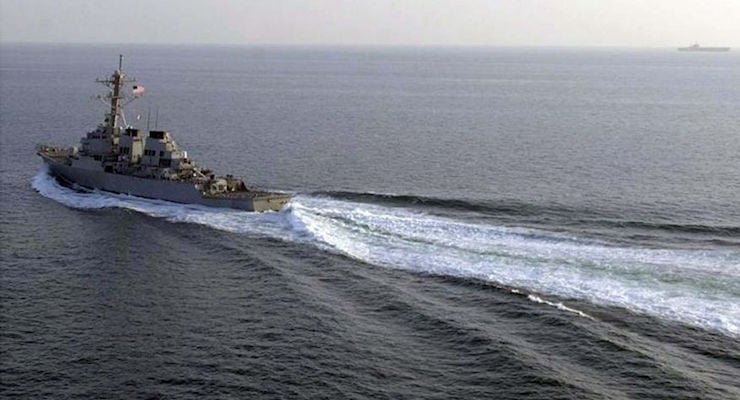 Only days after Secretary of State John Kerry visited Beijing hoping to settle long standing territorial dispute, a U.S. naval vessel sailed within 12 nautical miles of an island in the South China Sea. The move further angered Chinese officials frustrated over Washington's decision to allow Taiwan's defense minister to visit the U.S.
The guided missile destroyer USS Curtis Wilbur (DDG-54) conducted a freedom of navigation operation Saturday near Triton Island, part of the Paracel Island chain in the South China Sea, which is also claimed by Vietnam and Taiwan. There were no Chinese warships in the area at the time and the move was characterized by Pentagon officials as "innocent."
"This operation was about challenging excessive maritime claims that restrict the rights and freedoms of the United States and others, not about territorial claims to land features," said Pentagon spokesman Capt. Jeff Davis.
Davis, who refused to single out China, said none of the three claimants to the island were notified before the US Navy warship transited the area as part of a "normal process" supported by international law.
The incident, whether innocent or not, is the latest in a string of occurrences that have increased tensions over the past several months.
In October, the USS Lassen, another U.S. Navy destroyer, conducted a patrol within 12 nautical miles of yet another Chinese island, a disputed man-made island in the South China Sea part of the Spratly chain of islands. It was met with a strong public and private rebuke from Beijing.
In November, U.S. Air Force B-52 bombers flew near other contested Chinese islands. Then, in December, the U.S. military deployed a U.S. Navy P-8 Poseidon reconnaissance plane to Singapore. In early January, two Chinese civilian airliners tested a newly constructed airstrip by landing onto Fiery Cross reef, which the Chinese have converted into an artificial island in the South China Sea. However, Pentagon officials say Beijing is gearing up to militarize the area and expect military jets to be arriving soon.
While Secretary Kerry refused to criticize China publicly over their activities in the South China Sea, particularly regarding the build-up of artificial islands in the face of objections by neighbors in the region, his counterpart was not so courteous.
"I pointed out to Secretary Kerry that the South China Sea Islands have historically been China's territory. China has a right to protect its own territorial sovereignty," said Chinese Foreign Minister Wang Yi.
Kerry said the United States "does not take sides on the sovereignty questions underlying the territorial disputes."
The Defense Department shows a clear split with their diplomatic counterparts in the administration. Secretary of Defense Ash Carter said in Asia last summer he was "deeply concerned" about China's build up on its man-made islands, and promised more military operations in the South China Sea.
"Make no mistake: The United States will fly, sail and operate wherever international law allows, as we do around the world, and the South China Sea is not and will not be an exemption," said Carter in Boston in October standing alongside Secretary Kerry and their respective Australian counterparts.