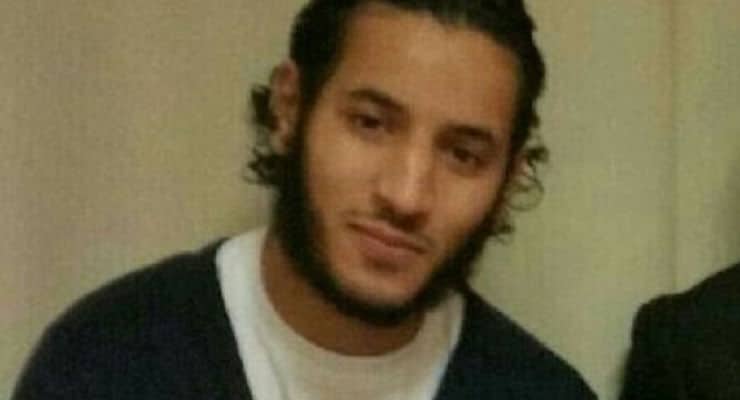 Larossi Abballa, 25, a radical Muslim under investigation for terror ties stabbed and killed a French police chief outside his home, then tortured the man's wife in front of their toddler son. He live-streaming the horrific attack on Facebook.
Jean-Baptiste Salvaing, 42, was not in uniform when he was ambushed and stabbed repeatedly in the stomach outside of his home shortly before 8.30 p.m. on Monday. His wife, a 36-year-old secretary at a local police station, was killed with a knife inside the residence while the couple's 3-year-old son hid behind a couch.
On Abbala's Facebook page, which has been taken down, the Muslim terrorist wrote that "the Euros will be a graveyard." Neighbors also reported that the attacker was shouting "Allahu Akbar" — Arabic for "God is Great" — during the attack that took place in Magnanville, a suburb located just 35 miles north of Paris.
French President François Hollande described as an "incontestably terrorist act" and warned France was facing a terror threat "of a very large scale." The French interior minister called the slaughter "an abject terrorist act."
"The toll is a heavy one," a visibly emotional Interior Ministry spokesman Pierre-Henry Brandet told reporters at the scene.
The attack became a three-hour standoff ending after French commandoes stormed the chief's home, rescuing the boy and killing Abballa.
"I just killed a police officer and his wife." Abballa said in a video released by Islamic State's Amaq news agency. The video appears to have been recorded inside the home of the couple as security forces stormed the scene.
Abballa, a French national with a prior terrorism conviction and ties to jihadists based in Pakistan, wrote a disturbing message to his Facebook followers before the commandos entered the home.
"I don't know what I'm going to do with the boy."
Prior to the attack, Abballa stayed at his neighborhood mosqueat prayer until employees made him leave without questioning his state of mind. The rector of the small mosque said Abballa attended services rarely in recent months, but showed up to pray before the killings. Rector Mohamed Droussi said Abballa was reading the Koran for a long time, and was the last one to leave.
"I took the key and I said, 'we are closing,'" Droussi said.
Law enforcement officials have confirmed that three men believed to have close ties to Abbala were brought in for questioning by French police shortly after the attack. Paris prosecutor François Molins said authorities found a Koran, headscarf and two other books in a vehicle used by Abbala. A list of other targets that includes several police officers and journalists was found at Abbala's home.
"Today every police officer is a target," Yves Lefebvre of police union Unite SGP Police-FO told The Associated Press, adding that attackers are "professionalizing" and can now find police in their homes.
Abbala, who lived in the western Paris suburb of Mantes-la-Jolie, was sentenced in 2013 to just three years in prison, including six months suspended, for trying to recruit jihadists to fight in Pakistan. However, Abbala had also been the subject of a more recent terror investigation and was allegedly on a government terror watch list.
French officials confirmed police had recently wiretapped Abbala, but had not found anything incriminating by the time of the attack. He did pledge allegiance to ISIS three weeks ago and reportedly echoed that pledge during the video of the attack.
The Islamic State, as was the case in the Orlando terror attack on Sunday, quickly claimed responsibility. Islamic State's Amaq news agency cited an unnamed "source" as saying an ISIS fighter carried out the attack and the jihadist group claimed responsibility for the assault on its Albayan Radio.
Molins said Abballa's attack was a response to ISIS calls to "kill non-believers where they live" during Ramadan.