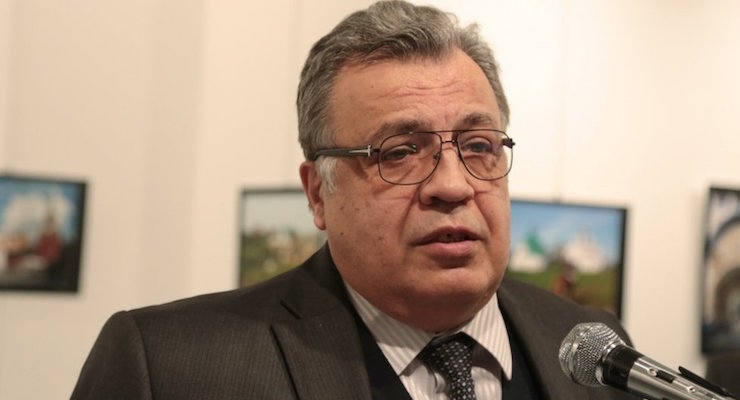 ANKARA, Turkey — Russia's ambassador to Turkey was shot and killed after a gunman wearing a suit and tie opened fire shouting "Allahu Akbar" at a photo exhibition in Ankara on Monday. The Russian foreign ministry confirmed he was shot, though at first they they did not offer any details about his condition.
Russian Foreign Ministry spokeswoman Maria Zakharova said Ambassador Andrei Karlov was shot "when an unidentified assailant opened chaotic gunfire during a public event in Ankara."
Turkish police shot and killed the gunman, according to the Turkish station NTV. The ambassador was several minutes into a speech at the embassy-sponsored exhibition in the capital when the man fired at least eight shots, according to an AP photographer in the audience.
The attacker also said some words in Russian and smashed several of the photos that had been hung for the exhibition, which was called "Russia as seen by Turks." U.S. State Department spokesman John Kirby said U.S. officials were aware of reports about the shooting.
"We condemn this act of violence, whatever its source," Kirby said. "Our thoughts and prayers are with him and his family."
Ms. Zakharova said Russia was in contact with Turkish officials about the incident. In the video below, the gunman can be heard clearly yelling "Allahu Akbar" (God is great").
"Don't forget about Aleppo, don't forget about Syria" he also yells in the video.
[brid video="85867″ player="2077″ title="WATCH Russian Ambassador Assassinated by Jihadi Shouting 'Allahu Akbar'"]