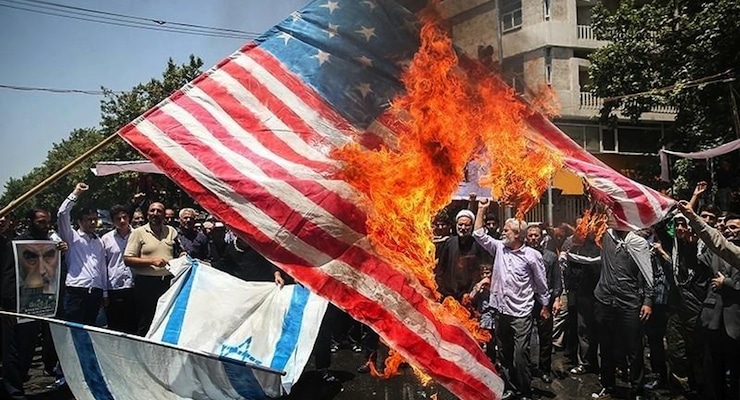 On the anniversary of the 1979 Islamic Revolution, hundreds of thousands gathered in Iran to shout "Death to America!" and step on pictures of President Donald J. Trump.
"Some inexperienced figures in the region and America are threatening Iran … They should know that the language of threats has never worked with Iran," Iranian President Hassan Rouhani told the crowd at Azadi Square. "Our nation is vigilant and will make those threatening Iran regret it … They should learn to respect Iran and Iranians … We will strongly confront any war-mongering policies."
The crowd on Friday came to Tehran's Azadi (Freedom) Square to swear allegiance to the radical clerical regime and days after U.S. President Donald J. Trump's put the Islamic Republic "on notice," slapping sanctions on Tehran for testing intercontinental ballistic missiles meant to deliver a nuclear payment.
The 1979 Islamic Revolution in Iran, which took place from Jan. 7, 1978 to Feb. 11, 1979 toppled Mohammad Reza Shah Pahlavi, the U.S.-backed shah. Iranians carried "Death to America" banners and burned effigies of President Trump, as others stepped on his picture. All the while, a military police band played traditional Iranian revolutionary songs.
"America and Trump cannot do a damn thing. We are ready to sacrifice our lives for our leader," a young Iranian man told state TV in a reference to Supreme Leader Ayatollah Ali Khamenei.
Iranian leading religious and political figures, including President Rouhani have fueled the calls for Iranians to join the rally on Friday to "show their unbreakable ties with the Supreme Leader and the Islamic Republic."
The theme of those rallies anti-U.S. and anti-Israeli hatred. Iranians also carried pictures of Israeli Prime Minister Benjamin Netanyahu and British Prime Minister Theresa May. The captions read, "Death to the Devil Triangle"–a reference to the United States, the United Kingdom and Israel.
"This turnout of people is a strong response to false remarks by the new leaders of America," Rouhani told state TV, which claimed millions turned out at rallies across Iran.
[social-media-buttons]