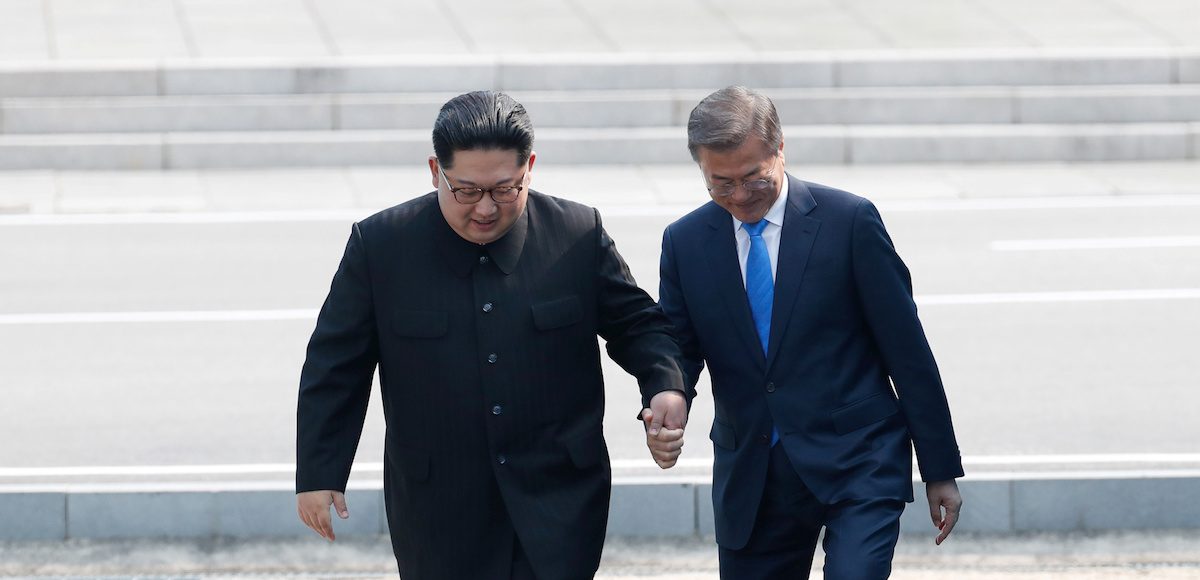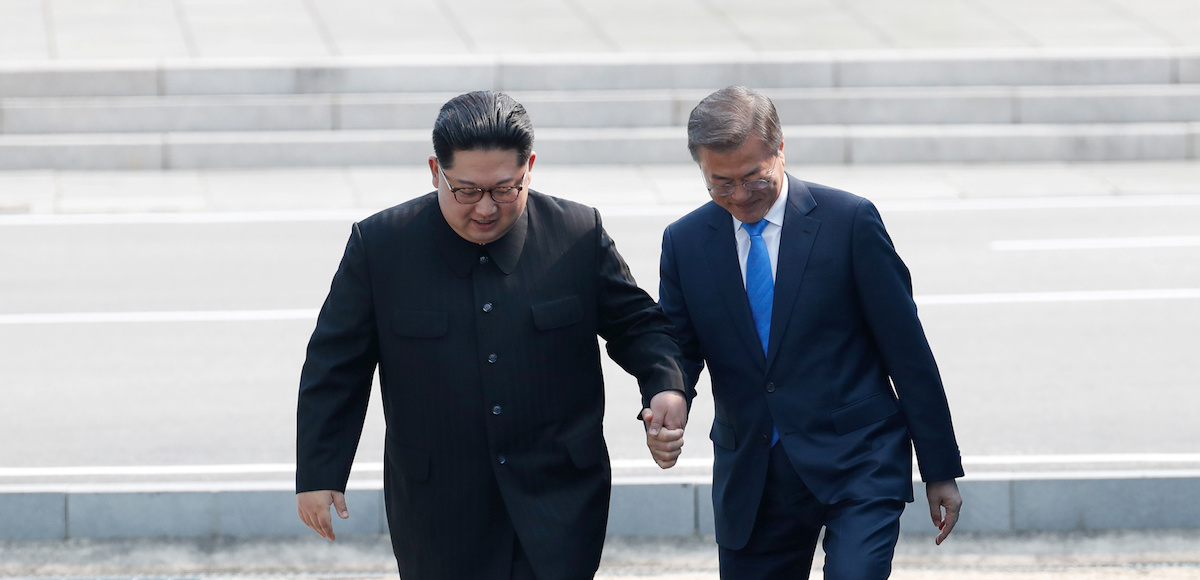 North Korean leader Kim Jong Un and South Korean President Moon Jae-in pledged on Friday to work for the "complete denuclearization of the Korean peninsula."  The historic meeting started with the two shaking hands over a concrete curb that marked the heavily fortified Demilitarized Zone (DMZ) between the nations.
Kim became the first North Korean leader since the Korean War to step over the border and set foot in South Korea. He also unexpectedly invited Moon to step briefly across into North Korea, before the two leaders crossed back into South Korea holding hands.
Kim penned a message of peace in South Korea's guestbook before talks began at the Inter-Korea summit.
"A new history starts now. An age of peace, from the starting point of history," Kim wrote in Korean at the South's Peace House.
The first summit in more than a decade resulted in an agreement to work with the United States (US) and China to declare an official end to the 1950s Korean war and seek an agreement to establish "permanent" and "solid" peace.
"The two leaders declare before our people of 80 million and the entire world there will be no more war on the Korean peninsula and a new age of peace has begun," the declaration said.
According to the declaration, President Moon has also agreed to visit Pyongyang later this year. In a show of good faith, the two leaders agreed to open a liaison office, to stop broadcasting propaganda, to stop conducting leaflet drops along the border and to allow families divided by the DMZ to meet.
The Demilitarized Zone (DMZ) is a 160-mile (260-km) long, 2.5-mile (4-km) wide strip of land created in the 1953 armistice to serve as a buffer between the South and North.
"We will make efforts to create good results by communicating closely, in order to make sure our agreement signed today before the entire world, will not end as just a beginning like previous agreements before today," Kim said after the agreement was signed.
President Donald Trump confirmed that Mike Pompeo met with Kim during Easter weekend to gauge the potential for a summit. Kim announced last Friday that he has suspended Pyongyang's nuclear testing program, including a freeze on intercontinental ballistic missile tests and closing a nuclear site.
The extraordinary development came after North Korea announced they dropped demands for a freeze to U.S.-South Korea joint military exercises and the withdrawal of U.S. troops as preconditions for talks.
Both decisions handed the Trump Administration an enormous foreign policy victory. President Trump reacted to the pledge to end the war on Twitter.
"After a furious year of missile launches and Nuclear testing, a historic meeting between North and South Korea is now taking place. Good things are happening, but only time will tell!" he wrote. "KOREAN WAR TO END! The United States, and all of its GREAT people, should be very proud of what is now taking place in Korea!"
If the summit is held, it would be the first-ever between the U.S. and North Korea after more than six decades of hostility. The North and South remain in a technical state of war. The 1950-53 Korean War ended with an armistice, not a peace treaty.
Previous summits in Pyongyang, one in 2000 and another in 2007, failed to denuclearize the peninsula, to stop North Korea's nuclear weapons programs or improve relations in any meaningful way.