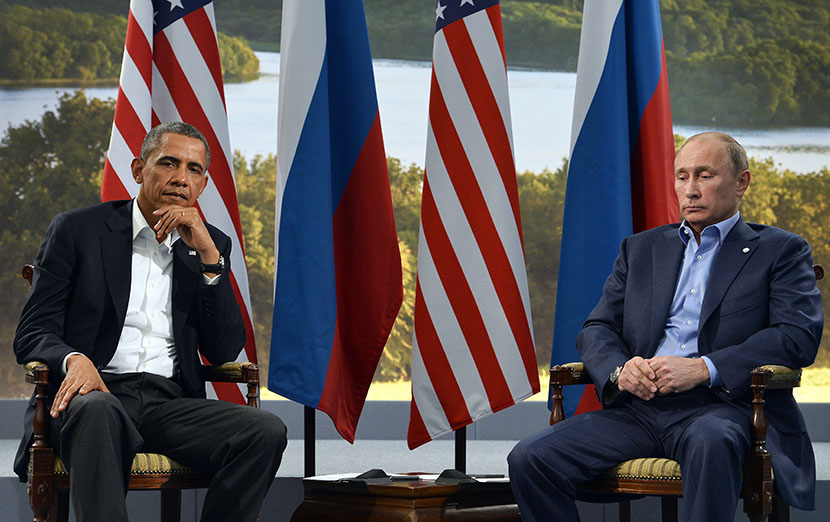 People are overreacting to this Crimean situation. I've noticed that Russia has not moved beyond Crimea, and I've also noticed that frankly, there's not anything America can do about it. Some conservatives seem to be the only ones keeping calm in all the hysteria.
This administration, as well as others on the other side of the aisle like John McCain, have it totally wrong about Russia. They confuse Vladimir Putin with a Soviet era communist.
He is not.
He is a hardline, serious statesman, not to be trifled with, or underestimated, and he is giving the world a hard lesson in power politics.
It would be a serious miscalculation to view Putin as just another dictator. He is a Machiavellian leader on the order of Longshanks, DE Borgia or Pope Innocent III. If we imagine we can deal with him like a Noriega or Gadhafi we might just kill millions. Promoting our agenda of a "global community" and expanding NATO into the former Soviet Union's satellite nations are what started this and will make matters worse.
Putin will not waver, hesitate or make a move without careful forethought, planning and a ruthless disregard for human life. Obama is in far over his head, and better batten down the hatches and deal with him on that level. Heaven help anyone who stands in Putin's way and right now we have his full attention.
I assure you, this is not a good thing.
Putin explained his growing discontent with the West, and its tyrannical reinterpretation of democracy that has moved away from the constitutional roots of our founding fathers in a speech in 2007. He said:
I think it is obvious that NATO expansion does not have any relation with the modernization of the Alliance itself or with ensuring security in Europe. On the contrary, it represents a serious provocation that reduces the level of mutual trust (Note: in reference to the Budapest Agreement of 1994):
And we have the right to ask: against whom is this expansion intended? And what happened to the assurances our western partners made after the dissolution of the Warsaw Pact? Where are those declarations today? No one even remembers them. But I will allow myself to remind this audience what was said. I would like to quote the speech of NATO General Secretary Mr Woerner in Brussels on 17 May 1990. He said at the time that: "the fact that we are ready not to place a NATO army outside of German territory gives the Soviet Union a firm security guarantee.
Where are these guarantees?- Vladimir Putin, Munich 2007
It's clear Putin rejects Obama, progressivism and Soros' ideas of a one world government and views (correctly) that it is an enemy of real freedoms, and Russia.

Putin's economic policy, which has pushed Russia forward by miles as compared to Obama's, is remarkably similar to Reagan's with the same results. He imposed a flat income tax of 13%, lowered corporate taxes across the board. He replaced the inherent communistic barter system, and repaid all of Russia's national debt in a quasi-capitalistic economy.

He has promoted what the world wanted — cheap gas and oil — and ensured Russia was not dependent upon imports. Putin did this not through "green energy," but by providing a cheap and plentiful supply of fossil fuels. Europe is now as much as 80% dependent on Russian natural gas imports.

Putin is no communist, as least not in the historic sense.

Coincidentally, Putin's grandfather was the personal cook to Lenin and Stalin, men who were big on nationalism. He went on to survive the fall of the USSR as a leader of the Stasi, and was with the KGB until its dissolution in 1991. He was inaugurated in a lengthy ceremony and statement that was the same statement (essentially) as the one Alexander the Great was pronounced with, with whom Putin compares himself with.

The West should beware of this man, as they are fleas compared to him in regards to brutality, cunning and political skills.

I'd also like to point out that Putin's Russia is not a place I would want to live. The lack of economic freedoms in what is essentially a criminal police state is providing a bleak life for his countrymen. The problem is, he recognizes this "global community" ideology and mass democracy movement for what it really is — tyranny. He has no desire to be a team player and let his people become manipulated sheep. His country may not be a bed of roses, but at least it's getting better and Russia's people have no illusions about the world they live in.

They aren't lied to by their own government attempting to buy their votes. America, however, cannot say the same.

Putin again, from 2007:

Incidentally, Russia — we — are constantly being taught about democracy. But for some reason those who teach us do not want to learn themselves.

I consider that the unipolar model is not only unacceptable but also impossible in today's world. And this is not only because if there was individual leadership in today's — and precisely in today's — world, then the military, political and economic resources would not suffice. What is even more important is that the model itself is flawed, because at its basis there is and can be no moral foundations for modern civilization. — Vladimir Putin, 2007

Is he a brutal, evil man or a patriot? His people think he is a patriot, and the people of the Crimean peninsula at least think so. His "brutal invasion" was largely met with cheers and was bloodless, unlike our invasions of Iraq and Afghanistan. That should tell you something.

I'm neither putting blame on Bush for those wars, nor cheering Putin on as he invades a sovereign country. But at least I'm not blind to the truth, nor blind to what is really going on.

Bottom line — I think it's better to live under a leader that puts his own country first, rather than everyone else's.

Thomas Purcell is a nationally syndicated columnist and host of the Liberty Never Sleeps podcast hour and author of "Shotgun Republic."

If you would like to read more about Thomas Purcell's thoughts on this issue you can read more at LibertyNeverSleeps.com