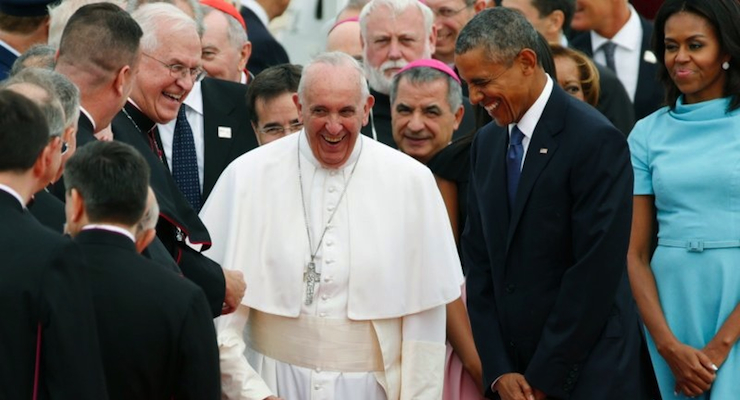 We Should Adopt Policies and Principles that Produce Results, Rather than Act on Misguided Good Intentions
Pope Francis arrived Tuesday for a six-day historic trip to the United States, marking the first time the "slum pope" stepped foot in America. Despite telling reporters aboard the chartered plane that some in the media have given the impression that he's "a little bit more left-leaning" than he truly is on economic issues, this pope has undoubtedly been an outspoken critic of capitalism.
It is true that millions of American Catholics are ecstatic over his arrival, but it is also true that millions of individual American Catholics and institutions are finding themselves in a deeply spiritual, internal conflict over this pope. Sure, the media have focused too heavily on the pope's prior economic statements, which he claimed Tuesday are religious doctrine rather than political doctrine, for political reasons. However, I am not at all surprised to see this tension, nor was I surprised to hear Pope Francis make some of his more controversial statements.
While the economic views of Pope Francis were shaped by the man and his experiences, the greater internal strife is rooted in part by the American experience of ethic Catholics, which has differed greatly from their European and Latin American counterparts. But, and perhaps most controversial, it is an undeniable fact that much of the church's role throughout U.S. history and its characteristics are antithetical to American principles and traditions.
The Many Faces of a Centralized Power: The Catholic Church
The Catholic Church did not survive for centuries because they were not able to adapt their own principles to better appeal to regional traditions. As a result, the Latin American Church, which is where Pope Francis is from and where he spent his career ministering to the masses, does not resemble the European Church or even the North American Church. In fact, the church in the United States, which took root largely due to ethic Catholics such as Italians and Irish immigrants early in the 20th century, is the least "Catholic" of all the branches around the world.
Ultimately, the Catholic Church has for centuries relied upon their capacity to act as a centralized power, complete with a head of state wielding power and holding sway that is completely foreign to the American model of self-governance. In fact, we are doing our Founding Fathers a serious injustice if we don't recognize the papacy's role in the inevitable crafting of the very first amendment in our Bill of Rights. The founders were very concerned about a "transplanting of sorts" of that centralizing power "from European to American soil."
"Where Protestant zeal burned fiercely and where the Catholic presence in Canada seemed ominous, the conviction grew that the threat against civil liberty posed by unconstitutional taxation was partly a papist conspiracy to subvert Protestantism," historian Robert Middlekauf correctly observed from primary sources studied in the writing of The Glorious Cause.
But, at least for the latter half of the last century, an adherence to a centralized power to the detriment of individual liberty was almost as unwelcome among ethic Catholic Americans than it was among Protestant natives. In studying the political maturation of ethic Catholics, it became crystal clear Italian and Irish Catholic immigrants to America assimilated with, prioritized and adopted American principles and our national identity, though Italians did so at a far faster pace.
Nevertheless, that national identity was largely built upon the tenets of Protestantism and, more specifically, the Protestant ethic, not Catholicism.
Pope Francis the Man
Pope Francis is from Argentina, which as I just previously explained, practices Catholicism in a very different manner than the North American or European Catholic Churches. In Latin America much of the population are either descendants or live within the territories of the once Catholic Spanish Empire. Thus, it should come as no surprise to Americans that the Catholic Church has had enormous success in the region and that much of the population succumbed to the false promises of communism.
That includes Pope Francis, who The Economist recently called "the Peronist Pope," referring to his known sympathies for Argentina's failed, radical left-wing three-time president, Juan Perón. In 1946, when Juan Perón came to power, Argentina was one of the 10-richest nations in the world, as fellow Team PPD member and CATO economist Dan Mitchell recently pointed out.
"Economic policy certainly wasn't perfect, but government wasn't overly large and markets generally were allowed to function," Mitchell said. "But Perón decided to conduct an experiment in statism. The bottom line is that Perón was a disaster for his nation. Not only did he sabotage Argentina's economy, he also apparently undermined the social capital of the country by somehow convincing a big chunk of the population that 'Peronism' is an alluring economic philosophy."
"Sadly, Pope Francis appears to be one of those people," Mitchell added.
Despite the empirical evidence, the left-wing sect of the Catholic Church driven by public opinion in the region has gained power and the ascent of Pope Francis is evidence of that shift.
"Pope Francis is part of a larger trend of the rise of the political left among Catholic intellectuals," another fellow Team PPD member and economist Thomas Sowell wrote in his column this week. "He is, in a sense, the culmination of that trend."
But it's largely because of this background that Pope Francis doesn't understand the true Spirit of Capitalism, which is uniquely American and, like our national identity, forged from Protestantism, not Catholicism.
The Origins and Spirit of Capitalism
In his truly seminal work, The Protestant Ethic and the Spirit of Capitalism, German sociologist Max Weber not only searches for and identifies its origin but also correctly separates the American model of free market capitalism from the simple pursuit of greed.
"The impulse to acquisition, pursuit of gain, of money, of the greatest possible amount of money, has in itself nothing to do with capitalism. This impulse exists and has existed among waiters, physicians, coachmen, artists, prosti-tutes, dishonest officials, soldiers, nobles, crusaders, gamblers, and beggars," Weber's thesis states. "It should be taught in the kindergarten of cultural history that this naïve idea of capitalism must be given up once and for all. Unlimited greed for gain is not in the least identical with capitalism, and is still less its spirit."
I believe Pope Francis is a good man and his beliefs driven by good intentions. Unfortunately, as a matter of policy and ideology, we should be driven to adopt policies and principles that produce results, rather than act on misguided good intentions. Neither capitalism nor the Protestant ethic are to blame for poverty in America or around the world. In reality, it is poverty that is the natural economic state of humankind and it is prosperity and progress that need to be explained as the exception.
Hopefully, the head of the Vatican will use his trip to familiarize himself with the unique model of free market capitalism in the U.S., though considering the locations he is set to visit aren't particularly representative, it is doubtful. Still, we can pray.
While I could rattle on more about the tenets of the Protestant ethic and its views on how to address and treat the poor–you can learn more about that in my book–it would be wiser to end with a quote from Benjamin Franklin, who personified and lived by the ethic and true Spirit of Capitalism.
"Govr. Thomas was so pleas'd [sic] with the Construction of this Stove, as describ'd in it that he offer'd to give me a Patent for the sole Vending of them for a Term of Years; but I declin'd it from a Principle," Benjamin Franklin wrote of the what we now know to be the Franklin Stove in his autobiography. "That as we enjoy great Advantages from the Inventions of others, we should be glad of an Opportunity to serve others by any Invention of ours; and this we should do freely and generously."
Franklin also refused to profit from the lightning rod because "it pleased God," and "the most acceptable service we render to Him is in doing good to his other children."
[mybooktable book="our-virtuous-republic-forgotten-clause-american-social-contract" display="summary" buybutton_shadowbox="true"]