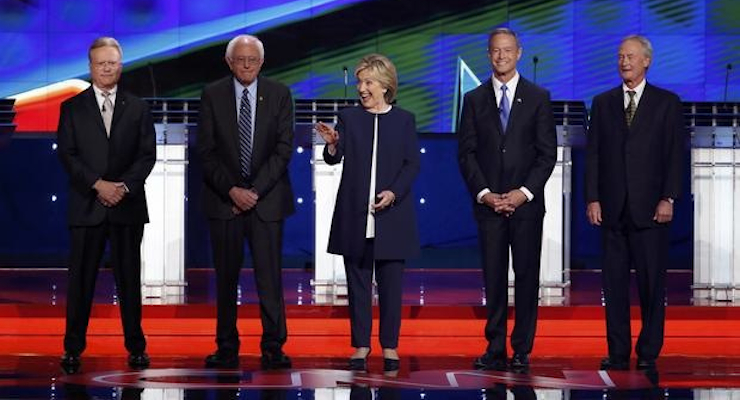 Who "won" the Democratic debate? The Democratic Party won. All the presidential candidates, from the most flamboyant to the most contained, talked seriously about issues, even straying from liberal orthodoxy.
Hillary Clinton's upbeat morning-in-America approach contrasted with Bernie Sanders' eve-of-destruction — I mean revolution. But both stood grounded in reality, with special kudos to America's favorite socialist for some refreshing breaths of nuance on polarizing issues.
Former House Speaker Newt Gingrich — not a crazy Republican but one who often talked crazy — once called Democrats "the enemy of normal Americans." Who's looking normal now?
Surely not Republican Carly Fiorina, condemning abortion with a gruesome description of a fabricated video she never saw. Not Ben Carson or Rand Paul, who, despite being doctors, didn't strenuously counter Donald Trump's contention that vaccinations put children at risk. Trump doesn't seem normal even when he's right.
The consensus said that Clinton walked off with it. She did, but it was an ensemble performance. Sanders struck the high note by mocking the overblown controversy over Clinton's use of private emails as secretary of state.
"The American people are sick and tired of hearing about your damn emails," Sanders said. "Let's talk about the real issues facing America."
And the Democrats generally dived under the surface of today's public debates. Clinton chided Sanders for his skepticism on some gun control measures, but Sanders had it exactly right.
He explained that his state, Vermont, has a rural hunting culture that doesn't see guns as always evil. Sanders backed a ban on assault rifles but opposed letting gun shops be sued if a gun they sell legally is used in a crime. Common sense all around.
The immigration discussion offered a welcome balance between the need to deal humanely with people here illegally and the need for controls. Sanders defended his attack on an immigration plan that would have admitted huge numbers of "guest workers" to compete with low-wage Americans. If only more Democrats would talk that way.
Former Sen. Jim Webb of Virginia spoke up for struggling poor whites, another welcome reference in a party that too often frames policy in racial or ethnic terms. And thank you, Jim Webb, for saying, "No country is a country without defining its borders."
All in all, though, it was Clinton's show. Responding to Sanders' declaration of love for Scandinavian socialism, Clinton firmly replied: "We are the United States of America. And it's our job to rein in the excesses of capitalism so that it doesn't run amok and doesn't cause the kind of inequities that we're seeing in our economic system."
The consensus erred in naming Webb the evening's "loser." The former Navy secretary did great in his seething, quiet way. He steered the debate away from cloying political correctness. This very smart son of Appalachia would make a great vice presidential candidate.
Few noticed that Webb provided the wittiest remark of the evening. That came when he dryly informed Sanders that he doesn't "think the revolution's going to come."
The most unintentionally funny line was from CNN moderator Anderson Cooper.
"In all candor," Cooper said to Clinton, "you and your husband are part of the 1 percent. How can you credibly represent the views of the middle class?"
To borrow from the MasterCard ad, being questioned about losing credibility on matters of class because you've become rich: $2.03. Being so questioned by the son of a Vanderbilt: priceless.
Clinton is clearly moving on from intraparty debate to general election mode. The other candidates seemed to genuinely respect that pivot and gave her space.
How gratifying to hear a leading presidential candidate sound like a normal American and not get punished for it.