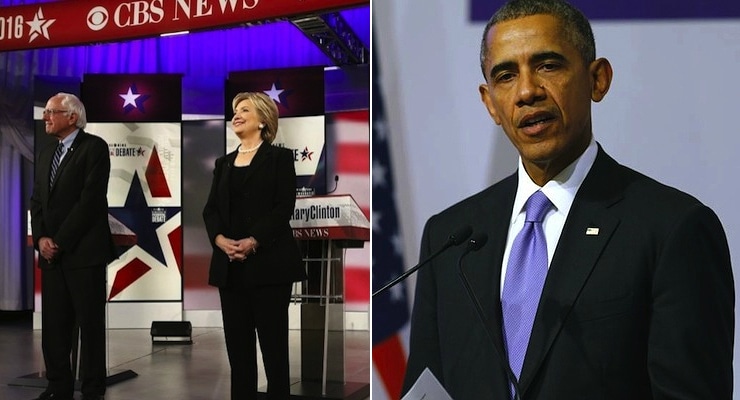 In today's topsy-turvy world, down means up, bad means good and, the term "Islamic terrorist" is not permitted in public policy conversation. Search the American press releases for the two words together from major media outlets. You will only find the recent challenge to Hillary Clinton and Barack Obama to put the two words together.
Neither Hillary nor Obama will allow this concept to be communicated to the public. Hillary did say instead that we are fighting against "jihadis" but flat out refused to state it was a battle against "Islamic terrorism."
Is this semantics?
No, it is a propaganda machine for creating a vacuum effect that removes the "who factor" of just who it is we are at war against. For too long a battle has been waged, with the refusal to acknowledge who it is we are fighting against. This is not solely an Obama problem. It is first and foremost a military problem that has continued through two administrations!
The President of the United States holds the title of Commander-in-Chief (CIC). He is the true head of our military. No one else bears the responsibility. No blame can be placed on generals or admirals, for it is their duty to follow the orders of their commander. It is the CIC alone who has the responsibility of identifying the enemy and he alone who issues orders regarding military actions against foreign entities.
Generals, admirals and lower-ranking officers may be the ones on the front lines, but they ultimately receive their orders from the commander-in-chief.
What kind of war would have been fought in World War II if we refused to say that the enemy was "Nazi Germany" and instead said, "The enemy is only a few German people, but not all Germans are the problem."
Today America's enemy stands unidentified!
This enemy is guilty of the following attacks on America, but is not identified by the Obama administration nor will it be identified by any of the presidential contenders from the Democratic Party.
Feb. 26, 1993 New York City a bomb exploded in the basement garage of the World Trade Center, killing 6 and injuring at least 1,040 others.
Nov. 13, 1995 Riyadh, Saudi Arabia a car bomb exploded at U.S. military headquarters, killing 5 U.S. marines.
June 25, 1996 Dhahran, Saudi Arabia: truck bomb exploded outside Khobar Towers military complex, killing 19 American servicemen and injuring hundreds of others. 13 Saudis and a Lebanese, all alleged members of Islamic militant group Hezbollah, were indicted on charges relating to the attack in June 2001
Aug. 7, 1998 Nairobi, Kenya, and Dar es Salaam, Tanzania: truck bombs exploded almost simultaneously near 2 U.S. embassies, killing 224 (213 in Kenya and 11 in Tanzania) and injuring about 4,500.
Oct. 12, 2000 Aden, Yemen: The USS Cole, a U.S. Navy destroyer is heavily damaged when a small boat loaded with explosives blew up alongside it. 17 US Navy personnel were killed.
Sept. 11, 2001 New York City, Arlington, Va., and Shanksville, Pa.: hijackers crashed 2 commercial jets into the twin towers of World Trade Center; 2 more hijacked jets were crashed into the Pentagon and a field in rural Pa. Total dead and missing numbered 2,992.
June 14, 2002 Karachi, Pakistan: a bomb exploded outside American consulate killing 12.
May 12, 2003 Riyadh, Saudi Arabia: suicide bombers killed 34, including 8 Americans, at housing compounds for Westerners.
June 11–19, 2004 Riyadh, Saudi Arabia: terrorists kidnap and execute Paul Johnson Jr., an American, in Riyadh, Saudi Arabia. 2 other Americans and BBC cameraman were killed by gun attacks.
Dec. 6, 2004 Jeddah, Saudi Arabia: terrorists stormed the U.S. consulate, killing 5 consulate employees..
Nov. 9, 2005 Amman, Jordan: suicide bombers attacked 3 American hotels, Radisson, Grand Hyatt, and Days Inn, in Amman, Jordan, killing 57.
Sept. 13, 2006 Damascus, Syria: an attack by four gunman on the American embassy is foiled.
Jan. 12, 2007 Athens, Greece: the U.S. embassy is fired on by an anti-tank missile causing damage but no injuries.
Sept. 16, 2008 Yemen: a car bomb and a rocket strike the U.S. embassy in Yemen as staff arrived to work, killing 16 people, including 4 civilians.
June 1, 2009 Little Rock, Arkansas: Abdulhakim Muhammed, a Muslim convert from Memphis, Tennessee, is charged with shooting two soldiers outside a military recruiting center. One is killed and the other is wounded.
Nov. 5, 2009 Fort Drum, Texas: Major Nidal Hasan, goes on a rampage killing 13 and injuring 30.
Dec. 25, 2009: A Nigerian man on a flight from Amsterdam to Detroit attempted to ignite an explosive device hidden in his underwear. The explosive device that failed to detonate was a mixture of powder and liquid that did not alert security personnel in the airport
May 1, 2010 New York City: a car bomb is discovered in Times Square, New York City after smoke is seen coming from a vehicle. The bomb was ignited, but failed to detonate and was disarmed before it could cause any harm. Times Square was evacuated as a safety precaution.
Sept. 11, 2012 Benghazi, Libya: militants armed with antiaircraft weapons and rocket-propelled grenades fire upon the American consulate, killing U.S. ambassador to Libya Christopher Stevens and three other embassy officials.
April 15, 2013 Boston, Mass.: multiple bombs explode near the finish line of the Boston Marathon. Two bombs go off around 2:50 in the afternoon as runners finish the race. Three people are killed. One is an eight year old boy. More than 260 people are injured.
July 16, 2015 Chattanooga, Tenn: 4 US Marines killed after a terrorist attacked two recruiting stations.
(Source: http://www.infoplease.com/ipa/A0001454.html)
While many of the events listed above had groups or persons identified as committing the terrorist act, no general identifying group of persons is identified. This is a statement that in the 21 events listed above, no commonality exists among the actors of these terrorist deeds.
Is this true, or has the American people been lied to by their commander-in-chiefs? Yes, as in plural. The timeline includes the leadership of not two but three U.S. presidents. Each of them failed to identify that there exists a common thread amongst all 21 acts, which is by no means a complete list. That commonality is persons who want Islamic law to rule the world. Thus, there exists a need to identify the enemy as being Islamist terrorists.
Islamists are those who want every single person on the planet to submit to the rule of sharia–Islamic law. However, if this simple identifier was used today, it would require several federal agencies to take action:
The Muslim Brotherhood would be identified as a terrorist group. Any and all of its entities in the U.S. would be closed and their officers considered for revocation of citizenship and deportation.
All persons entering the U.S., including those planning on becoming citizens, those classified as refugees or classified as other, would have to declare: "I do not believe sharia should be applied to those who are non-Muslim." Persons refusing to state this would be refused entry.
Those in this country who have made public statements of supremacy of sharia or Islamic law over the U.S. Constitution could have their citizenship revoked.
All federal funding to sources that currently subscribe to this belief would be cut off. Currently, several federal agencies provide financial support both here in the U.S. and abroad to persons and groups that promote the teaching of sharia.
[mybooktable book="civilization-jihad-and-the-myth-of-moderate-islam" display="summary" buybutton_shadowbox="true"]