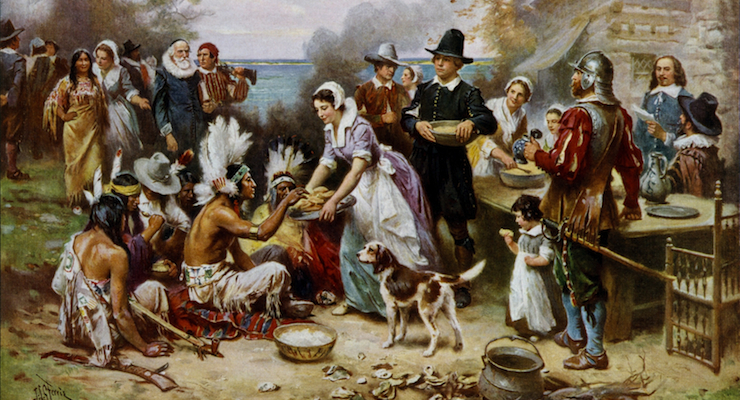 In 1863, President Abraham Lincoln proclaimed a national day of "Thanksgiving and Praise to our beneficent Father who dwelleth in the Heavens," and America became the first nation to establish a holiday based upon gratitude. Americans were thankful for their faith, good fortune, and the political and economic systems that nurtured their way of life.
Every year since that year of untold hardship during the Civil War, we Americans take the day to reflect on the things in each of our own lives we are thankful to have. However, rarely do we as a nation collectively reflect on things we have to be thankful for as a result of living in this great nation.
Much to the chagrin of collectivists, the national character of America is still very much individualistic. And this Thanksgiving, I thank God that it is.
The "First Thanksgiving" nearly never happened. Before they had a chance to be thankful for anything, the Pilgrims almost starved to death.
Schools often teach our children that Squanto, a Patuxet Native American who resided with the Wampanoag tribe, taught the Pilgrims how to catch eel, fish and grow corn. Unfortunately, they skip over the rest of the story.
Pilgrims operated under a communal system when they first settled Plymouth. The charter dictated that they would share in common property and farms and, as a result, each family was to receive an equal share of food, despite how much work they put in. It was a colonial era wealth redistribution scheme.
The result was as expected—widespread starvation.
"Much was stolen both by night and day," Gov. William Bradford wrote. But he quickly noticed the less-agreeable aspects to human nature — notably, the innate human desire to free-ride if and when allowed — and he changed course. Adopting a free market capitalism mentality, which was strengthened by the Protestant ethic, Gov. Bradford noticed that the Pilgrims now "went willingly into the field."
"They began now to gather in the small harvest they had, and to fit up their houses and dwellings against winter, being all well recovered in health and strength and had all things in good plenty," Bradford wrote.
Due to property incentives, self-interests and the tenets of their faith, including their unique work ethic, the soon-to-be-founders of Plymouth Rock and Massachusetts Bay Colony prospered. But without capitalism, there would've been no true right to property, thus little to no incentive.
Sadly, there are those in American society that seek to distort and diminish the true Sprit of capitalism; those who seek to define this system in terms of greed and selfishness. Yet, just as today's Thanksgiving celebrations would likely be unrecognizable to attendees of the original 1621 harvest meal, the same is true with modern-day American capitalism. Our Founding Fathers believed capitalism to be a means to a much different end than many view it to be now.
Faith lays at the heart of this disparity in thought.
"Virtues and ethics are all that separate classical American capitalism from the simple pursuit of wealth that transpired in antiquity, European-style capitalism, and the modern American free market," I explain in Our Virtuous Republic. "The removal of one's virtuous obligation to 'worldly asceticism,' or frugality, has made the pursuit of wealth an object of greed."
The book was a defense of traditional American values, political, economic and cultural systems. Early Americans faithfully believed it was their duty to work, harvest and provide, hence their unique work ethic. The goal was not to become a burden on civil society and, further, to achieve the social and economic status that enables you to serve and help others.
"The secularization of American capitalism has made the pursuit of wealth an end," I further observed from their writings. "Whereas with Protestantism, wealth historically was a means to achieve a strong civil society."
But don't take my word for it. Max Weber, the German sociologist and political economist, wrote of the origins, history, and the true Spirit of capitalism long before I did.
"The impulse to acquisition, pursuit of gain, of money, of the greatest possible amount of money, has in itself nothing to do with capitalism," Weber wrote in The Protestant Ethic and the Spirit of Capitalism. "It should be taught in the kindergarten of cultural history that this naive idea of capitalism must be given up once and for all. Unlimited greed for gain is not in the least identical with capitalism, and is still less its spirit."
A free market, where people are free to make choices and, ultimately to live as they wish, is the true cradle of liberty.
Our Founding Fathers established a political and economic system in a new nation that would nurture the more-agreeable characteristics of human nature. Though it has unquestionably been distorted and diminished, I am thankful that it still survives today.