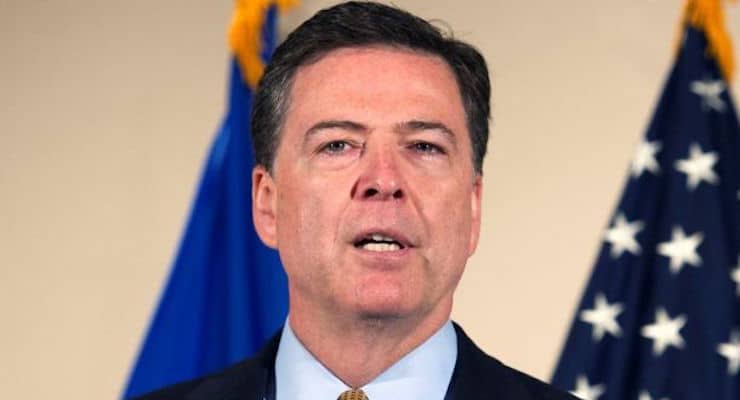 Amid all the polling whiplash, one survey consistently backs Hillary Clinton, and with enthusiasm. Though not an official poll, it offers a relatively emotion-free referendum on the stakes in this presidential election. And its participants tend to be high-income and highly informed.
We speak of the broad financial markets, a daily vote by investors on the direction of America's economy. Right after FBI Director James Comey mouthed off Friday about finding new emails that could — possibly, perhaps, maybe or maybe not — have bearing on the tiresome investigation of Clinton's emails, stock prices swooned. Gold prices, which climb at times of economic anxiety, spiked. And so did the VIX, the so-called fear index, showing expectation of sharp market swings ahead.
Never mind that Clinton still seemed headed for victory. Never mind that the story of a new Clinton "scandal" started falling apart moments after Comey hinted that more dirt could be found in a new pile of emails — emails that the FBI hadn't even read and that may not have been written by Clinton or to her.
Never mind that some nice economic news still radiated from earlier in the morning. The gross domestic product rose nearly 3 percent in the third quarter — the highest growth rate in two years. Net exports of U.S. products were up. Over a half-million new jobs were created, and consumer spending got stronger.
The markets clearly dread Donald Trump. For investors big and small, a mere chip in confidence that Clinton will prevail Nov. 8 raises more red flags than the Chinese Embassy.
The bottom line for investors is their bottom line. Unlike conventional political polls, the markets don't dwell much on questions of a candidate's honesty, trustworthiness or sexual behavior. With few exceptions, America's business leaders have endorsed Clinton's candidacy. Even the Koch brothers won't support Trump.
The business community sees a Trump presidency as an economic disaster in the making. America would be electing a circus act, a man both ignorant about the world and held in contempt by it. Trump's nomination by a major political party has already caused global investors to doubt the stability of a country they have regarded as a safe harbor.
It's this stability that prompts the world to invest in Treasury securities offering meager returns. Lose it and the cost of borrowing will rise, not only for taxpayers but also for Main Street businesses and ordinary folks trying to buy a house.
The election-related spasms in broad indexes plainly reflect investors' belief that Clinton would be the most competent by far to oversee the economy. It does not follow, however, that she a close buddy with everyone in corporate America.
One sector that does not thrill to the notion of a Clinton presidency is Big Pharma. As Clinton's prospects improved, many drug company stocks fell. That's because she has vowed to curb predatory drug pricing.
Her plan to end the gouging, meanwhile, could help companies offering part of the solution. For example, some stock analysts are touting Express Scripts, a pharmacy benefits manager that makes more profit off cheaper generic drugs. Same goes for Teva, the world's biggest maker of generics, which is active in developing "biosimilars," copies of a drug that can be made by another company when the patent expires.
Throughout this campaign, it's been stunning to observe how little many Trump supporters understand what a Trump presidency could do to their already precarious finances. Investors, on the other hand, seem to get it. That's why they're voting with their money for Clinton and, even more so, against Trump.