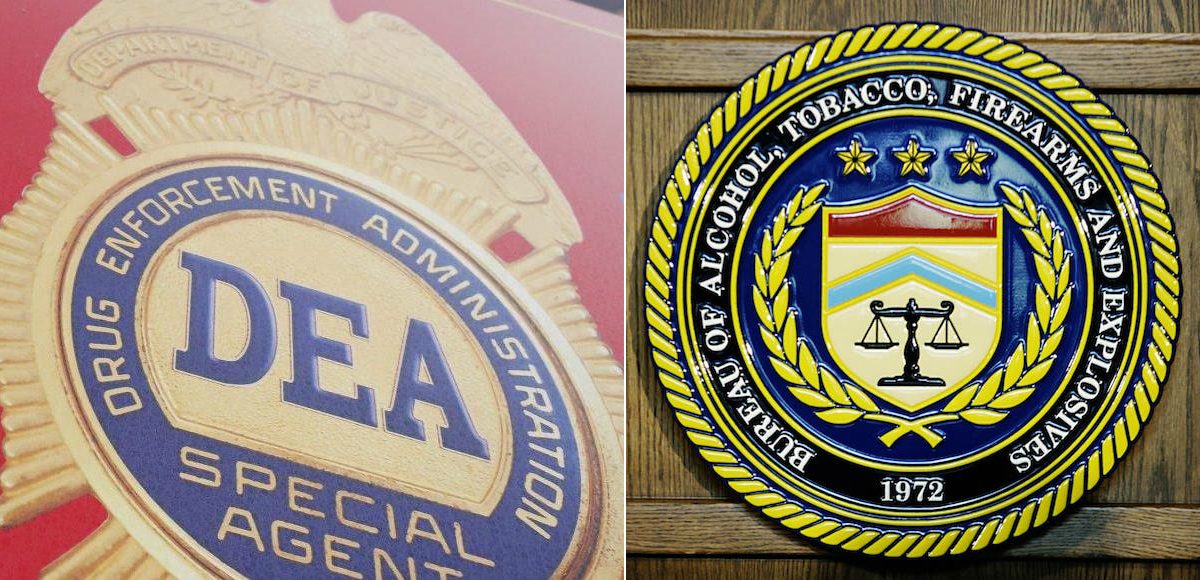 The U.S. Bureau of Alcohol, Tobacco, and Firearms (ATF) must be anxious to get on my list of government bureaucracies that shouldn't exist.
The bureaucrats have engaged in some really silly and petty behavior, such as confiscating Airsoft toy guns because they might be machine guns, and they've engaged in some behavior that is criminally stupid and dangerous (running guns to Mexican drug gangs as part of the "Fast and Furious" fiasco).
Now we have another example. Though it's so bizarre that I'm not sure how to classify it. Basically, the bureaucrats created an illegal slush fund, and then used the money illegally.
The New York Times has been on top of this story. Here are excerpts from the latest report.
For seven years, agents at the Bureau of Alcohol, Tobacco, Firearms and Explosives followed an unwritten policy: If you needed to buy something for one of your cases, do not bother asking Washington. Talk to agents in Bristol, Va., who controlled a multimillion-dollar account unrestricted by Congress or the bureaucracy. …thousands of pages of newly unsealed records reveal a widespread scheme — a highly unorthodox merger of an undercover law enforcement operation and a legitimate business. What began as a way to catch black-market cigarette dealers quickly transformed into a nearly untraceable A.T.F. slush fund that agents from around the country could tap. …One agent steered hundreds of thousands of dollars in real estate, electronics and money to his church and his children's sports teams, records show. …At least tens of millions of dollars moved through the account before it was shut down in 2013, but no one can say for sure how much. The government never tracked it.
Oh, by the way, the BATF was breaking the law.
Federal law prohibits mixing government and private money. The A.T.F. now acknowledges it can point to no legal justification for the scheme.
But you won't be surprised to learn that there have been no consequences.
…no one was ever prosecuted, Congress was only recently notified, and the Justice Department tried for years to keep the records secret.
And it's also worth noting that this is also a tax issue. As I've noted before, high tax rates encourage illegality.
Though cigarettes are available at any corner store, they are extraordinarily profitable to smuggle. That's because taxes are high and every state sets its own rates. Virginia charges $3 per carton. New York charges $43.50. The simplest scheme — buying cigarettes in Virginia and selling them tax-free in New York — can generate tens of thousands of dollars in illicit cash. By some estimates, more than half of New York's cigarettes come from the black market.
By the way, I can help but wonder why the federal government is engaging in all sorts of dodgy behavior to help enforce bad state tax laws. Yes, I realize the cigarettes are crossing state lines, but so what? The illegal (but not immoral) behavior occurs when an untaxed cigarette is sold inside the borders of, say, New York. Why should Washington get involved?
In other words, I like the fact that borders limit the power of government. It's why I don't like global schemes to undermine tax competition (why should Swiss banks be required to enforce bad U.S. tax law?), and it's why I don't like the so-called Marketplace Fairness Act (why should merchants in one state be required to enforce the sales taxes of other states?).
But I'm digressing.
Let's get back to the Bureau's misbehavior. Here's some additional reporting from the U.K.-based Times.
A US government crime-fighting agency ran a secret bank account that its employees used to buy luxury cars, property and trips to casinos. Officers for the Bureau of Alcohol, Tobacco, Firearms and Explosives (ATF), charged with investigating smuggling and gun crimes, built up a slush fund worth tens of millions of dollars through illicit cigarette sales, ostensibly as part of an operation to catch traffickers. The scandal is the latest controversy to hit the agency, which has been criticised in recent years for lack of accountability and allowing the flow of guns and drugs to go unchecked. …Cash from the slush fund generated at an ATF field office in Bristol, Virginia, …funded activities such as a trip to Las Vegas, donations to agents' children and the booking of a $21,000 suite at a Nascar race.
And what about the overall ATF bureaucracy? Well, it's getting some unfavorable attention. Keep in mind that this scandal is on top of the "Fast and Furious" scandal of the Obama years.
The ATF has said that it has "implemented substantial enhancements to its policies, and has markedly improved leadership, training, communication, accountability and operational oversight". Under the previous administration, it was widely derided for a botched weapons operation known as "Fast and Furious". The agency allowed licensed firearms dealers to sell weapons to illegal buyers, hoping to track the guns to Mexican drug cartel kingpins. But out of the 2,000 firearms sold, only a fraction have been traced. The secret account scandal has renewed calls from across the political spectrum for the department of about 2,000 agents to be reformed or shut down.
Last but not least, I think we have a new member of the Bureaucrat Hall of Fame.
Thomas Lesnak, a senior ATF investigator, began the scheme. …Mr Lesnak retired with his pension and was not reprimanded.
Just like Lois Lerner and the IRS, engaging in corrupt and crooked behavior and then escaping any punishment.
Maybe the two of them should hook up? They'd make a great couple. I'm sure they could even figure out a way to make taxpayers finance their wedding and honeymoon.