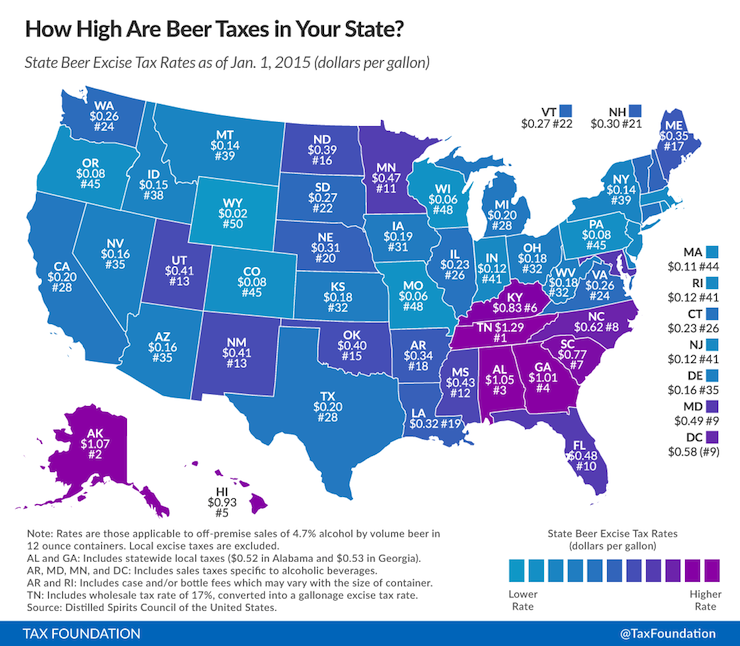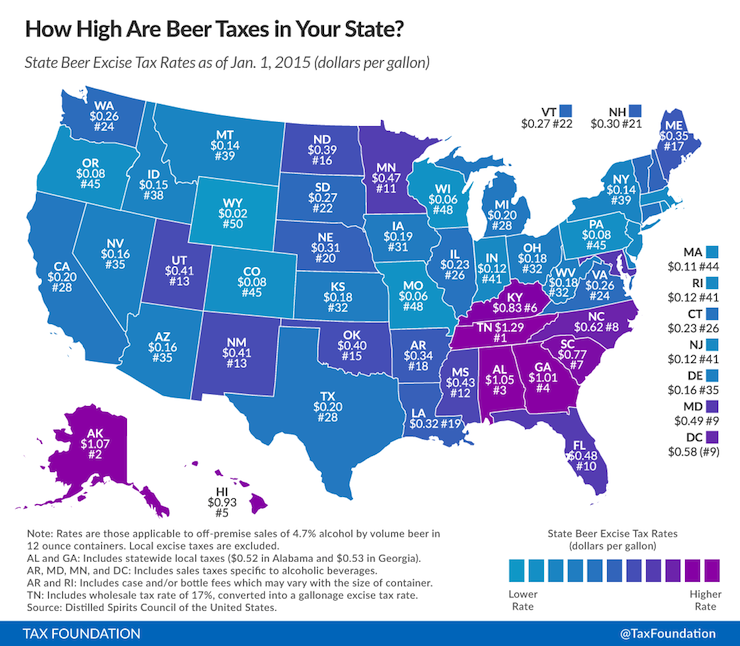 Two years ago, I shared a map looking at how heavily wine was taxed in different states.
What is showed was that you shouldn't sip your Chardonnay or guzzle your Merlot in Kentucky. Unless, of course, you wanted to give politicians a lot more money to spend (or you slip across the border like Michael J. Rodrigues when buying booze).
Now the good people at the Tax Foundation have a related map. It shows which states have the highest and lowest taxes on beer.
Kentucky is still a high-tax state, but the "winner" of the beer tax contest is Tennessee.
At the risk of drawing too many conclusions, it does appear that southeastern states generally have high taxes on booze. Along with Alaska.
Maybe that's a "Bible Belt" phenomenon. Though I'm somewhat forgiving of Tennessee for high excise taxes since the Volunteer State at least avoids the huge mistake of imposing an income tax on the wages and salaries of residents. No wonder it's been growing faster than neighboring states.
Returning to the main topic, the Tax Foundation explains, taxes amount to a big share of the final price.
The Beer Institute points out that "taxes are the single most expensive ingredient in beer, costing more than labor and raw materials combined." They cite an economic analysis that found "if all the taxes levied on the production, distribution, and retailing of beer are added up, they amount to more than 40% of the retail price."
P.S. Since we're looking at states, I can't resist sharing bad news from one state and good news from another state.
We'll start with some grim news from Minnesota. I've already commented on the insanity of using the State Department's refugee program to subsidize terrorists.
Well, the Daily Caller reports that terrorists also have learned to bilk other programs to finance that hate of the modern world.
Two Somali-American men living in Minnesota are facing fraud charges — in addition to terrorism charges — after they allegedly used federal student loan money to purchase airline tickets to get them to Syria in order to join ISIS. …
This doesn't quite entitle them to join the Moocher Hall of Fame, but it should outrage taxpayers anyhow.
Our good news come from California.
J.D. Tuccille of Reason speculates that gun control has basically become impossible in the Golden State because there are simply too many guns.
California is a state where officials pride themselves on tightening the screws on gun owners. …But it's a losing battle. Even in a political environment where villainizing guns and gun owners is a winning tactic, the ranks of the same are beyond officials' grasp, and growing. Last year, almost one million firearms were sold in the state…it's a good bet that California's gun owners, and their guns, are here to stay.
Here's a chart he including showing gun sales.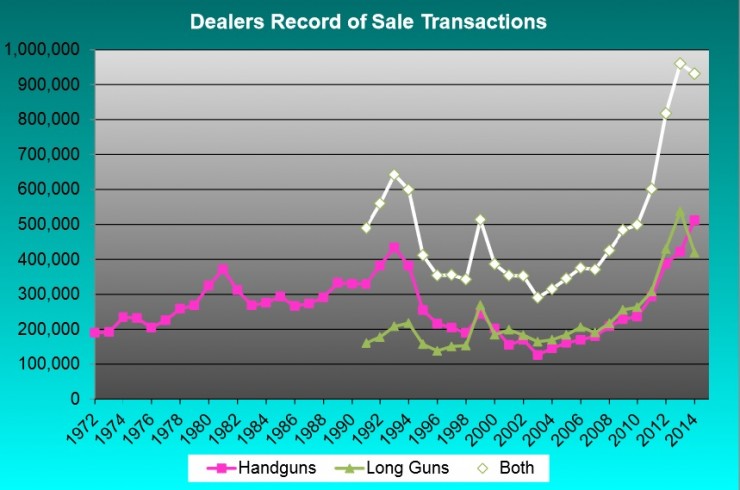 And J.D. reminds us that these are just the legal sales. As illustrated by the amusing t-shirt at the bottom of this post, there are doubtlessly lots of undocumented weapons in the state.
The bottom line is that future gun control efforts in California will probably run into the same problems that have thwarted the schemes of despicable politicians in Connecticut. Three cheers for the Americans who disobey bad law!
And since it's Memorial Day weekend, it's a good time to be thankful the all the folks in the military who fought to preserve our freedoms. Including the freedom to engage in civil disobedience when politicians try to trample our rights.