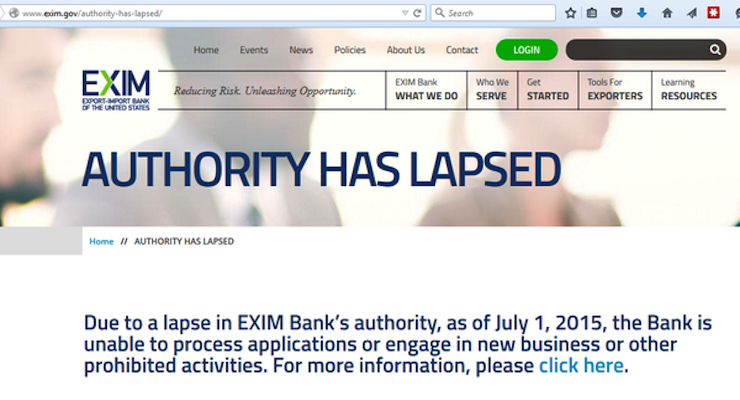 Advocates of economic liberty, free market, and small government haven't enjoyed many victories in the 21st Century.
Government got bigger and more expensive during Bush's reign, starting in his first year with the No Bureaucrat Left Behind legislation and then ending in his final year with the odious TARP bailout.
Then Obama came to office, promising "hope and change," but then proceeded to act like Bush on steroids, giving us the faux stimulus his first year and then the ObamaCare boondoggle his second year.
But there have been a few victories since 2010.
The sequester unquestionably was Obama's biggest defeat, and that policy helped contribute (along with debt limit fights and shutdown battles) to a much-needed five-year slowdown in federal spending between 2009 and 2014.
That's certainly not a permanent victory, particularly since our long-run fiscal crisis will still be enormous in the absence of genuine entitlement reform.
But better to have some short-run spending restraint than none at all.
And since we're looking at victories, we have something new to celebrate. Today (July 1) is the first day in decades that America is freed from a very misguided form of corporate welfare known as the Export-Import Bank.
This bit of cronyism was created to give undeserved wealth to big companies by guaranteeing some of their sales to foreign customers, and I argued in 2012 and earlier this year that shutting down the Ex-Im Bank was a test of seriousness for the GOP..
They sort of passed the test. The Ex-Im Bank needed to be authorized by midnight on June 30 to stay in operation and that didn't happen.
However, this victory also isn't permanent. Cronyists in the business community plan to push for re-authorization later this year, so it's still an open question on who will prevail. Particularly since there are some GOPers who like big business more than free markets.
But at least for today, we can enjoy this image from the Ex-Im Bank's website.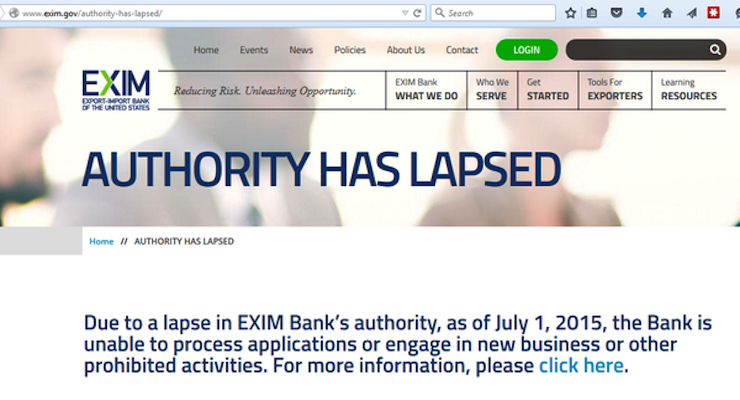 For more information why the Ex-Im Bank should not be re-authorized and instead should be permanently shut down, here are some excerpts from a column by Veronique de Rugy of Mercatus.
Ex-Im Bank puts millions of consumers, firms and workers at a disadvantage. As such, closing it down is an important first step in the battle against the unhealthy marriage between the government and corporate America. …Over 60 percent of the bank's financing aids 10 giant beneficiaries, like Caterpillar, Bechtel, and General Electric. On the foreign side, the cheap loans go to state-owned companies like Pemex, the Mexican government's oil and gas giant, or Air Emirates, the airline of the wealthy United Arab Emirates. …More than 98 percent of all U.S. exports occur with no Ex-Im Bank subsidies at all. And considering who the beneficiaries of Ex-Im on the domestic and foreign sides are, there's no chance that all Ex-Im supported exports will disappear.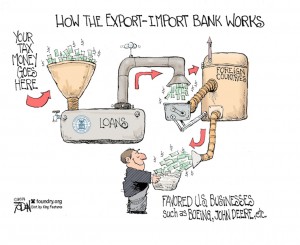 And let's not forget the costs imposed on the rest of the economy thanks to this bit of corporate welfare.
Economists have shown that while export subsidies boost the profits of the recipients, it tends to have a negative impact on economy as a whole by shifting capital, economic growth, jobs and profits from unsubsidized firms to subsidized ones. …victims are taxpayers who now bear the risk for $140 billion in liabilities. These victims are consumers who pay higher prices for the purchase of subsidized goods. These victims are unsubsidized firms competing with subsidized ones. They not only pay higher financing costs but also lose out when private capital flows to politically privileged firms regardless of the merits of their projects. Some are even victimized multiple times: first as taxpayers, then as consumers, then as competitors, and finally as borrowers.
Speaking of economic costs, you definitely should click here and watch a video by another Mercatus expert of why the Ex-Im Bank undermines economic efficiency.
Like Veronique, Tim Carney of the Washington Examiner is one of the unsung heroes in the fight against the Ex-Im Bank. Here's some of his column from yesterday.
The Export-Import Bank is down. …Legally, Ex-Im's officers, employees and board members must cease their typical work of subsidizing Boeing, J.P. Morgan and Chinese state-owned enterprises. Instead, under the law that authorized it, Ex-Im is allowed to exist only "for purposes of orderly liquidation, including the administration of its assets and the collection of any obligations held by the bank." …This week's knockdown of Ex-Im should be seen in exactly this light: It is an early and visible victory for the GOP's free-market forces over the forces of K Street, which for so long held a monopoly on the party.
I should also point out that some of my colleagues at the Cato Institute have been working hard for years to explain why the Ex-Im Bank should be abolished. Kudos also to Heritage Action for fighting against this corrupt cronyist institution.
Last but not least, here's a video Nick narrated last year on why the Ex-Im Bank should not be re-authorized. I like how he starts with a clip of Obama the candidate citing it as wasteful corporate welfare. Now that he's in power, though, he's decided the cesspool of DC corruption is really a hot tub.
[mybooktable book="global-tax-revolution-the-rise-of-tax-competition-and-the-battle-to-defend-it" display="summary" buybutton_shadowbox="true"]