I've argued (repeatedly) that we should abolish the Department of Transportation and allow states to make decisions on how to fund and whether to fund transportation projects. As an interim measure to control federal spending, involvement, and intervention,I've explained that Congress should do nothing to increase revenues into the highway trust fund.
Supporters of centralization disagree, arguing that there would be inadequate transportation funding if the federal government doesn't have a large – and growing – role. Most of them want a higher gas tax to finance an expansion of federal transportation spending.
I've never thought this claim made sense. After all, how do you magically get more roads built by sending money in a leaky budget to Washington, only to then turn around and send those funds in a leaky budget back to the states? Seems to me like that's nothing more than a unsavory recipe for an additional layer of bureaucracy and lobbying.
Well, we now have some very powerful evidence from a report in the Washington Post that states will act – at least once they conclude that "free" money from Uncle Sam won't be as forthcoming.
While Congress remains stalled on a long-term plan for funding highways, state lawmakers and governors aren't waiting around. Nearly one-third of the states have approved measures this year that could collectively raise billions of dollars through higher fuel taxes, vehicle fees and bonds to repair old bridges and roads and relieve traffic congestion, according to an analysis by The Associated Press. The surge of activity means at least half of the states — from coast to coast, in both Republican and Democratic areas — now have passed transportation funding measures since 2013. And the movement may not be done yet. …The widespread focus on transportation funding comes as state officials are becoming frustrated by federal inaction in helping to repair roads and bridges described as crumbling, aging and unsafe.
By the way, I have no idea if these states are making sensible decisions. Indeed, based on what was proposed (and rejected) in Michigan, I wouldn't be surprised to learn that many of these initiative contain wasteful pork-barrel projects (just like when funded from DC). And my colleague Chris Edwards has poked holes in the assertion that we're facing an infrastructure crisis.
But who cares? The beauty of federalism is that states are free to make their own decisions so long as they're playing with their own money.
If they waste the money and make bad choices, at least the damage will be contained. And voters presumably have some ability to change the direction of policy if repeated mistakes are made.
To get a sense of how things would work at the state level with real federalism, here are some excerpts from a column in the Tampa Tribune by Karen Jaroch, a member of the Hillsborough Area Regional Transit agency.
…what if you could pay less at the pump? With passage of H.R. 2716 — the Transportation Empowerment Act — this could be possible. H.R. 2716 would devolve the responsibility for our surface transportation programs (including transit) to the states by incrementally decreasing the federal gas tax over five years from 18.3 cents to 3.7 cents per gallon. That reduction would empower the states to fund and manage it — not politicians and Washington bureaucrats. The bill was filed by Florida's U.S. Rep. Ron DeSantis, R-Ponte Vedra Beach, and cosponsored by Rep. David Jolly, R-Indian Shores, with Sen. Marco Rubio co-sponsoring the bill's twin in the Senate.
I can understand why Florida lawmakers are especially interested in decentralization. As you can see from this map and table, the Sunshine State is one of many that lose out because of the redistribution inherent in a centralized scheme.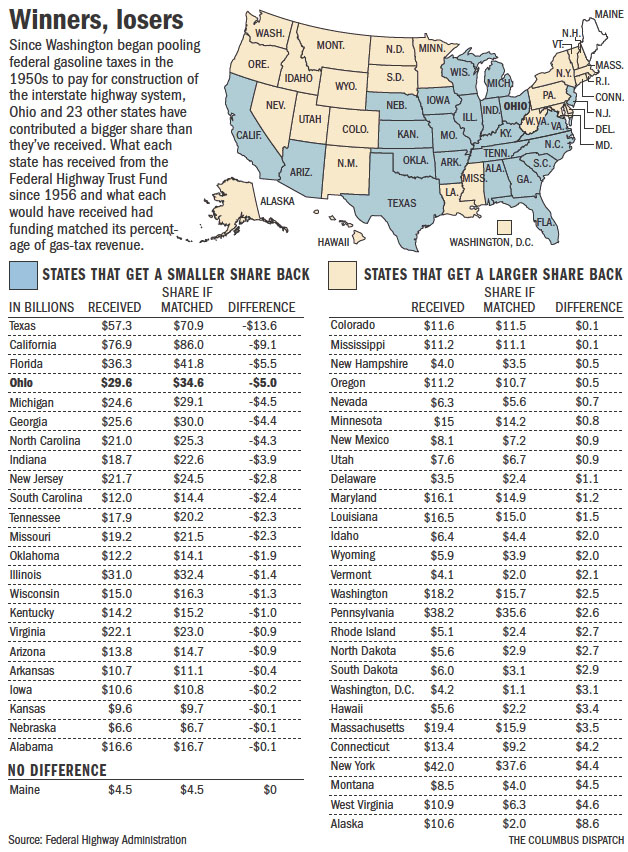 The real question if why politicians in California, Texas, and Ohio aren't also pushing for federalism. Though it's important to underscore that this issue shouldn't be determined based on which states get more money or less money. It's really about getting better decisions when states raise and spend their own money.
Particularly when compared to a very inefficient Washington-centric system, as Ms. Jaroch explains.
Well-heeled lobbyists and those in Congress who would see their power base decline are in opposition. …The feds fund roughly 30 percent of Florida's transportation infrastructure; however, the costly regulations, red tape and strings they tack on permeate the process almost universally. As a board member of the Hillsborough Area Regional Transit Authority (HART), I've witnessed the agency routinely shackled by federal handcuffs that are common when accepting federal funds. H.R. 2716 would wrest control from D.C. bureaucrats and politicians in 49 other states that have never commuted on our streets and roads and instead empower state and local agencies like HART that are better positioned to make these decisions. …A new state-led process would be controlled entirely by Floridians and would be absent the horse trading and infighting between 49 other states, two houses of Congress, a president of a different party and a myriad of federal agencies.
Last but not least, state and local governments will be far less likely to engage in boondoggle spending if they can't shift some of the cost to Uncle Sam.
P.S. While decentralization is a good first step, the ideal end point is to have more private-sector involvement in transportation.
P.P.S. If you think the federal government's involvement is bad now, you probably don't even want to know about some of the ideas floating around Washington for further greedy and intrusive revenue grabs.