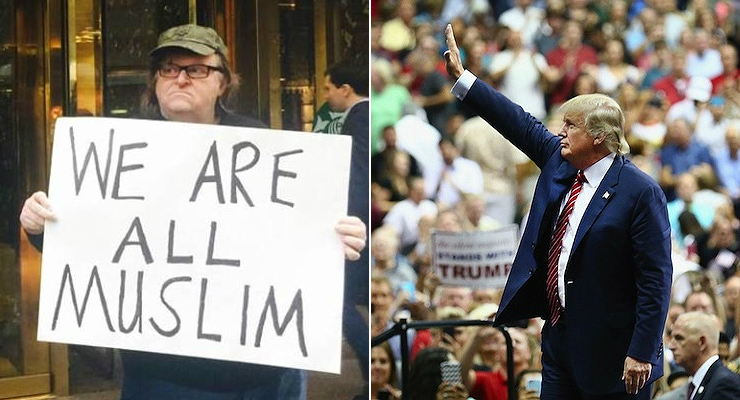 Mediates and politicians have tried to label Donald Trump a bigoted, xenophobic racist since announcing in June he was running for president. At Trump Tower, the Republican frontrunner vowed to build a wall on the southern border and make Mexico pay for it. In December, shortly after the terrorist attacks in Paris and San Bernardino, Calif., Trump called for a temporary moratorium on Muslim immigration to the United States.
The press, most of his chief rivals, and even the president predictably went bizerk. President Obama said it was "totally contrary to our values as Americans," values which he insists are "universal." But the data, as I've explained repeatedly here and here, shows the truth.
American values are not universal. In fact, before the American Left adopted the failed theory of multiculturalism out of the soon-to-be lost European nations, even their own progressive heroes understood the basic need to demand assimilation.
While "it is an outrage to discriminate against any such man because of creed, or birthplace, or origin," as President Theodore Roosevelt said in 1907, "this is predicated upon the person's becoming in every facet an American. There can be no divided allegiance here. Any man who says he is an American, but something else also, isn't an American at all."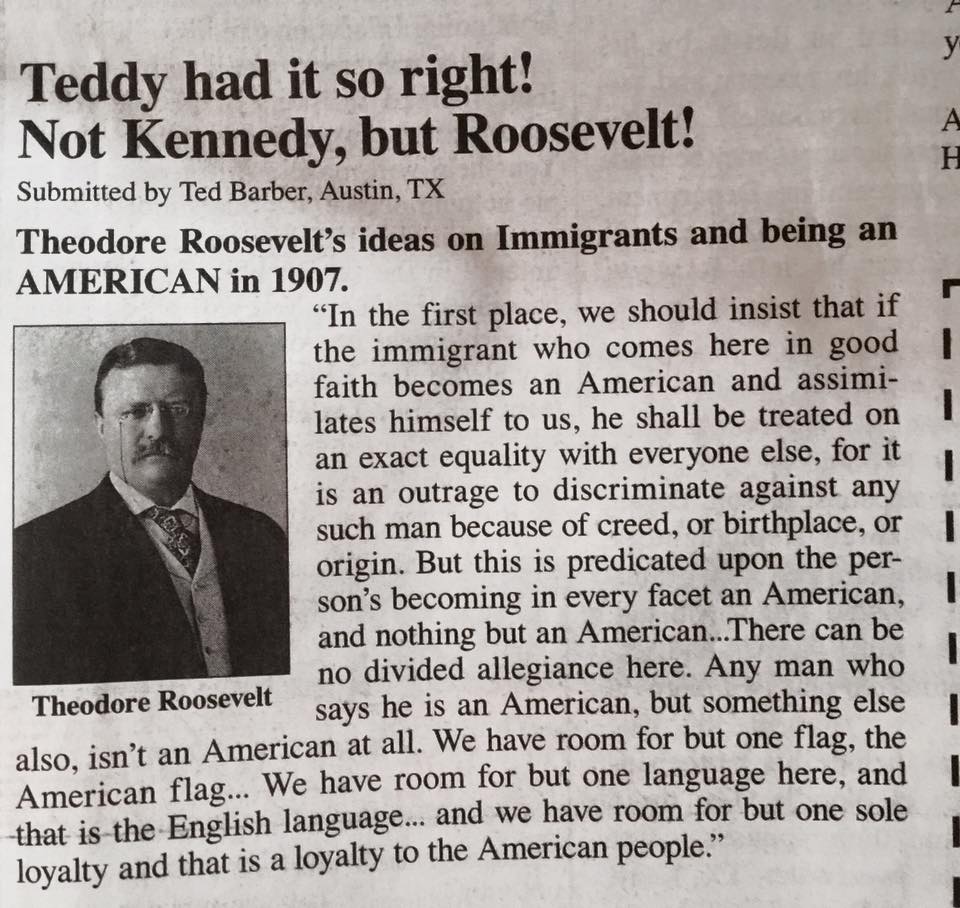 And there you have it. Roosevelt, the progressive hero who broke up the big monopolies, was a closet xenophobe.
While his critique could apply to other demographic groups, the problem of Muslim assimilation is particularly difficult because Islam is neither only a religion and definitely is not a race. Islam is a political, judicial, civil and spiritual way of life that not only insists upon "divided allegiance" but also holds geo-political aspirations.
In a majority of Muslim-dominated Middle East countries, large pluralities–and, in many countries such as Afghanistan, Syria and Pakistan–majorities support making Sharia law the official law of the land. Worth noting, recent polls show 54% of Muslim Americans living right here is the U.S, right now, agree.
Now, as someone who has researched extensively and help define it, perhaps with and in more detail than any other before me, I can say with confidence that the American national identity is antithetical to the "values" forced upon subjects under Sharia, or Islamic law. They are not "universal values" and, subjugating the sovereign authority of the U.S. Constitution, at its core, violates a basic principle captured in Roosevelt's words.
"We have room for but one sole loyalty and that is a loyalty to the American people," the former president said in 1907.
That's exactly the point, which everyone wants to avoid. The Constitution places national loyalty to and sovereignty with the American people, an idea that is completely foreign to practicers of Islam.
Obama also pointed out the "extraordinary contributions" Muslim Americans have made to the U.S., including those serving in the military. About those contributions, while I certainly applaud any American's service, the overall numbers are actually quite concerning.
Military enlistment, as we study the political maturation of other migrant groups in the 19th and 20th century, can serve as a fairly good indicator of assimilation. There are few equal or greater acts to demonstrate patriotism than military service. Unfortunately, the numbers for Muslims indicate there is a major assimilation problem juxtaposed to other migrant groups. That is, if you agree with President Roosevelt and Mr. Benedict Anderson, the latter being the man who literally wrote the book on the very real concept of nation.
According to the Pentagon, there are roughly 5,896 Muslims serving on either active duty or guard in the U.S. military. We heard this number cited repeatedly following Trump's proposal, including from an outraged former Marine-turned-talk show host Montel Williams. But that represents just 0.00027550809655493385 percent of the roughly 2.2 million Americans currently serving their country, and 0.32755555555555554 percent of their share of the U.S. population. That's far below the proportional 18,000 that would put them in line proportionately with the enlistment rates for the rest of the country.
Going back to World War II, when Italian-Americans were targets of ethic discrimination and struggling to assimilate, more than 500,000 served on behalf of the U.S., making their enlistment and service rates the highest among any minority ethnic group. The roughly 0.8333333333333334 percent of the 6 million Italian Americans serving in the U.S. military is despite the fact that they were fighting on the opposite side as their home country.
For those who want to blame a non-existent, widespread anti-Muslim environment, I'd just point out that 200,000 Jews served in World War I at a time when anti-Semitic sentiment in America was far worse. In fact, according to the latest statistics from the FBI, there are still far more and worse crimes committed by anti-Semitic Muslims than anti-Muslim whites or Jews.
Nevertheless, the bottom line is that politicians, pundits and just everyday Americans concerned about the future of our nation, should be able to point out these disturbing facts without being labeled xenophobic. A recent Pew Research study of demographic projections estimated that Muslims will make up 2.1% of the U.S. population by the year 2050, surpassing Americans who identify as Jewish on the basis of religion as the second-largest faith group in the country.
Considering the disturbing truth about Muslims' views, which were revealed in a serious video produced by The Clarion Project in December, it's not xenophobic to question the impact these demographic changes might have on American citizens. Public policy should hold the preservation of our values and our way of life above all, and the threat to that preservation would've concerned President Roosevelt just as much as it does Trump and his supporters.
[mybooktable book="our-virtuous-republic-forgotten-clause-american-social-contract" display="summary" buybutton_shadowbox="true"]