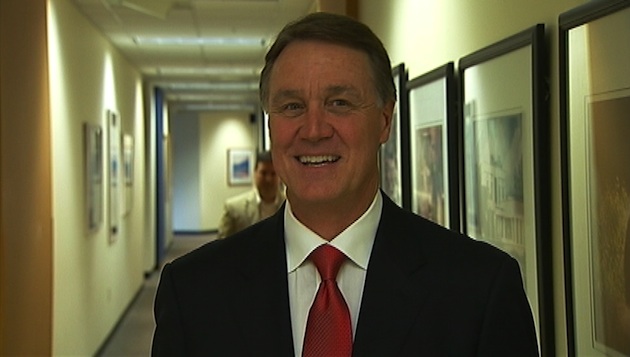 A clear front-runner has emerged in the 2014 Georgia Senate race, but whether David Perdue can avoid a run-off is another question, altogether. A Republican candidate must receive 50 percent of the vote in the primary to straight-out win the nomination, or face the second place candidate in a run-off.
Of the 600 likely Republican voters polled in the Landmark/Rosetta Stone poll, 21 percent picked David Perdue, while Rep. Jack Kingston and Rep. Paul Broun were tied at 15 percent. Rep. Phil Gingrey and former Georgia Secretary of State Karen Handel were behind the pack at 13 and 10 percent, respectively, but roughly 25 percent were still undecided.
Republican businessman David Perdue (yes, he is the cousin of ex-Gov. Sonny Perdue), himself, is a political newcomer despite his family ties. At this point, the fact he is not a career politician is clearly benefitting him in this anti-incumbent environment. Ex-Georgia Secretary of State Karen Handel and Rep. Jack Kingston are the establishment's candidates, while socially conservative Reps. Phil Gingrey and Paul Broun are seeking a promotion out of the House.
Handel, who lost to Gov. Nathan Deal in 2010 by less than 2,500 votes, is competing with Kingston for the top establishment slot, which unfortunately for Handel comes with complete with donations. Jack Kingston is a political ally of Republican Gov. Nathan Deal, and there isn't room enough for the both of them.
"It may well be that she had her moment in 2010, if these polls are correct," said Emory political science professor, Merle Black. "But right now, it looks like she's running a very uphill battle."
In a separate InsiderAdvantage/Opinion poll, just over 30 percent said they were still undecided, with political newcomer David Perdue leading by a more modest 19 percent. Kingston is trailing in second with 15 percent, which was the same level of support found in the Land/Rosetta Stone poll. With the exception of Kingston, who appears to have slipped to 15 percent and stuck there, the other GOP hopefuls vary at levels of support by statistically significant margins behind Perdue.
Many pundits and Democratic strategists believed that under the right conditions the party could make a play for the seat. Georgia's other senator, Johnny Isakson (R), recently expressed fear that "a perfect storm" of factors could shift a relatively safe Republican seat into Democratic hands. While Gingrey has a tendency to stick his foot in his mouth, he has nothing on Broun, who has an even longer history of controversial statements. But it is becoming clear that neither candidate seems to be gaining traction.
In the money race, David Perdue is well-funded, and has thus far been spending the most on advertising. Perdue's spending levels have topped off at $1 million, while Kingston topped off at $800,000. Even though Perdue appears to be the front-runner, if these spending levels hold it will be more than likely that the race will head into a run-off.
The GOP Senate primary for the Georgia Senate race will take place on May, 20. The Democratic nominee will likely be Michelle Nunn, daughter of ex-Sen. Sam Nunn. She has been consistently leading former state Sen. Steen Miles and other political newcomer, Dr. Branko Radolavachi. The general election is rated "Likely Republican" on our 2014 Senate Map Predictions.
| Poll | Date | Sample | Perdue | Kingston | Broun | Gingrey | Handel | Spread |
| --- | --- | --- | --- | --- | --- | --- | --- | --- |
| PPD Average | 2/13 – 4/16 | — | 20.5 | 15.0 | 12.0 | 11.0 | 10.8 | Perdue +5.5 |
| InsiderAdvantage | 4/16 – 4/16 | 804 LV | 19 | 15 | 11 | 9 | 13 | Perdue +4 |
| Landmark/Rosetta Stone | 3/23 – 3/24 | 600 LV | 21 | 15 | 15 | 13 | 10 | Perdue +6 |
| InsiderAdvantage | 3/23 – 3/24 | 893 LV | 17 | 15 | 10 | 8 | 5 | Perdue +2 |
| SurveyUSA | 3/16 – 3/18 | 508 LV | 29 | 19 | 11 | 12 | 10 | Perdue +10 |
| Hicks/Apache | 2/13 – 2/16 | 923 LV | 13 | 11 | 11 | 10 | 10 | Perdue +2 |
| PPP (D) | 8/2 – 8/5 | 260 RV | 5 | 15 | 19 | 25 | 13 | Gingrey +6 |
| Landmark/Rosetta Stone | 6/17 – 6/17 | 450 LV | 1 | 7 | 15 | 17 | 14 | Gingrey +2 |