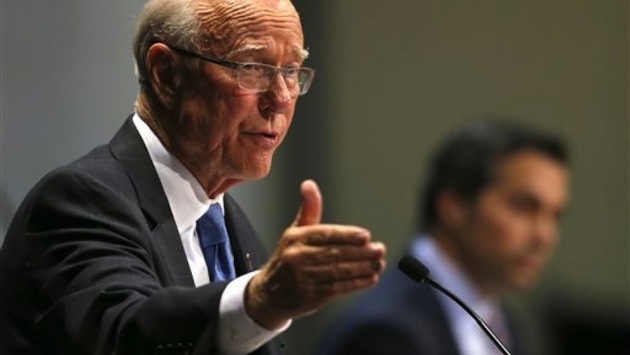 A pair of new polls in the Kansas Senate race show incumbent Republican Sen. Pat Roberts erasing Greg Orman's lead and Democrat hopes of snagging the seat. A CNN/Opinion Research poll found Roberts leading by 49 – 48 percent, just under the 50 percent mark, while a new FOX News poll conducted shortly after found Roberts with a larger 44 – 39 percent lead.
Even though commentary in our recent election analysis has been brutal on the GOP incumbent, both here and here, unlike another prognosticator's ratings that have gyrated wildly back-and-forth, PPD's election projection model never wavered from favoring Roberts because we are a model that gives more weight to "big picture" fundamentals.
[tabs id="KSSen" title="Kansas Senate Race – Roberts Vs. Orman"] [tab title="Analysis"]
"The polling in Kansas must be taken with a grain of salt," we wrote of the race recently. "Aside from the state's dominant Republican nature, Roberts is down because he is losing voters from his center to Orman and shrinking the electorate by losing voters on his right." We remain very skeptical that Orman can win this race and find it hard to believe conservatives who backed Milton Wolfe and others in the primary will allow Harry Reid to keep his position as majority leader.
Republicans, particularly conservatives, will have to decide whether voting for a less-than ideal Republican is as bad as allowing Democrats to keep control of the Upper Chamber. With control of the U.S. Senate on the line, the heavily partisan lean of the state was always likely to take over.
"We know that partisanship tends to assert itself as Election Day nears," said Republican pollster Daron Shaw, who conducts the FOX News poll jointly with Democratic pollster Chris Anderson."And that may be happening in Kansas."
We not only believe it is happening, but that it was pretty much inevitable.
Kansas has not elected a Democratic senator since President Franklin Delano Roosevelt first won the presidency. In the 98 years Kansan voters have been able to directly elect their senators, since the passage of the Seventeenth Amendment, a majority or plurality of voters chose a Democrat just three times, the last time in 1932. George McGill won a three-way race with 46 percent of the vote, but lost with 44 percent during his re-election bid just six years later. Republicans outnumber Democrats nearly 2 to 1 and, are more enthusiastic by a margin of 78 – 66 percent when counting those who say they are either "very interested" or "extremely interested" in voting this November.
President Obama's approval rating in the state actually ticked down a bit on the PPD average of polls with 32.7 now approving, down from 33 percent measured last week.
In the FOX News poll, Roberts has a more solid base of support than Oman, with 82 percent of his supporters saying they are certain to vote for him, juxtaposed to 76 percent for Orman.
As of now, 73 percent of Republicans back Roberts, which is likely to solidify further, while 71 percent of Democrats support Orman. Independents are breaking for Orman 45 – 34 percent. Roberts still leads, however, because there are so many more Republicans than Democrats in the Sunflower State.
Men heavily favor Roberts by a 50 – 37 percent margin, while women back Orman by a lacking 40-38 percent margin, far too little to overcome the Republican's lead among men.
Roberts has also succeeded in repairing his image, with 50 percent of likely voters giving him favorable marks in the CNN/Opinion Research Poll. Orman isn't far behind with 48 percent giving him positive marks.
Worth noting, both the CNN poll, which is conducted by Opinion Research and, the FOX Poll, which is conducted under the joint direction of Anderson Robbins Research (D) and Shaw & Company Research (R), use "Gold Standard" polling practices. Between their practices and results, they've earned far higher ratings than both SurveyUSA and the NBC/Marist Poll on PPD's Pollster Scorecard. Marist uses the "Gold Standard," too, but their results are lacking in comparison.
Nevertheless, even if we were to take them at face value, the trend is crystal clear.
We encourage readers to follow-up with our analysis by looking at compiled data under the "State Data" tab above. Incumbent Republican Sen. Pat Roberts now has a 59 percent chance of defeating Greg Orman, up from the slight 51 percent edge he held last week on PPD's 2014 Senate Map Predictions model.
[/tab]
[tab title="Polls"]
Poll
Date
Sample
MoE
Orman (I)
Roberts (R)
Raw Spread
PPD Average
PPD Average
9/27 – 10/7
—
—
45.5
43.3
Orman +2.2
Roberts +3
FOX News*
10/4 – 10/7
702 LV
3.5
39
44

Roberts +5

CNN/Opinion Research
10/2 – 10/6
687 LV
3.5
48
49

Roberts +1

SurveyUSA*
10/2 – 10/5
549 LV
4.3
47
42

Orman +5

NBC News/Marist*
9/27 – 10/1
636 LV
3.9
48
38

Orman +10
(Please note: Our model uses separately calculated averages from weighted polls based on PPD's Pollster Scorecard. Above is the raw spread and PPD average, which is 46.5 – 43.5.)[/tab]
[tab title="State Data"]
| | | |
| --- | --- | --- |
| POLITICS | Kansas | National Average |
| | | |
| --- | --- | --- |
| Partisanship | | |
| % Republican/Lean Republican | 47 | 39 |
| % Democratic/Lean Democratic | 34 | 43 |
| Registered Republicans | 765,398 | — |
| Registered Democrats | 422,181 | — |
| Unaffiliated/Undeclared | 535,160 | — |
| Registered Libertarians | 12,656 | — |
| | | |
| --- | --- | --- |
| Ideology | | |
| % Conservative | 38 | 36 |
| % Moderate | 36 | 36 |
| % Liberal | 20 | 23 |
| | | |
| --- | --- | --- |
| Presidential Job Approval | | |
| % Approve | 32.7 | 40 |
| | | |
| --- | --- | --- |
| Partisan Voting Index | | |
| Strongly Republican | R+12 | — |
[/tab] [/tabs]