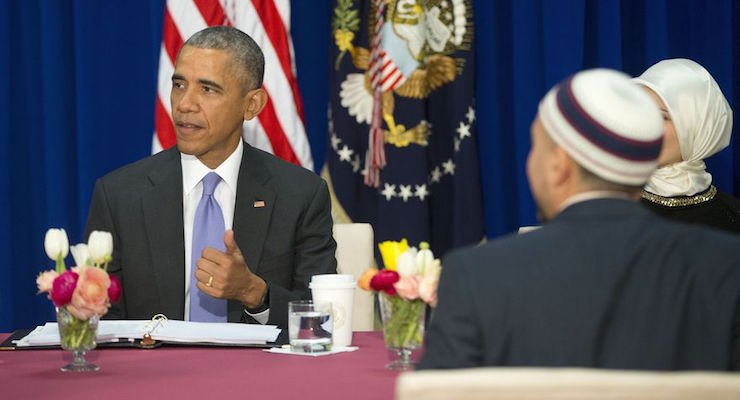 On Wednesday, President Obama visited the controversial Islamic Society of Baltimore (ISB), marking his first such visit to a mosque in America. The visit comes as Pew Research Center released a survey that finds roughly a half (49%) of Americans believe U.S. Muslims are anti-American.
That number includes 11% who said almost all/most Muslims are anti-American, 14% who said about half are and, roughly a quarter (24%), who said just a few. A significant number (9%) said they don't know, possibly reflecting social desirability bias. According to PPD's research, which averages the aggregate survey data on the question, 53% of U.S. Muslims support Sharia (Islamic law) becoming the law of the land, supplanting the U.S. Constitution.
Americans, according to Pew, are closely divided on how the president should address the root of Islamic terrorism. Half of Americans (50%) say the next president should "be careful not to criticize Islam as a whole when speaking about Islamic extremists," while four-in-ten (40%) say the next president should "speak bluntly about Islamic extremists even if the statements are critical of Islam as a whole."
Views are greatly influenced by party and ideological preference, as seven-in-ten Democrats and Democratic-leaning independents (70%)–including eight-in-ten liberal Democrats (80%)–say the next president should be careful not to criticize Islam as a whole. By contrast, about two-thirds of Republicans and Republican-leaning independents (65%)–including seven-in-ten conservative Republicans (70%)–want the next president to speak bluntly about extremism even if it means being critical of Islam.
The president criticized Republicans and cautioned against what he said is a rise in anti-Muslim rhetoric and treatment during his speech.
"We've heard inexcusable political rhetoric against Muslim Americans that has no place in our country," Mr. Obama said. "We have to reject a politics that seeks to manipulate prejudice or bias and targets people because of religion."
Indeed, the president's narrative appears to be working. The Pew survey found that six-in-ten Americans believe there is "a lot" of discrimination against Muslims in the U.S. Further, three-quarters (76%) think discrimination against Muslims in the U.S. is increasing. Even most of those who do not think there is a lot of discrimination against Muslims nevertheless believe anti-Muslim discrimination is on the rise.
However, statistics from the Federal Bureau of Investigation simply don't back that up. In fact, it's quite the opposite. According to the Uniform Crime Reporting Program, which is used by the Federal Bureau of Investigation (FBI) to collect data about both single-bias and multiple-bias hate crimes, there were and are far more anti-Semitic crimes committed against Jews than anti-Muslim crime. In fact, the latest data from 2014 doesn't at all reflect growing anti-Muslim sentiment spewing from white America, or any demographic group in the U.S. for that matter.
Of the 1,092 offenses reported as a hate crime motivated by religious bias, 58.2% were anti-Jewish crimes. On the other hand, 16.3% were anti-Islamic (Muslim); 6.1% were anti-Catholic; 4.7 percent were anti-multiple religions, group; 2.6% were anti-Protestant; .2% were anti-Atheism/Agnosticism/etc.; and, 11.0% were anti-other (unspecified) religion.