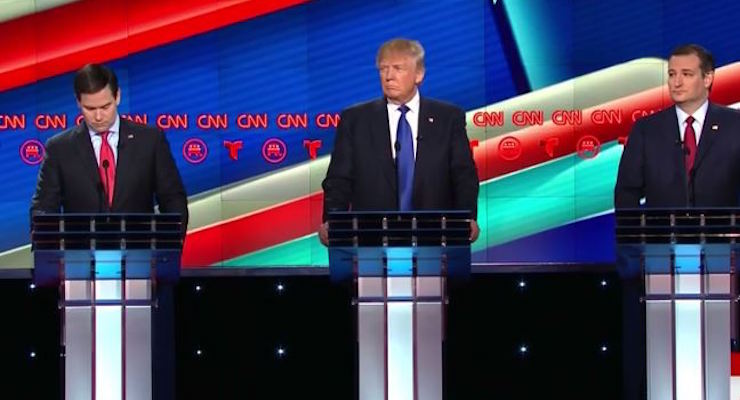 Despite relentless attacks and more than $50 million in ads, Donald Trump still crushes Sen. Marco Rubio in his own home state, according to a new poll. With little left to lose, Sen. Rubio launched full-throated character attacks on Mr. Trump during the last Republican debate hosted by CNN, which continued throughout the days leading up to and after Super Tuesday.
But the impact, if at all, is minimal and appears to have had a negative affect on the voters in the senator's backyard.
A One America News Network poll conducted by the nonpartisan research firm Gravis Marketing (PPD Pollster Scorecard: B+) found Mr. Trump leading his closest rival Sen. Rubio 45% to 25%, with Texas Sen. Ted Cruz pulling in 15% of the primary vote. Dr. Ben Carson, who dropped out of the race on Wednesday, trailed with 5% of the vote, while Ohio Gov. John Kasich jumped to 10%.
Meanwhile, on the Democratic side Hillary Clinton comfortably leads socialist Sen. Bernie Sanders in the Sunshine State, 58% to 42%.
The leading candidates on both sides have a clear advantage in early and absentee ballot voting, according to reports and polling. An election official told PPD that a whopping 44% of the absentee ballots on the Republican side came from voters that did not vote in 2012, a clear sign Mr. Trump has the edge.
"One of the biggest challenges Sen. Rubio faces is his precipitous decline among self-identified conservatives and tea party voters," said Richard Baris, the senior political analyst who aggregates and analyzes data for the PPD Election Projection Model. "For every moderate that he gains he loses multiple voters in the very bloc who elected him to the U.S. Senate."
The Florida Republican primary, a Winner-Take-All contest on March 15 with 99 delegates, is a must-win state for Sen. Rubio. The junior senator has won only the Minnesota Republican caucus and has been trailing Mr. Trump in Florida since July, when the real estate mogul pulled ahead of former Florida Gov. Jeb Bush. The prevailing conventional wisdom held that a winnowing field would allow Sen. Rubio to catch Mr. Trump, but that is no longer supported by the data.
"Mr. Trump now defeats Sen. Rubio easily by an average 14 points one-on-one," Baris said. "The results of the Gravis Poll aside, our interviews at PPD just haven't seen the impact from the concerted assault in the race, at all. In fact, the new attack version of Sen. Rubio is viewed far less favorably by conservatives and, while those might not be the voters the campaign is targeting, Florida is not Virginia. It's a closed primary and Sen. Rubio is in deep trouble."
Mr. Trump leads Sen. Rubio on the PPD average of Florida Republican primary polls by 19.8%.
The survey of 751 Florida Republican Primary voters and 514 Florida Democratic Primary voters has a margin of error of ± 3.6% for Republicans and 4.3% for Democrats, both at the 95% confidence level. The poll, which may not total 100% due to rounding, was conducted using automated telephone calls (IVR technology) and online responses. The results are weighted by relevant voting demographics.