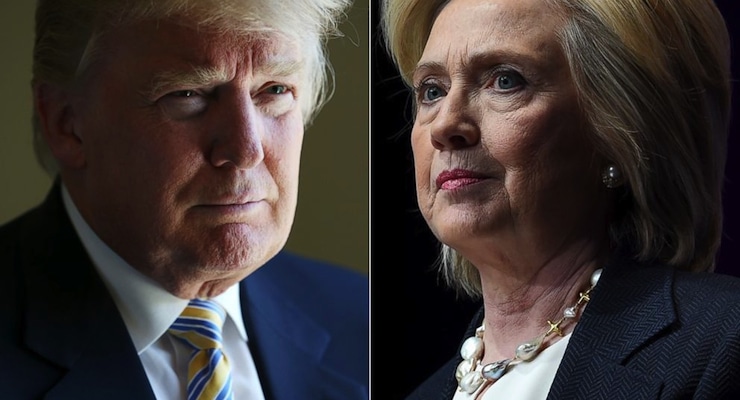 The final [content_tooltip id="38226″] shows Donald Trump and Hillary Clinton holding comfortable leads ahead of their respective New York Primary on Tuesday. The poll was conducted after last Thursday's heated Democratic debate hosted by CNN in Brooklyn.
While Mrs. Clinton maintains a significant edge over her rival, 55% to 40%, Sen. Sanders has sliced another three points off of the frontrunner's lead since the previous Emerson College Poll conducted last week. The former secretary of state had a 56% to 38% lead prior to the debate.
A whopping 73% of New York Democratic Primary voters hold a favorable view of Mrs. Clinton, while 23% hold an unfavorable view of the former two-term senator. Sen. Sanders is at 68%/23% (+45) on favorable ratings. Still, Mrs. Clinton's voters are far more loyal: 71% of those who view her favorably plan to vote for her in the primary, while only 56% who have a favorable view of Sanders intend to vote for him.
Meanwhile, on the Republican side of the aisle, Mr. Trump leads his closest rival Ohio Gov. John Kasich in the Empire State by a 34-point margin, 55% to 21%. Texas Sen. Ted Cruz is 37 points behind the frontrunner in third place with 18%. Worth noting, Sen. Cruz has demonstrated some movement from Saturday to Sunday, jumping 14 points to 28% over a 24-hour period.
While he has zero shot to upset Mr. Trump in his own home state, he has shown improvement at a time when he has fallen considerably in national polls.
Helping to fuel Mr. Trump, who is poised to become the only GOP candidate to win a majority of the vote in their home state, dissatisfaction with government (40%) and defeating ISIS/terrorism (19%) are the top two issues for primary voters. For Democrats, the top concerns are jobs and unemployment (22%), as well as dissatisfaction with government (21%).
Mr. Trump and Gov. Kasich have roughly equal and high favorability ratings among New York Republican Primary voters, with the former at 64%/32% (+32) and latter at 60%/28% (+32). Sen. Cruz, who used the old "New York Values" attack to scare Iowans away from Mr. Trump, is paying for it now. He is the only candidate underwater, with a 37%/54% (-17) favorable rating.
As we have seen with previous contests, Mr. Trump's supporters are by far the most loyal, with 81% of those who see him favorably planning to cast their ballot for him. In contrast, only 45% of Republicans who have a favorable opinion of Sen. Cruz say they will vote for him.
"We haven't heard much about it from mediates, but the fact Donald Trump is on track to win a majority in his home state while Ted Cruz and John Kasich failed to do so is very significant," said PPD's senior political analyst Richard Baris. "The only question now is whether he will sweep all 95 of the state's delegates."
The Emerson College Polling Society poll was conducted from April 15 and 17, 2016. The GOP primary consisted of 361 likely primary voters, with a margin of error of +/-5.11%. The Democratic primary consisted of 438 likely primary voters, with a margin of error of +/- 4.63% and weighted by age and gender based on 2008 and 2004 exit polling. The General Election sample consisted of 1,047 likely general election voters, and weighted by 2012 general election returns with a margin of error of +/- 2.95%. Data was collected using an Interactive Voice Response (IVR) system of landlines only. The full methodology and results can be found at www.theecps.com.